Stanley Cup final Game 7: St Louis Blues 4-1 Boston Bruins – as it happened
As it happened: The St Louis Blues won the team's first ever championship with a 4-1 win over the Boston Bruins in Game 7 of the Stanley Cup final
Beau Dure
13, Jun, 2019 @2:58 AM
The Blues were the NHL's worst team in December ... now they have a shot at the title
St Louis looked dead and buried at the end of the year, but now they face the Boston Bruins in their first Stanley Cup Finals since 1970
Joshua Kloke
27, May, 2019 @8:00 AM
The Stanley Cup contenders, ranked: red-hot Capitals can go all the way
Alex Ovechkin's Capitals, having won their second straight Presidents' Trophy, are favorites for the title. Josh Kloke runs down the NHL's 16 postseason teams
Joshua Kloke
12, Apr, 2017 @9:00 AM
Is the lack of big market teams hurting the Stanley Cup playoffs?
For the first time since 2011 the Stanley Cup final will not include a team from New York, Los Angeles or Chicago, leaving the NBA to dominate June
Dave Caldwell
19, May, 2016 @10:00 AM
The offside rule is ruining the NHL playoffs – and the mess could get worse
Hockey's postseason is in danger of becoming bogged down by endless reviews – and the ghost of the 1999 Stanley Cup final floats in the background
Sean McIndoe
25, Apr, 2016 @10:00 AM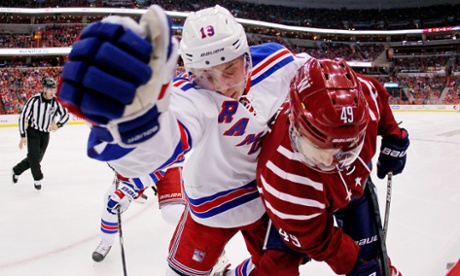 NHL playoffs: each of the 16 teams ranked
The race for the Stanley Cup has never been tighter. Except, perhaps, for the presence of the New York Rangers

Colin Horgan
14, Apr, 2015 @9:00 AM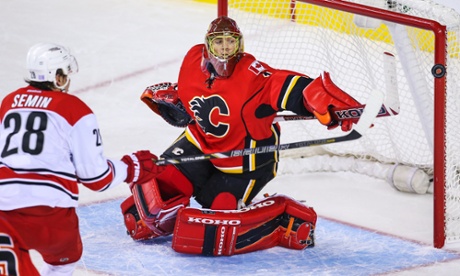 Flames burn bright as Nash shows flickers of old Rangers form | Colin Horgan
Colin Horgan: One month in, the action on the ice is as unrelenting as the Canadiens have been disappointing. Where do we go from here?
Colin Horgan
10, Nov, 2014 @3:50 PM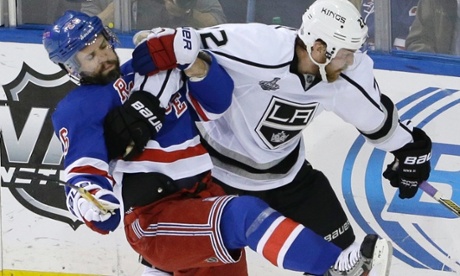 NHL is back – and if the Kings don't win, someone else in California probably will
Colin Horgan on why the Kings, Sharks and Ducks can win the Stanley cup, and why western Canada might not have much to shout about
Colin Horgan
06, Oct, 2014 @3:57 PM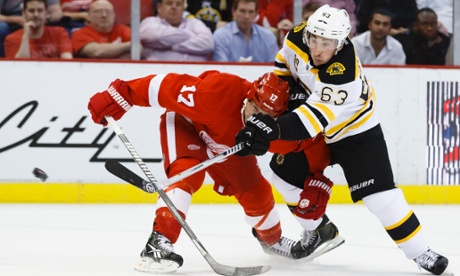 NHL playoffs: expect Boston to go deep – and Blues to upset Blackhawks
NHL: St Louis lost their last six but can topple Chicago, while the quality of Colorado and Anaheim shows the strength of the West
Colin Horgan
15, Apr, 2014 @1:59 PM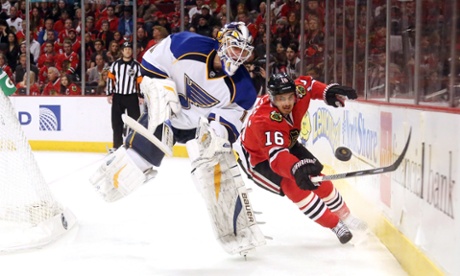 Can the Chicago Blackhawks win the Stanley Cup again?
Colin Horgan: Can Patrick Sharp's performances for the Chicago Blackhawks make up for the injury absences of Jonathan Toews and Patrick Kane
Colin Horgan at the United Center, Chicago
08, Apr, 2014 @4:19 PM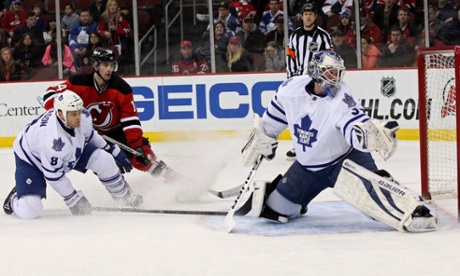 The NHL playoff hunt: who's in, who's out, and who's on the bubble?
Colin Horgan: With 10 games to go, we look at the standings and ask: will Toronto, Detroit or Dallas reach the playoffs?
Colin Horgan
25, Mar, 2014 @1:09 PM

Quick's mistake gives Stanley Cup holders rocky start to NHL playoffs
NHL: St Louis Blues beat LA Kings 2-1 in overtime after goalie Jonathan Quick lost the puck; Chicago Blackhawks defeat Minnesota Wild 2-1; Anaheim Ducks win 3-1 over Detroit Red Wings
Steve Busfield and AP
01, May, 2013 @2:28 PM