Patrick Marleau's journey from Canadian farmboy to NHL's 1,768-game recordbreaker
The 41-year-old is set to break the great Gordie Howe's record for NHL appearances. And he has done it with dedication, skill and no lack of humility
Joseph D'Hippolito
19, Apr, 2021 @9:00 AM
The Stanley Cup contenders, ranked: red-hot Capitals can go all the way
Alex Ovechkin's Capitals, having won their second straight Presidents' Trophy, are favorites for the title. Josh Kloke runs down the NHL's 16 postseason teams
Joshua Kloke
12, Apr, 2017 @9:00 AM
This year's Stanley Cup playoffs had it all. If only hockey fans had watched it
Colin Horgan: The anemic television ratings for this year's compelling NHL post-season raise an important question: why don't hockey fans like hockey?
Colin Horgan
13, Jun, 2016 @12:31 PM
Sharks stay alive in Stanley Cup with Game 5 win over Penguins
Martin Jones stopped 44 shots, Logan Couture had a goal and two assists and the San Jose Sharks avoided elimination by hanging on for a 4-2 win over the Pittsburgh Penguins
Joshua Kloke
10, Jun, 2016 @3:19 AM
Sidney Crosby earns Penguins' praise as he closes in on second Stanley Cup
The Pittsburgh captain isn't everyone's cup of tea, but he's the driving force of the team – and if the Pens win on Thursday, he'll have another NHL title to his name
Dave Caldwell
09, Jun, 2016 @10:00 AM
The Stanley Cup final shows hockey is getting faster – and better
The TV ratings for this year's cup have not been good, but the Penguins and Sharks reveal that the NHL has shifted from big and slow to skilled and fast
DJ Gallo
02, Jun, 2016 @12:14 PM
It's the Stanley Cup final – so here's our 10-step guide to being a hockey fan
The Stanley Cup final is here, and many new fans will be tuning in for the first time. But fear not: Sean McIndoe's handy guide will help you fit in
Sean McIndoe
01, Jun, 2016 @10:00 AM
Stanley Cup finals: the crucial questions as the Penguins take on the Sharks
Which player will make a difference? What will hockey fans be arguing about at the end of the series? A rundown of what to look out for in hockey's showpiece
Colin Horgan
30, May, 2016 @10:00 AM
Is the lack of big market teams hurting the Stanley Cup playoffs?
For the first time since 2011 the Stanley Cup final will not include a team from New York, Los Angeles or Chicago, leaving the NBA to dominate June
Dave Caldwell
19, May, 2016 @10:00 AM
NHL trade deadline: the winners and losers
The Rangers and Panthers are stronger after the trade period but Penguins fans may well be scratching their heads after acquiring Justin Schultz
Colin Horgan
01, Mar, 2016 @12:31 PM
The Joy of Six: US sports uniforms that will make your eyes bleed
David Lengel: On the professional fields, courts, diamonds and ice of North America, classic uniforms live alongside colossal failures: we look at a half-dozen of the worst
David Lengel
12, Oct, 2015 @8:00 AM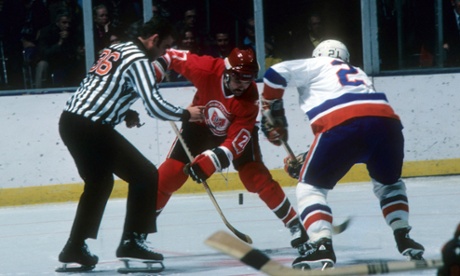 The forgotten story of ... the Barons, Cleveland's ill-fated NHL team
David Lengel: The Cleveland Barons were an honest to God, living and breathing NHL team, until they became the last major US sports franchise to fold
David Lengel
14, May, 2015 @10:00 AM