Man arrested at Boston Bruins game for throwing octopus on to ice
Red Wings fan Jeffrey Farrugia, 32, was charged with disturbing a public assembly for throwing the arthropod
Guardian sport
09, Apr, 2016 @11:37 PM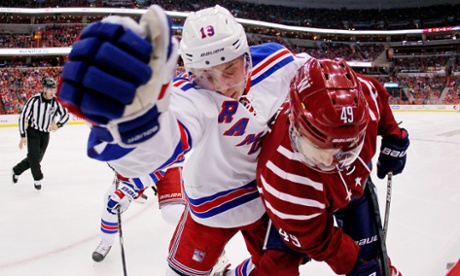 NHL playoffs: each of the 16 teams ranked
The race for the Stanley Cup has never been tighter. Except, perhaps, for the presence of the New York Rangers

Colin Horgan
14, Apr, 2015 @9:00 AM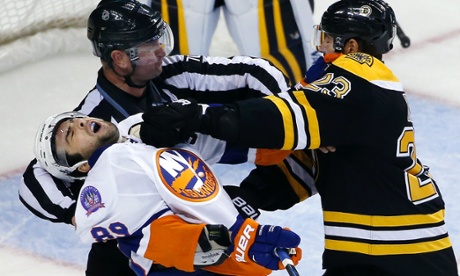 Bruins highlight NHL's East but plenty of questions remain for the rest
With the puck dropping on the NHL season tomorrow, Colin Horgan previews the Eastern Conference and wonders whether the Bruins, Rangers, or Canadiens have enough mettle to end the West's recent Cup dominance
Colin Horgan
07, Oct, 2014 @5:18 PM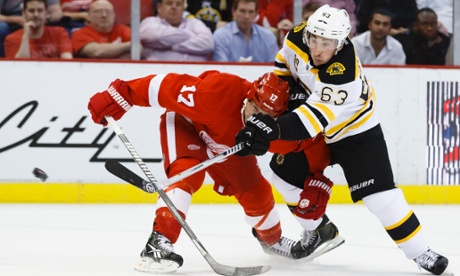 NHL playoffs: expect Boston to go deep – and Blues to upset Blackhawks
NHL: St Louis lost their last six but can topple Chicago, while the quality of Colorado and Anaheim shows the strength of the West
Colin Horgan
15, Apr, 2014 @1:59 PM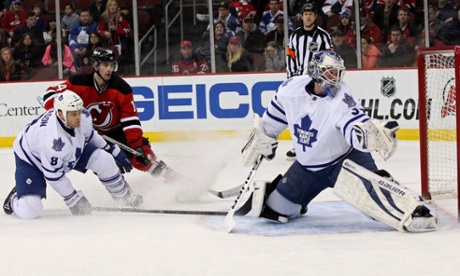 The NHL playoff hunt: who's in, who's out, and who's on the bubble?
Colin Horgan: With 10 games to go, we look at the standings and ask: will Toronto, Detroit or Dallas reach the playoffs?
Colin Horgan
25, Mar, 2014 @1:09 PM

Sport picture of the day: spot the puck
For old-school ice-hockey enthusiasts who learned the game on frozen lakes, this outdoor game in Michigan was a great spectacle

Coyotes goalie keeps Red Wings at bay and bites back with late goal
Phoenix frustrates Detroit as the Sidney Crosby helps Penguins stay unbeaten at home in a close win over Canucks

NHL: 10 things to watch out for in the 2013-14 season
Colin Horgan: From the worst new jerseys and the best new rivalries to the hardest hits and the worst fights, how will the season shape up?
Colin Horgan
01, Oct, 2013 @1:30 PM

Brent Seabrook overtime goal gives Blackhawks Game Seven win over Red Wings
NHL playoffs: Chicago Blackhawks recover from 3-1 series deficit and late disallowed goal to beat Detroit Red Wings in overtime and claim place in Western Conference finals
Steve Busfield
30, May, 2013 @11:00 AM

Frolik's penalty goal helps Blackhawks force Game Seven against Red Wings
NHL playoffs: Michael Frolik's penalty goal is the difference as Chicago Blackhawks beat Detroit Red Wings 4-3 to tie NHL playoff series
Steve Busfield
28, May, 2013 @2:01 PM

Tuukka Rask blunder allows Rangers to stay alive against Bruins in NHL playoffs
NHL playoffs: New York grab 4-3 overtime victory over Boston to keep series alive after Bruins goalie Tuukka Rask gifts Rangers comeback; Detroit Red Wings take 3-1 series lead over Chicago Blackhawks
Steve Busfield in New York
24, May, 2013 @12:00 PM

Why have so many NHL playoffs gone to overtime in 2013? | Colin Horgan
Colin Horgan: The NHL playoffs have already seen a record number of overtimes in the first round and 20 in total. Why? Plus, San Jose Sharks fined $100,000 for comments over Raffi Torres' suspension
Colin Horgan
21, May, 2013 @2:16 PM