NHL playoff preview: are the Lightning still great or just good?
The Tampa Bay Lightning are back to attempt a third Stanley Cup win in a row. Can they do it, or will another team from Florida come to the fore?
Colin Horgan
02, May, 2022 @9:00 AM
Keith Yandle: the NHL ironman closing in on 1,000 consecutive games
Barring a surprise injury, the Philadelphia Flyers defenseman will break a 36-year-old NHL record this week
Joseph D'Hippolito
24, Jan, 2022 @10:00 AM
The offside rule is ruining the NHL playoffs – and the mess could get worse
Hockey's postseason is in danger of becoming bogged down by endless reviews – and the ghost of the 1999 Stanley Cup final floats in the background
Sean McIndoe
25, Apr, 2016 @10:00 AM
The fun Florida Panthers are the NHL's surprise package
Few expected much from the Panthers, but their mix of young and old earned them 103 regular-season points, the most in franchise history. Can they keep their run going?
Joshua Kloke
20, Apr, 2016 @10:00 AM
NHL trade deadline: the winners and losers
The Rangers and Panthers are stronger after the trade period but Penguins fans may well be scratching their heads after acquiring Justin Schultz
Colin Horgan
01, Mar, 2016 @12:31 PM
Jaromir Jagr whacked in the face: 'Dear Santa, can I get new teeth for Christmas?'
Czech veteran Jagr takes a stick to the face against the Senators on Tuesday night, and reveals he's missing four of his top teeth
Guardian sport
23, Dec, 2015 @5:47 PM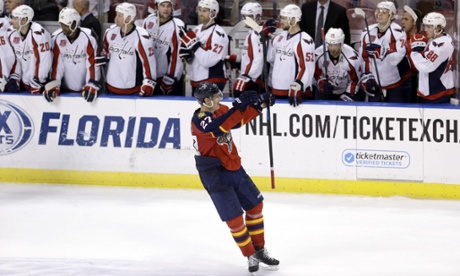 Florida Panthers win longest shootout in NHL history after 20 rounds
After 20 rounds and nearly 18 minutes, the Florida Panthers overcame the Washington Capitals in an epic shootout
Tom Lutz
17, Dec, 2014 @2:50 PM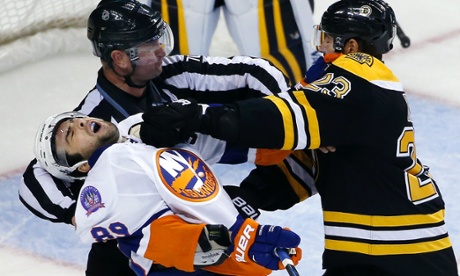 Bruins highlight NHL's East but plenty of questions remain for the rest
With the puck dropping on the NHL season tomorrow, Colin Horgan previews the Eastern Conference and wonders whether the Bruins, Rangers, or Canadiens have enough mettle to end the West's recent Cup dominance
Colin Horgan
07, Oct, 2014 @5:18 PM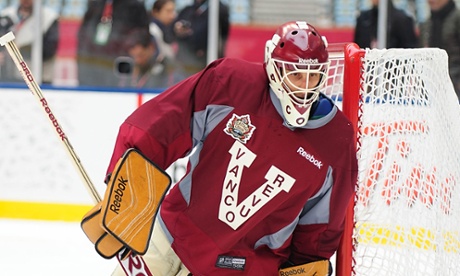 NHL trade deadline moves: Luongo, Gaborik, Vanek and St Louis
A busier-than-usual NHL trade deadline saw the Florida Panthers sign Roberto Luongo, Martin St Louis join the New York Rangers and Marian Gaborik move to the LA Kings

Colin Horgan
06, Mar, 2014 @3:02 PM

Nazem Kadri's dream season: new leaf or another false dawn in Toronto? | Colin Horgan
Colin Horgan: the Maple Leafs' top scorer is confounding critics despite having spent as much time out of the NHL as making headlines in it
Colin Horgan
26, Mar, 2013 @3:03 PM

NHL preview: 10 storylines to follow in 2013
Colin Horgan: At last the 2013 NHL season can start. We choose ten stories to watch out for in 2013 from Roberto Luongo of the Vancouver Canucks to Rick Nash at the New York Rangers
Colin Horgan
17, Jan, 2013 @10:00 AM

NHL playoff Game 7s: Bruins, Capitals, Rangers, Senators, Devils and Panthers | Colin Horgan
Colin Horgan: Three NHL game 7s - Ottawa Senators vs. New York Rangers; Boston Bruins vs. Washington Capitals; New Jersey Devils vs. Florida Panthers
Colin Horgan
25, Apr, 2012 @12:00 PM