Blue Jackets' Matiss Kivlenieks dies in fireworks-related accident aged 24
Latvian goaltender Matiss Kivlenieks died of chest trauma from an errant fireworks mortar blast in what police described Monday as a tragic accident
Agencies
05, Jul, 2021 @4:34 PM
Pittsburgh Penguins fan stabbed in head refuses treatment until end of game
A Pittsburgh man stabbed in the head with a screwdriver on Wednesday night refused medical attention until the Penguins' playoff opener was over
Bryan Armen Graham
13, Apr, 2017 @6:17 PM
The Stanley Cup contenders, ranked: red-hot Capitals can go all the way
Alex Ovechkin's Capitals, having won their second straight Presidents' Trophy, are favorites for the title. Josh Kloke runs down the NHL's 16 postseason teams
Joshua Kloke
12, Apr, 2017 @9:00 AM
Brandon Saad: my family's struggle in Syria has been an eye-opener
The Columbus Blue Jackets forward has been helping his Syrian relatives adjust to life in the US after fleeing the civil war in their homeland
Mathias Ask
15, Mar, 2016 @10:00 AM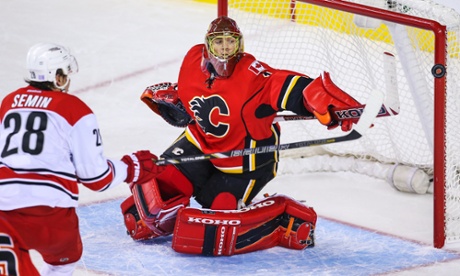 Flames burn bright as Nash shows flickers of old Rangers form | Colin Horgan
Colin Horgan: One month in, the action on the ice is as unrelenting as the Canadiens have been disappointing. Where do we go from here?
Colin Horgan
10, Nov, 2014 @3:50 PM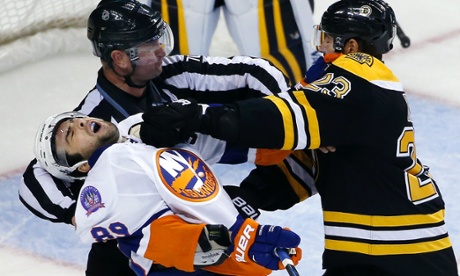 Bruins highlight NHL's East but plenty of questions remain for the rest
With the puck dropping on the NHL season tomorrow, Colin Horgan previews the Eastern Conference and wonders whether the Bruins, Rangers, or Canadiens have enough mettle to end the West's recent Cup dominance
Colin Horgan
07, Oct, 2014 @5:18 PM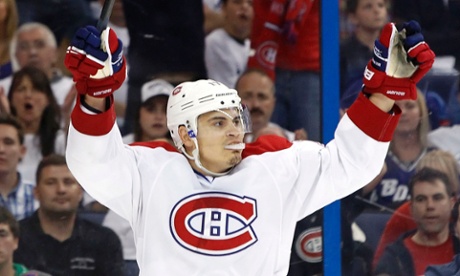 Seabrook and Cooke hits show dark side of NHL playoffs
Week one of the playoffs brought highlights such as Nathan MacKinnon's goals and lowpoints like Brent Seabrook and Matt Cooke's fouls
Colin Horgan
22, Apr, 2014 @1:20 PM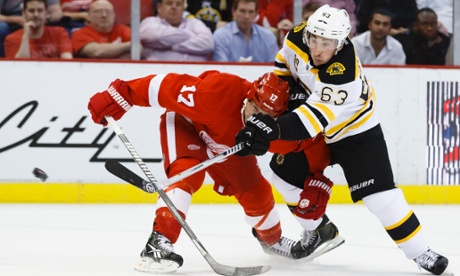 NHL playoffs: expect Boston to go deep – and Blues to upset Blackhawks
NHL: St Louis lost their last six but can topple Chicago, while the quality of Colorado and Anaheim shows the strength of the West
Colin Horgan
15, Apr, 2014 @1:59 PM

NHL preview: 10 storylines to follow in 2013
Colin Horgan: At last the 2013 NHL season can start. We choose ten stories to watch out for in 2013 from Roberto Luongo of the Vancouver Canucks to Rick Nash at the New York Rangers
Colin Horgan
17, Jan, 2013 @10:00 AM

St Louis Blues go top, Moneypuck and Blue Jackets erase Jeff Carter | Colin Horgan
Colin Horgan: Hockey looks for its Moneyball moment; Jeff Carter's name is wiped from the Columbus Blue Jackets; and who saw the miracle in St Louis coming?
Colin Horgan
14, Mar, 2012 @12:00 PM

NHL: Why Jeff Carter moved but Rick Nash didn't | Colin Horgan
Colin Horgan: Why the LA Kings signed Jeff Carter; why Rich Nash did not leave the Columbus Blue Jackets; and why the Nashville Predators look so strong
Colin Horgan
29, Feb, 2012 @9:00 AM
NHL: Five things we learned this week | Colin Horgan
Colin Horgan: Columbus Blue Jackets on field woes compounded by Ken Hitchcock's managerial move; don't mess with KHL manager Andrei Nazarov; and NHL drug claims
Colin Horgan
08, Nov, 2011 @12:00 PM