From Vivaldi to Vaughan Williams: more musical voices who have changed our world
Over the past few months, our Know the Score series introduced 20 great composers. But what of the many we couldn't write about? Martin Kettle suggests some other names whose music is well worth exploring
Martin Kettle
25, Nov, 2020 @1:36 PM
Behind closed doors: does love and isolation make Bartók's Bluebeard the opera for our times?
Returning to the role of the duke's curious young bride after the enforced silence of lockdown, Karen Cargill found Bartók's opera more powerful and troubling than ever
Karen Cargill
31, Oct, 2020 @7:00 AM
Anne Teresa De Keersmaeker review – stunning trio of dance films
In Hoppla!, Achterland and Mitten, the Belgian dance legend manages a dynamic mix of composition and choreography
Sanjoy Roy
07, Aug, 2020 @7:00 PM
Treemonisha review – Tin Pan Alley meets Wagner in rare Scott Joplin outing
Grace Nyandoro made for an admirable heroine in this uneven but intriguing small-scale production for the king of ragtime's ambitious 1911 opera
Flora Willson
28, Aug, 2019 @10:41 AM
Hungariana review – celebrating a nation's musical riches
The Casals Quartet and Tamara Stefanovich shone in the Barbican's day of concerts saluting the spirit of 20th century Hungary and the music of Bartók, Ligeti and Kurtág
Erica Jeal
04, Feb, 2019 @2:20 PM
Martin Speake: Duos for Trio: The Music of Bela Bartók review - quiet ingenuity
John Fordham
02, Mar, 2017 @6:15 PM
Bartók: Mikrokosmos 5; 14 Bagatelles etc review – superb second set of miniatures
Andrew Clements
17, Nov, 2016 @5:00 PM
Bartók: Mikrokosmos 6 CD review – spacious warmth and fiendishness
Kate Molleson
24, Mar, 2016 @6:15 PM
Bartók: 44 Duos review – virtuoso sisters show finesse and fire
The French-Romanian duo sound too glossy at times but there is plenty of spark, too, in their playing
Kate Molleson
14, Jan, 2016 @8:00 PM
Janine Jansen: Brahms and Bartók review – every phrase says something
The soloist's playing glows in the Brahms Concerto, paired with a passionate and sincere rendering of Bartók's Concerto No 1
Erica Jeal
07, Jan, 2016 @5:00 PM
Another theory on Béla Bartók's send-up in his Concerto for Orchestra | Letters
Letters: Tom Service repeats the story that Bartók parodied in his Concerto for Orchestra the 'Nazi' theme in Shostakovich's Seventh Symphony. Yet why would a fervent anti-fascist make throw-away fun of an anti-fascist statement?
Letters
04, Jan, 2016 @6:13 PM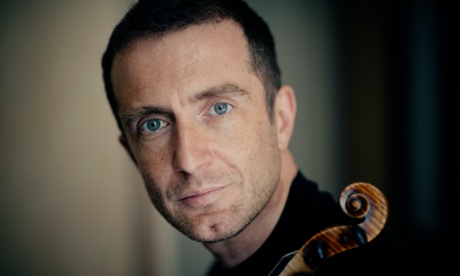 Bartok: Violin Concerto No 2, Concerto for Orchestra CD review – youthful glow
Emmanuel Kriven conducts with an almost naive sincerity and violinist Tedi Papavrami's rich mezzo rendition of the Violin Concerto blazes with urgency
Kate Molleson
13, Aug, 2015 @6:15 PM