During her seven decades as an actor and singer, Elaine Stritch, who has died aged 89, became indelibly associated with three songs written by her favourite collaborator, Stephen Sondheim. These numbers all featured in the Tony award-winning autobiographical one-woman show, Elaine Stritch at Liberty (2001), which she performed to great acclaim in the US and the UK. Each lyric captured key aspects of her career and personality.
I'm Still Here, from Sondheim's 1971 musical Follies, was the defiant anthem of a showbiz trouper who had survived professional failures, private crises and changing fashions to remain in demand into old age. Although originally written for a character whom Stritch never played in a full theatrical version, Sondheim's lines about the progress of an acting career – "First, you're another / sloe-eyed vamp / Then someone's mother / Then you're camp / Then you career from career to career" – came increasingly to embody Stritch's extraordinary durability and perseverance.
"It's a song about hanging in there and being strong and not letting the world get the better of you," she said when I interviewed her in 2007 for BBC Radio 4's Front Row. Having first performed the lyric in middle age, she believed that only as an octogenarian did she mine all of the meaning in the words.
Stritch was prolifically employed in films and TV – including four seasons in Britain of the hit ITV sitcom Two's Company (1975-79), with Donald Sinden, and an Emmy-winning role as the ancient but still dangerous mother of a central character in the comedy 30 Rock (2007-12). However, at her core she was always a creature of New York theatre in its mid-20th-century golden age; another song from Follies became the soundtrack for that slice of her life.
In Broadway Baby, a young woman dreams of theatrical fame: "Someday maybe / All my dreams will be repaid / Heck, I'd even play the maid / To be in a show." Hearing her deliver this plea for a chance to become a star, the audience was movingly aware that Stritch had fulfilled her own dreams to such an extent that she was commonly known as the "first lady of Broadway".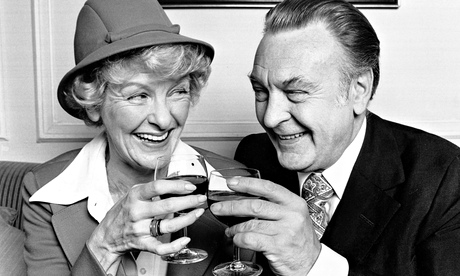 If so, she was perhaps a first lady from the Nancy Reagan mould: there could be a certain hauteur, edge and brittleness to Stritch that led some former colleagues to invoke the rhyme that her distinctive surname temptingly invited. Perhaps conscious of this strain in her make-up, she always said that her own favourite among Sondheim's songs was The Ladies Who Lunch, from Company (1970). Stritch gained a Tony nomination for creating the role of Joanne, a waspish, snobbish, alcoholic socialite, whose big number in the show skewers the rich socialite wives and ex-wives of Manhattan meeting to bitch over lunch: "Another chance to disapprove / Another brilliant zinger / Another reason not to move / Another vodka stinger."
The final line of that quatrain had special resonance for Stritch because, for the first 40 years or so of her career, she was an alcoholic. Sondheim, in his theatrical memoir Finishing the Hat (2010), revealed that The Ladies Who Lunch was not only written for Stritch but inspired by her "acerbic delivery of self-assessment".
George Furth, who wrote the story and spoken dialogue for Company, had witnessed an inebriated Stritch asking a bartender, "Just give me a bottle of vodka and a floorplan," and this anecdote inspired the lyric. In later years, after she had become sober through rehab, she performed the song in cabaret with a wrenching emotional identification that seemed clearly to come from autobiographical flashbacks to the waste she had nearly made of her life.
Stritch was born in Detroit, Michigan, into a Roman Catholic family of Irish and Welsh descent; her uncle, Cardinal Samuel Stritch, was a leading American Catholic churchman. The family was wealthy, through her father's position as an executive with the tyre company BF Goodrich. At one point in Elaine Stritch at Liberty, she said to the audience, during a childhood anecdote: "My parents – let's not go there." Theatregoers in the era of misery memoirs assumed this to be an allusion to estrangement or even abuse but, questioned on this, Stritch insisted that the omission had the opposite motivation. She "so loved" George and Mildred Stritch – and had such gratitude for their financial and motivational support of her acting ambitions – that she "would find it impossible to talk about them on stage" without breaking down.
Her apprentice years in New York theatre included the feat of once being employed simultaneously in shows on Broadway and in Connecticut, her exit in the former allowing time to catch a train to make the later curtain for the latter.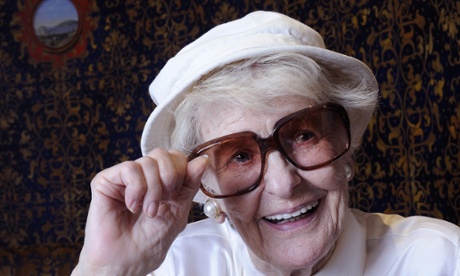 Although that double booking suggests a cool head, Stritch suffered seriously from stage fright, believing that performers must feel fear: "If I see someone saying the rosary in the wings, I know they've got talent." Stritch, however, turned not to prayer but booze. From her earliest successes – winning her first Tony nomination in 1956 for William Inge's play Bus Stop – until the late 1980s, she would down a big drink before curtain, another in the interval and a third before delivering the climactic song (the so-called "11 o'clock number") in a musical.
She believed that theatregoers would be unaware of her habit, although word got round among producers. When she was appearing in Los Angeles in the 1960s, a guard was placed outside her dressing room, charged to listen for the tell-tale pop of corks. This precaution was thwarted by Stritch striking a deal with a local liquor store to deliver gift-wrapped bottles of champagne with fake messages of encouragement from celebrities ("Have a great show! from Judy Garland. xx"). The alcohol cop at the theatre let through these presents, unaware that they were trick bottles fitted with a special soundless cork.
Despite this questionable preparation for going on stage, Stritch otherwise remained an impeccable professional, boasting of having only missed two shows through indisposition over seven decades. She carried on performing live, because, she said: "I love audiences. My God, the best friends in the world!" It was her fierce creed that, even in long runs, each performance must be as good as possible – "the audience out there are seeing the show for the first time" – and, ideally, different from its predecessors: "I work constantly on the lyric of a song. Every time, I'm trying to find something else in it." Unlike many performers, she made a point of reading all her reviews, even hostile ones: "You can learn from what these cleverer people say about you."
Her stage acclaim led to screen roles including the CBS sitcom My Sister Eileen (1960-61) and the movie A Farewell to Arms (1957), but her acting success for a long time ran ahead of personal fulfilment. Catholic morality had left its mark and Stritch recalled turning down a fling with Marlon Brando as a young woman because she "wouldn't have known how to sleep with him". Her love life was also slowed down by a long pursuit of the actor Rock Hudson, who was at the time successfully concealing his homosexuality. She admitted to remaining a virgin until 30 and turning down opportunities to marry because the men, against Catholic doctrine, were divorcees.
As a result, she was 50 before making the major relationship of her life. After going to London in 1972 for the West End production of Company, she met and married John Bay, an American actor and playwright whose family had founded a company popularising English muffins in the US. Stritch and Bay married – a section of her solo show dealt with the happiness of this union – and lived in London at the Savoy hotel. Spotting the opportunities of this sojourn, LWT, whose headquarters was within walking distance of the Savoy, cannily came up with Two's Company.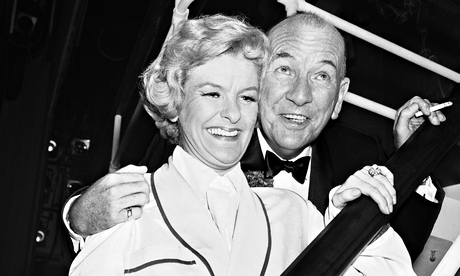 As Sondheim had done with The Ladies Who Lunch, the writer Bill MacIlwraith sensibly created a role close to Stritch's own persona: Dorothy McNab, a sharp-tongued and sassy American writer exiled in London. He maximised the potential culture clash by pairing the American big-mouth with Sinden's stereotypically correct English butler.
Bay's diagnosis with brain cancer and then his death in 1982 – and Stritch's resultant comfort drinking – caused the first significant dip in her career when she returned to her home country as a widow. But, after dealing with her alcoholism and a subsequent diagnosis as a diabetic, she was increasingly recognised as comedy and musical royalty. Woody Allen cast her in September (1987) and Small Time Crooks (2000), while she served Sondheim again in concert stagings of Company (in 1993) and a revival of A Little Night Music (in 2010). In 1996, she gave a memorable portrayal of Claire, an unhappy and malicious alcoholic, in a production of Edward Albee's family tragedy A Delicate Balance.
Her status as a Broadway great was confirmed by Elaine Stritch at Liberty. The script credit for this monologue with songs was "constructed by John Lahr and reconstructed by Elaine Stritch." Lahr, a biographer and theatre critic, admitted in the liner notes for the CD recording of the show that there had been a lot of shouting matches during the creation of the show. He referred to "that ozone of anger and anxiety that is finally the Stritch climate". Stritch, when I put this weather report to her, quibbled: "I think I have more humour in me than anger. But those two things are great bed-fellows, performance-wise."
This feisty attitude on stage perhaps compensated for what she freely admitted was a technically imperfect singing voice: a documentary shot during rehearsals of Company catches her self-deprecatingly saying: "I'm just shouting." But, like Sondheim, one of whose finest interpreters she certainly was, she understood that a song is a one-act play in musical form. "There were a lot of lyrics that I sang but didn't understand," she told me. "But I had this facade in performance of looking like I wrote the book."
• Elaine Stritch, actor and singer, born 2 February 1925; died 17 July 2014
• From Sondheim to 30 Rock: Stritch's career in clips
• Stritch interview: 'I'm a do-it-myself kind of broad'
• In pictures: an incorrigible scene-stealer