Callum Robinson responds to recent flak with Ireland double in Azerbaijan
Callum Robinson scored twice and Chiedozie Ogbene added a late third to give the Republic of Ireland a 3-0 victory over Azerbaijan
Paul Doyle
09, Oct, 2021 @6:02 PM
World Cup roundup: Van Dijk allays injury fears after Netherlands' 6-1 win
The Liverpool defender left the field late on in the 6-1 win over Turkey. Elsewhere, France beat Finland 2-0 and Portugal were 3-0 winners away to Azerbaijan
Guardian sport and agencies
07, Sep, 2021 @10:15 PM
Austria 0-1 Scotland, France 2-0 Finland: World Cup qualifying – as it happened
Lyndon Dykes's penalty secured a superb win for Scotland in Austria while Ireland kept their faint hopes alive with a 1-1 draw against Serbia
Luke McLaughlin
07, Sep, 2021 @9:14 PM
Republic of Ireland 1-1 Azerbaijan: World Cup qualifier – as it happened
Minute-by-minute report: A late equaliser from Shane Duffy cancelled out Emin Mahmudov's sensational first-half strike but only saved some of Ireland's blushes
Barry Glendenning
04, Sep, 2021 @6:11 PM
Shane Duffy averts Republic of Ireland humiliation against Azerbaijan
Shane Duffy's late equaliser gave Republic of Ireland a 1-1 draw against Azerbaijan and their first point in their World Cup qualifying Group A
Paul Doyle
04, Sep, 2021 @6:07 PM
Wales must not play in strife-torn Baku if Azerbaijan themselves cannot | Barney Ronay
Staging Euro 2020 games in a politically problematic country now embroiled in conflict is untenable, and Uefa needs to make a swift decision
Barney Ronay
20, Nov, 2020 @4:49 PM
Azerbaijan 0-2 Wales: Euro 2020 qualifier – live!
Minute-by-minute report: Kieffer Moore and Harry Wilson bagged the goals that leaves Wales in with a shout of qualifying with one game to go
Barry Glendenning
16, Nov, 2019 @7:10 PM
Gareth Bale says playing for Wales 'more exciting' than Real Madrid
Gareth Bale said he finds it more exciting to play for Wales than Real Madrid, a statement unlikely to be warmly received by his club
Ben Fisher
15, Nov, 2019 @1:43 PM
Gareth Bale's winner against Azerbaijan keeps Wales Euro 2020 dreams alive
Wales' hopes of making the Euro 2020 finals were given a much-needed boost when Gareth Bale scored an 84th-minute winner in their 2-1 victory over Azerbaijan
Stuart James at Cardiff City Stadium
06, Sep, 2019 @8:49 PM
Euro 2016 qualifiers clockwatch – as it happened
Minute-by-minute report: The Dutch fail to reach the Euros for the first time since 1984, as Turkey make it to France in the most dramatic of circumstances. Scott Murray was watching.
Scott Murray
13, Oct, 2015 @8:49 PM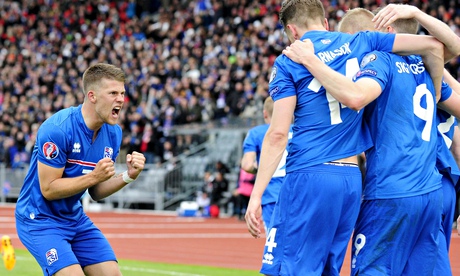 Euro 2016 qualifying round-up: Iceland come back to beat Czechs
Round-up: Kolbeinn Sigthorsson scored a glorious winner to complete Iceland's 2-1 victory as they leapfrogged the Czechs to top Group A
Staff and agencies
12, Jun, 2015 @10:32 PM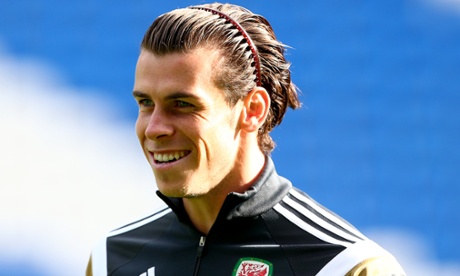 Euro 2016 qualifiers – as it happened | Nick Ames
Wales and Bosnia fought out a goalless draw that either could have won, the Dutch were given an almighty scare by Kazakhstan and Giorgio Chiellini went hero-villain-hero
Nick Ames
10, Oct, 2014 @8:52 PM