James Caan: my lunches, fallouts and golf-shoe hunts with the Hollywood legend
When James Caan agreed to be in her movie, director Carol Morley found herself on a rollercoaster ride. She recalls their months of sparring, bonding over avocados – and watching a master give his all
Carol Morley
12, Jul, 2022 @3:23 PM
Hollywood bids farewell to three greats united by mafia films and friendship
Tony Sirico, Ray Liotta and James Caan helped to define the modern mob movie
Robin McKie
10, Jul, 2022 @8:00 AM
James Caan obituary
Superb actor whose defining role of Sonny Corleone in The Godfather found echoes in his colourful personal life
Ronald Bergan
08, Jul, 2022 @12:45 PM
James Caan: the hard-working star who mixed the rough with the smooth
The actor has left behind a long, acclaimed career in film, from crime roles in The Godfather and Thief to a fan favourite turn in Rob Reiner's Misery
Peter Bradshaw
07, Jul, 2022 @7:35 PM
The Godfather star James Caan dies aged 82
Actor who played Sonny Corleone in the groundbreaking 1972 epic engineered a comeback after his career went off the rails in the early 1980s
Andrew Pulver
07, Jul, 2022 @5:12 PM
This thing of ours: why does The Godfather still ring true 50 years on?
From Succession to the real-life drama of the Tory government, the influence of Francis Ford Coppola's mafia film is everywhere
Danny Leigh
04, Mar, 2022 @11:00 AM
The Godfather Coda: The Death of Michael Corleone review – Coppola edits the past
The director tweaks the little-loved final part of his Godfather trilogy as Michael tries to break into legitimate business
Peter Bradshaw
01, Dec, 2020 @2:00 PM
Would a true Godfather pull up the ladder behind them? | Peter Bradshaw
Director Francis Ford Coppola is the latest to claim their creation would have been strangled at birth today. Isn't it just a selfish way of establishing uniqueness?
Peter Bradshaw
03, May, 2017 @2:29 PM
The Godfather director and cast reunite to discuss struggle of making the film
Francis Ford Coppola, Al Pacino, Diane Keaton, Robert De Niro and others attended nine-hour screening and talk in New York on film's 45th anniversary
Rob LeDonne
30, Apr, 2017 @1:47 PM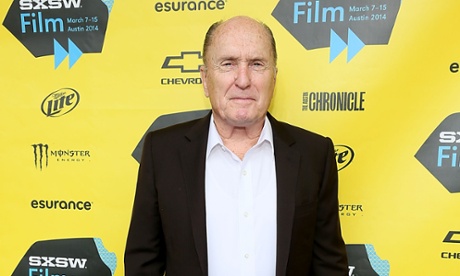 Robert Duvall at SXSW 2014: 'We'd moon each other on the set of The Godfather'
Speaking at the SXSW film festival, actor recalls playing pranks on director Francis Ford Coppola on the set of the gangster classic
Henry Barnes
11, Mar, 2014 @9:14 PM
James Caan: 'The studio thought The Godfather was a piece of garbage'
Punch-ups with John Wayne, cocaine binges, the Heidi Fleiss scandal... James Caan has lived life to the full. In The Godfather, he also had one of cinema's greatest deaths. Now he's back on top and back in the gangster role - but this time, he's playing it for laughs
Stuart Husband
21, Aug, 1999 @11:14 PM