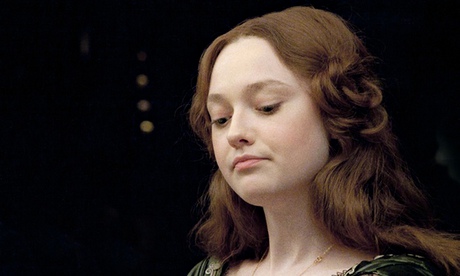 Effie Gray review – Emma Thompson's entertaining take on a doomed Victorian marriage
Dakota Fanning performs with gusto in this slightly hammy account of John Ruskin and Effie Gray's marital disaster
Peter Bradshaw
12, Apr, 2021 @9:32 AM
Dying of the light: why Hollywood needs to get over its obsession with terminally ill teens
Five Feet Apart is the latest film about doomed young heartthrobs – a trope rife in popular culture since Romeo and Juliet
Steve Rose
18, Mar, 2019 @10:00 AM
2019 in pop culture: from Adele's 30 to 'zapping' your TV
A guide to everything you'll need to know about TV, film and music next year, including Tarantino's Charles Manson obsession and what's next for Richard Madden's bum
Leonie Cooper, Michael Cragg, Hannah J Davies, Harriet Gibsone, Joel Golby, Ellen E Jones, Steve Rose and Jack Seale
29, Dec, 2018 @7:00 AM
A star is born: has the beardy bloke music biopic had its day?
With the arrival of Lady Gaga's star turn, Natalie Portman's Vox Lux and Elisabeth Moss' Her Smell, the murky world of female pop stardom finally gets immortalised on screen
Steve Rose
17, Sep, 2018 @9:00 AM
The Alienist review – a 19th-century psychological thriller that's short on thrills
Despite lush production values and a disturbing plotline, the television adaptation of a 1994 literary sensation fails to excite
Jake Nevins
22, Jan, 2018 @3:55 PM
Brimstone review – queasily sensationalist
This strikingly photographed story of a vengeful preacher and his victims in America's old west revels too much in its savagery towards women
Wendy Ide
01, Oct, 2017 @7:00 AM
Brimstone review – Guy Pearce outrageously operatic in grisly and gripping western
Pearce reaches Nicolas Cage levels of menace as he torments Dakota Fanning's fiercely defiant homesteader in Martin Koolhoven's freaky thriller
Peter Bradshaw
27, Sep, 2017 @1:00 PM
American Pastoral review – Ewan McGregor's misjudged Roth adaptation
The actor's heavy-footed directorial debut, in which he also stars, is an odd, tortured drama of postwar domestic tragedy
Peter Bradshaw
10, Nov, 2016 @11:00 PM
Dakota Fanning: 'There was an expectation – to fail, to succeed'
As a child actor she worked with Sean Penn and Tom Cruise – and people kept asking when she'd go off the rails. Not going to happen, she says
Emma Brockes
01, Oct, 2016 @9:00 AM
Brimstone review – Dakota Fanning in blood-and-thunder western that pulls no punches
Four-part epic about a mute woman stalked by a vengeful preacher is filled with hellfire and damnation, but suffers from somewhat ponderous pace
Andrew Pulver
03, Sep, 2016 @12:00 PM
Kirsten Dunst to direct The Bell Jar starring Dakota Fanning
The Melancholia actor is to make her directorial debut with a version of Sylvia Plath's 1963 novel
Catherine Shoard
21, Jul, 2016 @9:54 AM
The Benefactor review – who'd be a millionaire?
Richard Gere gets creepy with Dakota Fanning in this uninspired drama about a philanthropist with a dark side
Mark Kermode, Observer film critic
28, Feb, 2016 @8:00 AM