The 15:17 to Paris review – a truly dull tale of real-life derring-do
Three US tourists who foiled a terror attack on a French train play themselves. Poor call by director Clint Eastwood
Wendy Ide
11, Feb, 2018 @7:55 AM
The 15:17 to Paris review – Clint Eastwood derails a tale of real-life terror
Three young Americans who bravely foiled an attack on a train play themselves in a drama that focuses too much on their excruciatingly dull backstories
Peter Bradshaw
08, Feb, 2018 @2:00 PM
The friends who foiled a gunman - and are now playing themselves in a Clint Eastwood movie
Two years ago, on a French train, three young Americans took down a man who was armed with an AK-47 and 300 rounds of ammunition. Now, they're film stars. Where will their extraordinary lives go next?
Emine Saner
06, Feb, 2018 @6:00 AM
Friends who foiled 15:17 to Paris train attack 'guided by God'
Americans playing themselves in Clint Eastwood movie 'were supposed to be there that day'
Harriet Sherwood Religion correspondent
30, Jan, 2018 @2:00 PM
Clint Eastwood set to direct film about France train attack
Actor plans to adapt book The 15:17 to Paris that retells how three American servicemen thwarted a terrorist attempt aboard a high-speed train in 2015
Guardian staff
20, Apr, 2017 @9:22 PM
Briton who helped foil train terror attack: what happened next
Chris Norman says he needs to understand reasons for terrorist's thwarted plan to shoot passengers during SNCF journey from Amsterdam to Paris
Ben Quinn
01, Jan, 2016 @10:28 AM
Suspect sketches released in stabbing of France train attack hero Spencer Stone
Brother writes that Stone was stabbed four times and needed open heart surgery as family seeks crowdfunding help with 'personal security issues'
Martin Pengelly in New York
17, Oct, 2015 @9:41 PM
Spencer Stone, American who helped stop Paris train attacker, stabbed in California
Stone, who was among three Americans who disarmed suspected terrorist in August, in serious condition after 'nightlife-related incident'
Lauren Gambino in New York
08, Oct, 2015 @7:28 PM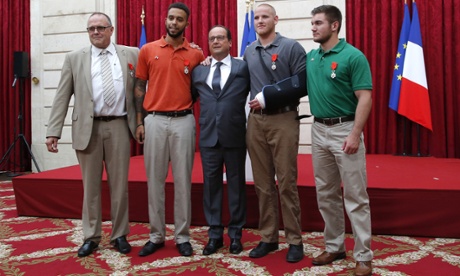 Gung-ho Americans, steady Brits, and a lack of French resistance – but was the story of the terror train really so clear?
A narrative straight out of the second world war changed every time you read it, and true or not, each re-mix added something delightful
Geoff Dyer
29, Aug, 2015 @6:30 AM
France train attack: American-French citizen was shot trying to tackle gunman
American-born professor Mark Moogalian is being treated for injuries inflicted as he and other passengers subdued man who walked out of bathroom with gun
Amanda Holpuch in New York
25, Aug, 2015 @3:39 PM
British grandfather describes how he helped overpower gunman
'Be aware that there is a possibility to act,' says Chris Norman, who helped avert tragedy on Amsterdam-to-Paris train
Angelique Chrisafis in Paris
24, Aug, 2015 @3:47 PM
Germany and France to push for joint EU immigration and security policies
Berlin in particular is determined to draw up mandatory quotas for refugees and is warning of reintroducing national border controls
Ian Traynor in Brussels
24, Aug, 2015 @1:59 PM