French Spiderman climbs 48-storey skyscraper in Paris aged 60
Alain Robert scaled the 187-metre Tour Total to show that being 60 is nothing, and that you can still be active
Charlie Moloney
17, Sep, 2022 @5:00 PM
'My head was completely free': the rise of climbing as therapy
Supporters of climbing therapy say it can help people focus on the here and now and provide relief from the whirlwind of modern life
Theo Zenou
08, Apr, 2022 @9:00 AM
The adventures of 'French Spiderman' - in pictures
Alain Robert has climbed many of the world's tallest buildings, often without permission

The Society of Timid Souls by Polly Morland – review
Polly Morland's study of bravery is full of energy, curiosity and courage, writes Kate Kellaway
Kate Kellaway
19, May, 2013 @12:00 PM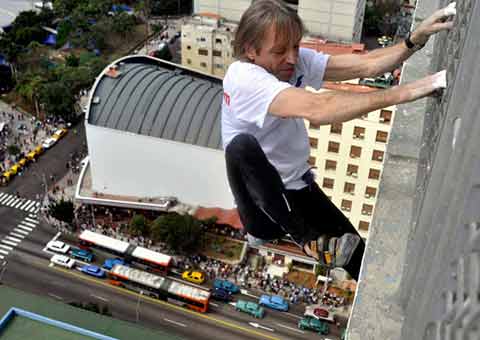 Alain Robert climbs 27-storey Habana Libre hotel - video
French climber nicknamed the spiderman climbs the landmark Habana Libre hotel in the Cuban capital with no safety equipment

Alain Robert scales Havana hotel - in pictures
The Frenchman successfully climbed the side of the Habana Libre hotel in Cuba without safety equipment
French 'Spiderman' Alain Robert scales 88-storey Petronas towers
Alain Robert held by Malaysian police after bare-handed 1,500ft climb with no safety equipment
Adam Gabbatt
01, Sep, 2009 @11:14 AM

Video: The French Spiderman is back
Renowned environmental campaigner and building climber Alain Robert scales the New York Times building to protest against global warming – shortly followed by another brave adventurer
Last night's TV: The Human Spider
Alain Robert scales giant buildings without using ropes. It's a bit of a worry for his family
Sam Wollaston
03, Apr, 2008 @11:06 PM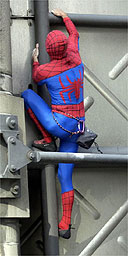 I'm Spider-Man
After finding the Alps too disappointing, he took to climbing very tall buildings without ropes. From the Petronas Towers to Canary Wharf, Alain Robert has scaled more than 70 skyscrapers. Yesterday, he conquered the Lloyds building in London. Stephen Moss met him.
Stephen Moss
14, May, 2003 @1:45 PM
Spiderman strikes
The real Spiderman, Alain Robert, got stuck three-quarters of the way up London's 800ft No 1 Canada Square tower at Canary Wharf.
Audrey Gillan
19, Oct, 2002 @12:49 AM