When residents of Ouagadougou took to the streets last week to protest against a military coup, there was one name on their lips. Wearing T-shirts bearing the image of the legendary former Burkina Faso leader, Thomas Sankara, they chanted the slogan of his government: "La patrie ou la mort, nous vaincrons!" ("Homeland or death, we will overcome!").
It proved prophetic. A few days later, leaders of the coup, loyal to former president Blaise Compaoré,were forced to back down and the country's interim leadership was restored.
The ensuing celebrations mimicked those in Ouagadougou a year earlier when another takeover – this one sparked by a popular citizens' uprising – had deposed Compaoré, who had been in power since 1987 when he led a coup that claimed Sankara's life.
The turmoil of the past weeks, with political power swinging one way and then another, illustrates all too clearly how the legacy of the two men – one dead, one in exile – continues to shape the country's fortunes.
Abdoulaye Cisse, 67, and his fellow musicians knew them both. They tell an extraordinary tale of two former friends whose falling out was to have devastating consequences for the country.

"We were a group of friends and there was a good camaraderie between us. We used to call Sankara 'comrade president', but Compaoré was just 'Blaise'," says Cisse, who enjoyed fame in the 70s with his jazz band Les Vautours (The Vultures).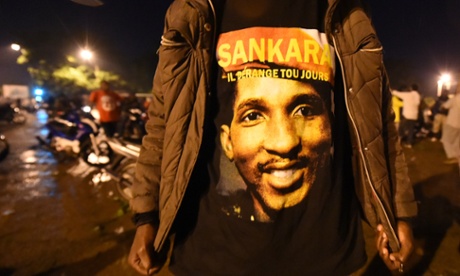 Sankara first met Compaoré in the early 70s, during the war with Mali. They became inseparable.
Dubbed "Africa's Che Guevara", Sankara was an army man and a Marxist revolutionary who became president in 1983 after a people's uprising. He launched an ambitious social and economic reform programme and became an icon of pan-Africanism with his anti-imperialist rhetoric.
What many people don't know is that Sankara was also a fine jazz guitarist who founded several bands. Even less known is the fact that he and Compaoré played together in one of them, Tout-à-Coup Jazz.
"[Thomas] Sankara was a skilled jazz musician, but Compaoré just sang," says Cisse. "There were more rehearsals than concerts but every performance was magical. When in government, Sankara knew that music was a tool for cultural development, and could effectively be used to promote the revolution."
In 1978, Sankara – then lieutenant in a training camp in the city of Po – made Compaoré his deputy commander. In this southern Burkinabe town, a new group had emerged to entertain the troops: Missile Band of Po.
"Compaoré was more serious than Sankara," says François Tapsoba, a former band member. "Sankara never worried about money. He was an incorruptible leader," he adds, strumming out chords on a battered-looking guitar that was given to him by Compaoré nearly 30 years ago.
When Sankara came to power, the legend goes, he sold the government's fleet of luxury cars and replaced them with more affordable Renault 5s.
"He was the special one," says Pascal Ouédraogo Kayouré, who says he taught Sankara how to play the guitar as a child. "He will always be part of our history. His real passion was music. He was a very disciplined student."
In 1987, Compaoré launched a coup against his former comrade, in which Sankara was murdered. Compaoré claimed the presidency, and stayed in power for 27 years.
"These were very hard times for people in Burkina Faso," says Roger Bihoun, a former member of the Missile Band. "We lived with very little. Our artistic careers were kidnapped after the coup of 1987. We cannot return to those years."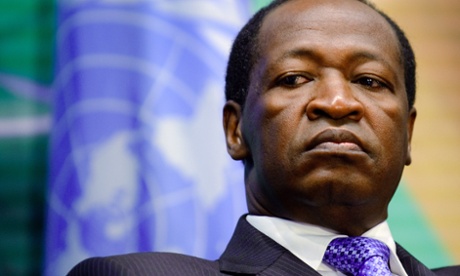 Last October, the festering dissatisfaction spilled over when Compaoré tried to extend his presidential term. Demonstrators took to the streets, chanting "La patrie ou la mort, nous vaincrons!" Compaoré was forced into exile and a transitional government installed with Michel Kafando, former foreign minister and ambassador to the UN, as interim president.
Finally, musicians such as Cisse, Bihoun and Kayouré began to hope for their country. "In his first speech after being elected, Kafando mentioned Sankara. It was the right time to appeal for justice," says Kayouré.
Then, three weeks before scheduled elections on 11 October, Kafando and the prime minister Yacouba Isaac Zida were arrested by members of the presidential guard loyal to ousted Compaoré. But again the country resisted, and after a week of demonstrations and the involvement of regional leaders, the coup leaders were overthrown.
Today, the musicians recall the words of the Burkinabé national anthem, One Single Night, written in 1984 by then-president Sankara: "One single night has drawn together / The history of an entire people / And one single night has launched its triumphal march / Towards the horizon of good fortune."
Cisse says they are finally able to look forward. "Twice in the last year we have expelled Compaoré's regime. We have our heads above the water again. I have hope for the future."