An Iranian painter and women's rights campaigner is on trial in Tehran on charges of spreading propaganda against the ruling establishment.

Atena Farghadani, who has spoken out against parliamentary plans to restrict access to contraception, appeared in court on Tuesday in connection with her activism as well as her art. The 29-year-old, described by Amnesty as a prisoner of conscience, is currently being kept in Tehran's notorious Evin prison.

Farghadani fell foul of the Iranian authorities after meeting with the families of political prisoners and drawing a cartoon depicting a group of Iranian parliamentarians with faces of animals. She is facing charges of "insulting members of parliament through paintings" and "insulting the Iranian supreme leader".
Farghadani's cartoon was drawn in reaction to two separate bills being considered by MPs which would outlaw voluntary sterilisation, restrict access to contraceptives, and tighten divorce laws, which are already weighted in men's favour.
Two decades after Iran initiated progressive family planning programmes, MPs announced last year that they were seeking a U-turn in order to boost the population. It came after an intervention by supreme leader, Ayatollah Ali Khameni, who criticised the previous policy as an imitation of western lifestyle.
However, activists warn that new proposals, if passed, would reinforce discrimination against women and restrict women's rights.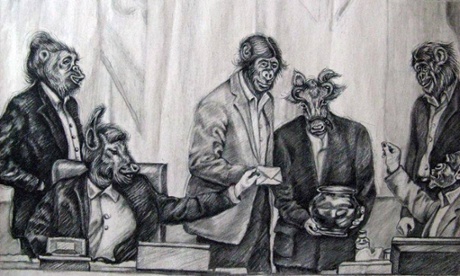 Farghadani is also facing the charge of "gathering and colluding with anti-revolutionary individuals and deviant sects" because of her art exhibition Parandegan-e Khak (Birds of earth), held in commemoration of those killed in the bloody post-election crackdown in 2009, and attended by families of political prisoners as well as members of the Baha'i community, the most persecuted religious minority in Iran.

Farghadani was initially arrested in August 2014 and held in solitary confinement for two weeks without access to her lawyer or her family. She was released on bail after two months but was rearrested in January after posting a video on YouTube describing how prison guards mistreated her physically while she was in jail.
"One of the guards opened the cell door violently … and shouted 'take off your clothes'. I told them that what they were doing was illegal," she said in the video. "One of the guards who swore a lot held my hands up, because I was resisting the body search … My right hand hit the wall and my wrist became swollen and bruised … I told them that I was on 'dry' hunger strike and that I would file a complaint. One of them told me 'shut your mouth or I will hit you so hard that your mouth will be full of blood'."
According to Amnesty, she used discarded paper cups and flowers from the exercise area to continue painting while in jail, which infuriated prison guards.

Farghadani, who is banned from university, was interrogated for nine hours every day for six weeks during her first time in jail and, since her recent arrest, she has gone on hunger strike at least once for two weeks.

Farghadani's trial is being presided by judge Abolghassem Salavati who is infamous for handing down heavy sentences to political activists and dissidents. The court is expected to issue its sentence in Farghadani's case within 20 days.

"It is shocking that a young artist and activist has found herself in the most distressing circumstances, facing weeks of solitary confinement and the threat of long-term imprisonment following an unfair trial simply for expressing her opinions," said Raha Bahreini, a researcher with Amnesty International's Iran team.
"Iran's relentless crackdown on journalists, artists and activists critical of the state is not only out of line with international human rights standards, it is also utterly inconsistent with claims by Iran's minister of foreign affairs and other authorities that Iran does not jail people for their opinion," she told the Guardian, referring to a recent controversial interview by foreign minister Mohammad Javad Zarif, in which he said "we do not jail people for their opinions".

Referring to a petition signed by more than 33,000 people, Bahreini added: "Thousands of people from around the world want to see Atena Farghadani and other prisoners of conscience released. Iranian authorities should listen to this global appeal and end their disturbing pattern of repression."
Meanwhile, the New York-based international campaign for human rights in Iran (ICHRI) reported earlier this week that another young female activist, Atena Daemi, has been sentenced to seven years in prison for Facebook postings and peaceful protest.