The Iranian police demonstrated an unusual degree of tolerance on Tuesday night to allow singing and dancing in the streets as jubilant crowds across Iran celebrated the announcement of the nuclear deal.

Nationwide celebrations started after iftar, the evening meal to break the day's Ramadan fast, and lasted almost until sunrise, when many have another meal to prepare for the next day's abstinence.

The streets of Tehran, including the tree-lined Vali-e-Asr, which stretches from the north to the south of the capital, saw scenes of extraordinary jubilation as people gathered outside, with drivers honking car horns and people pushing the boundaries to dance and sing in public, in a country where such behaviour is normally banned. It was a rare moment in which the Iranian people and their government were largely on the same side celebrating what they see as a national achievement.

Celebrations were not only limited to Tehran; other major cities, including Shiraz, and even Bushehr, which is host to a nuclear power plant, saw similar reactions. Crowds held up the green, white and red flag of Iran and congratulated each other by making "V for victory" signs and waving from open windows. The Iranian police had announced before the deal that it would "accompany" people in these celebrations.

Many held up posters depicting the Iranian foreign minister, Mohammad Javad Zarif, the country's lead nuclear negotiator, who has become a national hero. On Wednesday, Zarif was greeted by senior officials and figures when hereturned to Iran. Among them were the family members of assassinated Iranian nuclear scientists, showing that the deal has garnered support even among conservatives.
One Iranian newspaper, Ebtekar, put Zarif's picture on its front page next to a picture of Mohammad Mosaddegh, Iran's respected first democratically elected prime minister who was overthrown by a British and CIA-engineered coup in 1953. Sipri, a thinktank in Sweden famous for its reports on global arms sales, has recommended Zarif and his American counterpart, John Kerry, for a Nobel peace prize.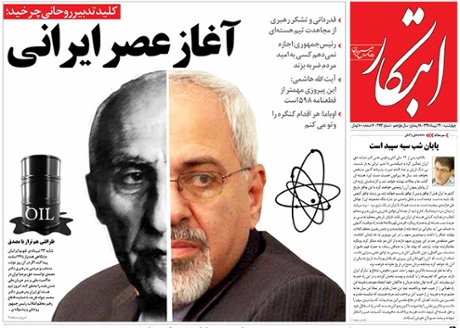 The nuclear accord dominated all other Iranian front pages and almost all welcomed it. "The world changed", read the headline of the reformist Etemaad. Shargh, another reformist daily, carried the headline: "Victory without war". Asia published a front page with a one-word headline against a white background: "Deal". Arman daily said: "The world came to respect Iran".
Iran's supreme leader, Ayatollah Ali Khamenei, thanked Iranian negotiators for their efforts during a meeting with government officials, hinting at his approval of the agreement. He is expected to give his verdict in detail when he delivers a speech when he leads Friday prayers in Tehran.
There were also positive reactions to the Guardian's editorial in Farsi, which hailed "a triumph of diplomacy". Many Iranian state agencies reported the editorial, with some Iranian news sites publishing the full text. One Tehrani citizen said many were sharing it online and via messaging apps such as WhatsApp.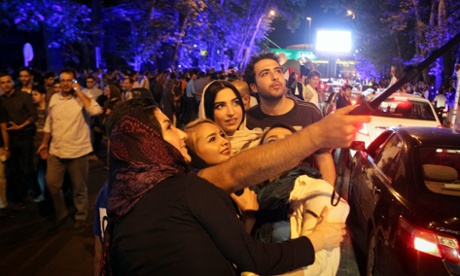 Iranian cartoonists also reacted: one showed Iranian negotiators raising a national flag, alluding to the iconic photograph showing US soldiers raising the stars and stripes on Iwo Jima.

Another cartoon by prominent Iranian cartoonist Mana Neyestani showed a dove of peace breaking the window of a bunker.