Once again, Sonia Gandhi is on the front page in India. But this time the reclusive politician – one of the world's most powerful women – isn't plastered across the country's raucous newspapers. Rather, she is on the cover of a "fictionalised biography" that her own party branded defamatory and kept off the shelves for five years.
The Spanish author Javier Moro's The Red Sari was finally published this week and is now topping bestseller lists. Written in the first person, it tells how Gandhi, a young Italian girl from humble origins, came to marry an Indian pilot who happened to be the son of the Indian prime minister and eventually, years after his violent death, herself became leader of the most historic party in the world's biggest democracy.
"It's an extraordinary, unique story. That's why I wanted to tell it so much," Moro said on Thursday.
When the book's Indian publication was first planned in 2010, Congress party officials described it as "defamatory, inaccurate and unsubstantiated" and threatened legal action, while Gandhi's supporters burned effigies of Moro in Delhi. Gandhi herself was said by aides to have seen a copy of the work and to have been "saddened".
But out of power since a crushing defeat in an election nine months ago, neither the 130-year-old party nor south Asia's most famous political dynasty have been unable to maintain the pressure that blocked the book's release.
"Nobody really understood why they reacted this way. There is this really harsh campaign to protect her image. They have made her a goddess in a gilded cage and that alienated the voters," Moro told the Guardian.
That failure tells a broader story about the weakness of the party, which has failed to recover from its drubbing last year.
Gandhi, 68, still the Congress president, is reported to be in poor health. Her son, Rahul, is widely tipped to succeed her as the party's leader, possibly as soon as March. But the 44-year-old scion has been criticised as distant, both personally and physically.
"Half the time we simply don't know where [Rahul] is," said one former Congress party minister who spoke on condition of anonymity last month. "He's just not present for the workers, or on the broader political stage. It's very dispiriting."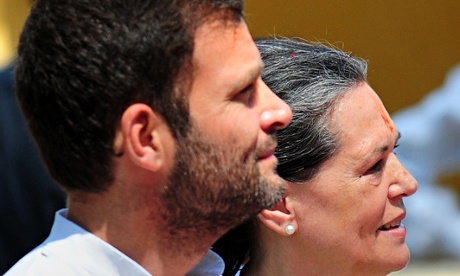 Rahul, a former management consultant whose father, grandmother and great-grandfather were all prime ministers, was criticised for leading a lacklustre campaign during the elections last year and is blamed by some for the defeat, the worst suffered by Congress for decades.
However, senior officials of the party say that although internal reform is necessary to improve accountability and responsiveness to voters, a Congress without the Gandhis is unthinkable. "Then it would no longer be Congress," one said in an interview late last year.
Indian media have reported a generational struggle within the party as veterans resist younger activists who believe in a new style of representational politics in India rather than traditional pragmatic deal-making with local powerbrokers.
Since last year's election, the party has lost a string of provincial-level polls. Voters in the capital, Delhi, will go to the polls in February with the BJP favourites to win and the role of vocal opposition played by a newcomer, the Aam Admi (Common Man) party.
The publication of The Red Sari also shows the influence that an incumbent government in India can have, whatever the law, in the cultural domain. "The pressure [not to publish] was more political than legal. When [Congress] was defeated that pressure was very much less," said Pramod Kapoor, publisher of the Indian edition of the book. "The law should remain the same whether or not a party is in power, but what makes India different from other places is that there are laws beyond laws."
Appointments to many key institutions are made or approved by politicians. This week a slew of BJP loyalists were given posts on the film certification board, which can prevent cinematic releases. "[The BJP prime minister] Narendra Modi is my action hero. I am proudly saying I am a BJP person," said the new chairman of the board, filmmaker Pahlaj Nihalani.
The Congress party has long been sensitive about Sonia Gandhi's Italian origins, which have led to dissent from Indian nationalists and within the organisation itself. It was primarily passages in the book detailing her early life that angered Congress officials, Moro said.
Born Edvige Antonia Albina Maino, the daughter of a builder in a village in northern Italy, Sonia met Rajiv Gandhi at Cambridge in 1965 while a language student. Her future husband, an aspirant pilot, was reading engineering at Trinity College. The couple married three years later.
Though he had shown no interest in politics, Rajiv Gandhi became heir apparent to his mother, prime minister Indira Gandhi, when his younger brother died in a plane crash. When Indira Gandhi was assassinated by bodyguards in 1984, dying in her daughter-in-law's arms, Rajiv was elected prime minister. When he in turn was killed in a suicide bombing in 1991, his widow initially refused to enter politics but eventually led the Congress party back to power in 2004 after defeats by the BJP.
"I always wanted to write this story of a woman who came from this humble background and who was never ambitious and never liked politics and who in spite of herself found herself so powerful," Moro said.
Known as "madam" to Congress officials and exercising almost unchallenged authority, Gandhi reportedly wants to give up her role as president of the party. Her daughter, Priyanka, 43, is widely thought to be a more natural politician than Rahul but has played only a marginal role in the hectic tumult of Indian politics so far.
The current misfortunes of the dynasty and the party it leads may be only temporary, Moro said. "With the Gandhis you never know when they are finished."
• This article was amended on 23 January 2015. The original referred to Rajiv Gandhi's elder brother dying in a plane crash. This is incorrect and has been changed.