China's long and largely unavailing battle with corruption is dotted with notorious officials. Take Heshen, still a byword for misbehaviour: a Qing dynasty figure who seemed unassailable despite his conspicuous greed and soaring wealth.
When emperor Qianlong died in 1799, the fall of his favourite was as swift as his rise had been remarkable. Heshen was charged and forced to kill himself; his family's vast fortune was confiscated. Now his modern-day counterparts are learning his painful lesson: that a change in regime can spell a swift end to the comfortable status quo.
In recent decades, top leaders warned that the Communist party faced a life-and-death fight to root out abuses while cadre members and their families amassed ever greater assets: luxury properties at home and abroad; sports cars and designer wardrobes; stacks of cash and stakes in major companies.
But since China's leader, Xi Jinping, took power two years ago, his pledge to bring down both "flies and tigers" – corrupt cadres at all levels – has demonstrated real bite.
Authorities say 100,000 officials have been punished so far. Others seem willing to do anything to avoid investigation; recently, the party launched a nationwide survey of suicides among its 87 million members. While there is concern that some reported cases have been a cover for deaths during gruelling internal party interrogations, there have also been graphic tales of people attempting suicide as anti-graft teams arrived, hoping to protect their families not just from disgrace but from losing their property and positions.
Privately, both officials and businesses warn that day-to-day work is simply grinding to a halt: officials lack other incentives to act, no longer know how to navigate the paths of power to get things done, or are worried that any decision – however legitimate – will attract unwanted attention.
The official People's Daily quoted Hebei province's party secretary as warning: "I am afraid that too much punishment of senior officials could harm the stability and development of the local economy."
Some even think the campaign is playing a part in China's lower growth figures. "The slowdown of economic growth, to a certain degree, is related to cadres slacking off," said Sheng Hong, executive director of the Unirule Institute of Economics.
The sensitivity of anti-corruption officials to such remarks is evident in a commentary posted on their website last week. It said that such opinions showed a lack of understanding about the changing pattern of economic development, a failure to comprehend the "grave and complex" situation regarding power abuses, or ulterior motives. The assumption has been that eradicating corruption can only mean a swift improvement in the system.
In fact, crackdowns tend to come at a cost, says Dan Hough, an expert on anti-corruption initiatives at the University of Sussex. "Often it does lead to negative economic and social consequences. You have to take that medicine," he said. "People freeze. They are not sure what the new rules of the game are … It will take time before a consensus emerges."
The drive has been more prolonged and far-reaching than anyone anticipated. In September, the party boss of Nanjing, one of China's biggest cities, praised the initiative in the People's Daily: "It's easy to be a good official for a short period, but to remain a good official for a lifetime is much harder," said Yang Weize. Apparently he spoke from personal experience. In January, he too was detained.
The campaign's scope reflects not just cynicism among the public about endemic corruption, but an understanding of how deep and entrenched government-business ties have become: "I think the current Chinese leadership realised that the lethal mix of power and money is a grave danger to the legitimacy of the party," said Xiaobo Lü, an expert on Chinese politics at Columbia University in New York. Even if Xi's predecessor, Hu Jintao, shared that concern, he was a weaker figure who relied on collective leadership: "He did not, and probably could not, take on the entrenched interests – ie corrupt crony capitalism – head-on," said Lü.
China watchers previously assumed that an unwritten accord prevented corruption charges against any member or former member of the politburo standing committee, the country's top political body. Yet Xi has overseen the arrest of Zhou Yongkang, the former security tsar; on 9 February, Liu Han, a mining billionaire widely reported to have ties with Zhou, was executed for committing multiple murders.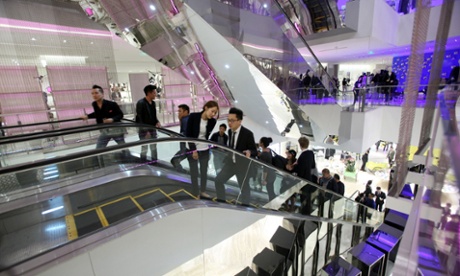 The campaign has swept across the army, claiming even Xu Caihou, former vice-chair of the central military commission and a politburo member, now charged with taking "huge amounts of bribes" in exchange for promotions.
It has spread to finance, with the arrest of the president of the Minsheng Bank and investigation of a Bank of Beijing board member. Spymaster Ma Jian, a deputy head at the ministry of state security, was reportedly detained last month. Not long before, the discipline watchdog began investigating the top sports body; subsequently, a top official there vowed to toughen the fight against corruption in the television and film industry.
The graft-busting body – the Central Commission for Disciplinary Inspection – has dramatically expanded its power and reach: "Never has the CCDI, whose job used to be solely related to clean governance, been involved so deeply in the country's overall administration," wrote analyst Willy Lam in a piece for the Jamestown Foundation. "While President Xi's commitment to clean governance does not seem to be in doubt, he and the CCDI's Wang [Qishan] need to do more to convince the public that they have not been using one of China's most powerful organs to consolidate their power and to decimate political foes."
Wang, who has headed the anti-corruption fight for Xi, is highly regarded for his abilities; he is also a fan of the US drama House of Cards, which perhaps encourages speculation about machiavellian manoeuvring. Both men have a deep knowledge of internal party dynamics as well as seasoned political skills; and now, it seems, they have public opinion behind them. "It is a power struggle rather than a genuine crackdown on corruption. In other words, it is a campaign to marginalise opponents in the name of anti-corruption," argued Zhang Lifan, a Beijing-based independent historian.
Zhou was a relatively easy target, despite his elevated position: he had few allies and was made suspect by his ties with the ambitious politician Bo Xilai, toppled spectacularly and charged with corruption and power abuses after his wife was accused (and later convicted) of murdering Briton Neil Heywood.
Not only that, says novelist Murong Xuecun, but Zhou had scrambled to power from a humble background, while the "second generation reds" who, like Xi, were born to veteran communist families, seem mostly unscathed. "Those groups that support and pledge loyalty to Mr Xi appear untouched," the novelist wrote last month. Most striking has been the long investigation into Ling Jihua, formerly a top aide to Hu.
Yet few doubt that the leadership is genuinely concerned about the challenge that corruption poses to its credibility and the country's ability to function. General Liu Yuan – known for his outspoken denunciations of military graft – warned recently that graft was the number one killer of combat effectiveness.
Corruption entrenches and widens economic inequality; it disproportionately affects the poor. They are the ones whose homes are torn down for minimal compensation when property developers buy off local officials. Watching a parade of officials being shamed offers at the least a sense of vengeance, at best a hope of future justice. But while the "tigers" dominate the headlines, it is often the actions of low-level "flies" that have more impact on people. "With decentralisation and the growth of the market, lower level officials in a local county branch have a lot more power [than in the past]," noted Deng Xiaogang of the University of Massachusetts in Boston, who holds a fellowship from Harvard's Edmond J Safra centre for ethics to study institutional corruption.
"If you want to find a job or do a small business transaction, you need this kind of personal network … It's about who you know so your child can go to a better middle school; so your relative can see a better doctor when he has cancer. It could be about [passing] hygiene inspections if you sell food. It's become part of Chinese culture. People take it for granted; it becomes routinised and people may not feel it because it is part of daily reality."
Some misbehaviour has gone underground. But the campaign has had real impact. It has been blamed for plummeting casino revenues in Macau and falling sales of everything from expensive spirits to Tibetan mastiffs: the fierce dogs, which previously sold for hundreds of thousands of yuan, were fashionable gifts for businessmen seeking to woo high officials. On Wednesday, the World Gold Council cited its strong impact on sales, down 38% in 2014. Some hotels have even downgraded their five-star ratings to win back custom. "Anti-corruption has become a 'new normal' in China," an editorial in the official Global Times newspaper announced on Friday.
The length of the campaign in part may indicate the time it is taking to unravel the patronage networks that have formed. Corruption patterns have become more complex, sophisticated and deep-rooted. One case leads to another. But it might also reflect the resistance from those who have benefited from the existing system and face losing everything.
"It now seems very difficult to conclude the crackdown – the initiators may face a backlash if they fail to root out all the other tigers," warned Zhang Lifan. At the same time, the leadership faces further public disaffection if its efforts halt too abruptly.
Li Hui, an anti-corruption expert and politics professor at Fudan University in Shanghai, praised "a nice beginning" to a long-term shift, instead of seeing it as a one-off movement. He ticked off efforts being made to ensure permanent improvement: from making budgeting more transparent and regulating officials' expenses to establishing a property registration system.
But he agreed: "The next step is to introduce institution-building and rule of law. The government will need to further restrain its power and scrap unnecessary administrative examination and approval items."
Others argue a powerful independent investigator is needed – something that would be anathema to the party. Xi seems to have turned his back on any prospect of political reform: the last two years have seen an ideological tightening and consolidation of party control.
Sheng said greater scrutiny was needed from outside the system, such as from the press and public. The high-profile figures who have been ousted are just a fraction of those involved in wrongdoing, he warned. "The public love to see corrupt officials being brought down. But the system that makes corruption possible remains unaffected by the crackdown."
Additional research by Luna Lin


FALLEN TIGERS
Xu Caihou
Xu Caihou, retired vice-chairman of the central military commission, is the highest-profile military leader to face prosecution in recent years. State media said the 71-year-old former general, who was diagnosed with bladder cancer in 2013, had accepted "huge bribes personally and through his family, and … sought profits for others in exchange for bribes". Reports said it took 14 trucks to carry away the cash and treasures from his luxury villa - including a solid gold statue of Mao Zedong and 20 crates of expensive liquor.

Zhou Yongkang
Once a member of the politburo standing committee, the country's most powerful political body, Zhou is the biggest "tiger" caught in the crackdown. The former security chief was arrested and expelled from the party in December 2014, after months of speculation – and heavy hints – about his case. A trial date has yet to be set; according to state media his suspected crimes include abusing power, leaking party and state secrets and committing adultery. The party's official newspaper, the People's Daily, has branded him a traitor.
Ling Jihua
The terse announcement of the investigation into Ling Jihua's "suspected serious disciplinary violation", shortly before Christmas, came as little surprise. Several of his relatives and close contacts, including two of his brothers, had been detained. Ling was vice-chairman of the Chinese people's political consultative conference committee and former president Hu Jintao's senior aide. A question had hung over him since the attempted cover-up of a mysterious Ferrari crash in March 2012, in which his only son died.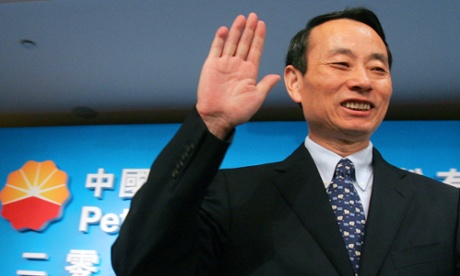 Jiang Jiemin
Jiang Jiemin, a close ally of Zhou, was a politburo member and head of the powerful state-owned assets supervision and administration commission before he was fired in 2013. He was later expelled from the Communist party and his case has been handed to prosecutors. The South China Morning Post reported he was earlier questioned over payments made by a state-owned company to the families of passengers in the Ferrari crash that killed Ling's son.
Liu Tienan
Liu Tienan, the disgraced deputy director of the top economic planning agency, was sentenced to life for bribery in December after his mistress gave incriminating information to a well-known journalist who posted allegations of questionable business deals and even death threats online. He is reported to have dropped to his knees and begged for mercy when seized by investigators.