As the skies lighten and the days lengthen, many people feel a little brighter. But in the country regularly voted happiest in the world, one group has something extra to smile about. A study has suggested that retired Danish women are the most content in Europe.
Researchers for Eurostat found Danish women aged 65-74 scored 8.6 out of 10 on the happiness scale – something experts put down to a combination of a strong welfare state and the perspective that comes with age.
Christian Bjørnskov, an economist at Aarhus University, said: "Older people are much better at knowing what makes them happy and living according to that, instead of what other people expect from them."
Retired women in particular are thought to be happier thanks to enhanced social networks, believes Meik Wiking of Denmark's Happiness Research Institute. "Women are typically better at creating and maintaining social relationships, and we know from studies that a sense of belonging is one of the best indicators of happiness," he said.
Being Danish also helps. Despite being pipped to the post in the latest World Happiness Report, most Danes agree they have got it pretty good. They may pay some of the highest taxes in the world but they are rewarded with generous public services and a world-renowned welfare state.
"This reduces extreme unhappiness and lowers stress by making sure that everyone has a roof over their head, job security, access to healthcare and the opportunity to send their children to university – no matter what their income," said Wiking. And Denmark's well-developed work-life balance allows Danes to pursue a career and have time for family and leisure activities.
"It's important to have something else going on in your life when you stop working," said Wiking. "Hobbies are a good platform from which to engage with other people and build relationships." Denmark has 80,000 leisure clubs and associations, with the average citizen a member of 2.8 clubs.
Lene Tornøe Poulsen, a 68-year-old former company director from Jutland, is a self-confessed "happy retiree" and keen golfer.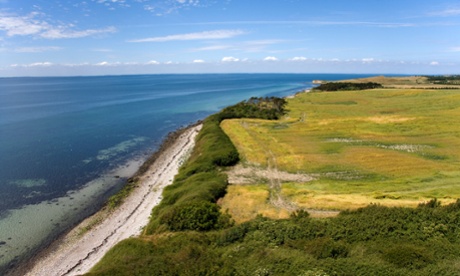 "Since retiring, I can do what I want – I travel a lot and play golf," she said. "Danish women may be happier than Danish men because they have more interests outside work. I'm very happy – it's nice to be a pensioner in Denmark and you get money from the kommune [local council] once you retire that's enough to live on."
Denmark has the best pension system in the world, according to the Melbourne Mercer Global Pension Index. The average Dane retires at 65 with 5,804 Danish kroner a month from the state (about £550 – although this is taxed).
An additional factor is thought to be the fact that in Denmark grandparents are not faced with a second career as a childminder, unlike in the UK, where 47% of grandparents look after grandchildren and one in four working families rely on grandparents for childcare.
In Denmark, daycare is 75% state-subsidised via taxes and every child is guaranteed a place from six months onwards. Most Danish pre-schoolers are in full-time care, letting grandparents off the hook.
Former teacher Rigmor Brønd, 72, on the island of Samsø, said: "I have seven grandchildren whom I enjoy spending time with when I want to, with no obligation. I used to have to plan my time very carefully but now I can do whatever I like – I can sit down and read a book without worrying: 'Oh, I ought to be doing this or that.' I go for walks, swim, play golf, cycle … I'm very happy to be retired."