Hymn Tse, 31, mother, and her daughter Siria Wong, two
I've been reading the news for a few days and decided to come because I want to fight for my baby's future and support the students. I want other parents to know: it's not dangerous here – you can come and say what you want. I grew up in a place with freedom. Now I see the tightening [of controls] and I don't want my girls to grow up somewhere like the Chinese mainland where people can't speak or express what they want.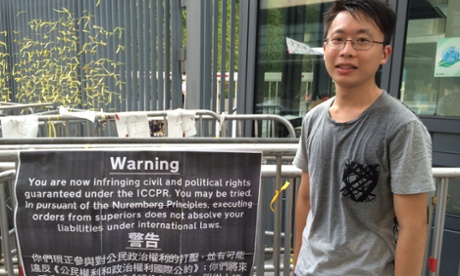 Ken Ko, 27, teacher
We want to show our will and our beliefs. It's not a sure success – if everyone comes out only if it is a sure success, then it won't be successful. The reasons behind all of this are complex. The distorted political system has led to a lot of social issues. But the teargas [used by police] has changed the whole situation. If they use more force, they lose the future of Hong Kong.
Ben, in his 50s. He did not wish to be photographed
I've brought my mum to show her what's happening. I think she really understands it. I'm like most people: I won't show up myself until it is the right time. I think Beijing will listen, but I don't think they will change. Maybe Leung Chun-ying will be asked to resign, but it won't be his choice.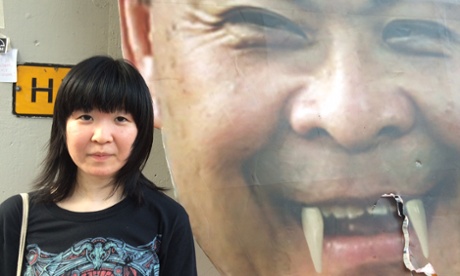 Timmie Yu, 20, student
I was in the class boycott [last week] and came here on Monday mainly because I couldn't stand police being harsh to the crowd. Although I'm not very sure whether these protests will succeed, I want to support them. We are all united. On Monday, it was crowded from Wanchai to Central. I'm surprised by how many people there are – but it should be like this. I think for the first few days people might not have understood, but after students have expressed what they think, I think parents understand why the students came down here. And you do see adults who have come to support it.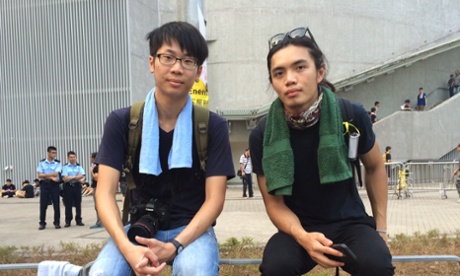 Lee Hokfun, 22, left, and Chan Chunyin, 26, both students
Lee: Maybe some people think teenagers are not mature enough and that Hong Kong should be controlled by China. But most teenagers don't think this way is viable for our future. My parents think this [the protests] won't work; they think it's just a joke and will damage things. They have their values and they won't accept new ones.
Chan: It seems like they are waiting for us to get tired or bored and leave now, because using violence will not be successful. Most people in Hong Kong don't really like the government – when we call for Leung Chun-ying to resign, everybody will agree. So how come they are not feeling any embarrassment? Hong Kong was better before [the handover from Britain in] 1997; China has a lot of money and people want it. I don't think Britain can do much now – they have benefits from business with China so they won't do anything.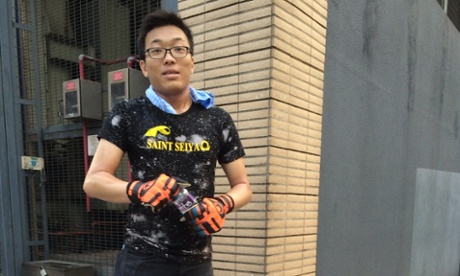 Casar Leung, 25, service industry worker
I've been here two days and I'm helping with recycling. There are a lot of people doing support work, giving people food and water and other things, but if we don't clear things away, it will pollute the environment.
People have their work to do; no one wants to sit here and block the way. It's dirty. It's not enjoyable. If the government shows they're minded to make things better and do something for the people, people will go home. But the government's policy is just following the mainland.