Every September, Iranian leaders take a week-long visit, which they hate to miss, to the country's nemesis – the United States. As the UN general assembly gathers for its annual meeting in New York, an array of media events, high-profile TV interviews and public meetings await the much-anticipated arrival of the representatives of the Islamic Republic.
Mahmoud Ahmadinejad, the former president, was a frequent visitor. In his eight years in office he made nine trips to New York, exploiting every opportunity available to generate controversy – not least for his Holocaust denials.
For his last visit, Ahmadinejad took more than 100 allies and their relatives with him and returned to criticism at home for the size of his entourage.
Since last year, however, Iran has had a new public image: Hassan Rouhani. The smiling cleric made history in 2013 when he spoke to Barack Obama on the phone on the last day of his UN trip. Although that visit fell short of a historic handshake between the two leaders, it marked a milestone – the first direct contact between Iranian and US presidents in more than three decades.
But this year, Rouhani's second visit to New York has been marred by a series of failures at home that have exposed his declining credibility both in Iran and on the world stage. As he arrives in New York, Iran's judiciary, which operates independently of his government, has tightened its grip on civil rights advocates, human rights activists and opposition figures.
At least three American nationals remain behind bars in Iran, including the Washington Post's Tehran correspondent, Jason Rezaian, who is being kept in Tehran's Evin prison nearly two months after being arrested. Rezaian's detention has exposed the limits of Rouhani's power and his reluctance to speak out in support of prisoners of conscience in the country, including nearly 40 journalists and bloggers.
In contrast to last year when the judiciary released a number of high-profile activists to give Rouhani more legitimacy abroad, this time it has shown little appetite for such gestures. In fact, a series of arrests of activists in recent months point to a rise in human rights abuses.
Last week alone, it emerged that a Tehran court had handed down suspended sentences of 91 lashes and six-months' imprisonment to seven Iranians for a video showing them dancing to Pharrell Williams's hit song Happy on the rooftops of Tehran.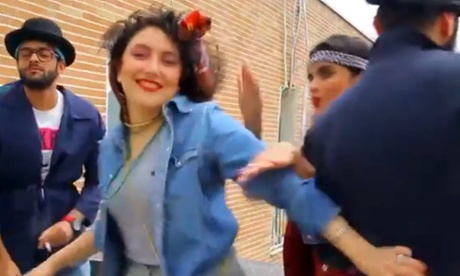 Another case is the imprisonment of Ghoncheh Ghavami, a 25-year-old British-Iranian woman, who is still being held because she wanted to enter big sporting events alongside male fans. Iran has a longstanding ban on women attending stadiums if men are present.
After a year in office, Rouhani has evidently put an end to Ahmadinejad's years of rancour. The economic mismanagement of Ahmadinejad's era is being steadily reversed but Rouhani has done little to fulfil his many other promises, especially for greater social freedoms and protection of human rights.
In particular, there has been little improvement in the situation of the country's ailing opposition leaders, Mir Hossein Mousavi, his wife Zahra Rahnavard and Mehdi Karroubi. They are still kept under house arrest without being put on trial or being able to challenge their detention in court.
Promises as simple as free access to Facebook and Twitter are up in the air and greater access to a number of internet messaging sites such as WhatsApp and Viber is being challenged. This week, Iran's judiciary gave an ultimatum to Rouhani's government to block those services within a month.
International relations is one of the few areas where Rouhani seems to have made some advances. Tehran and Washington, in spite of their historically strained ties, talk to each other regularly now. Iran is trying to improve relations with Britain and significant steps have been taken on the nuclear issue, led by the foreign minister, Mohammad Javad Zarif, although a permanent agreement still looks far off.
But even with the nuclear talks, the pronouncements of Iran's supreme leader, Ayatollah Ali Khamenei, and the constraints laid down by him has shown how tied Rouhani's hands are, showing more than ever who is in charge of Iran's foreign policy.
Despite this, Rouhani faces huge domestic challenges. The worry is that the president has shown little desire, at least in public, to tackle the challenges posed by Iranian hardliners, but unless he is prepared to get to grips with them, he risks being seen as a weak leader whose very legitimacy is in question.