After 14 months of intense legal wrangling, a public relations battle, late night mediation sessions and intense number crunching, Detroit finally entered a federal courtroom on Tuesday for a trial that will determine whether or not it can emerge from the nation's largest municipal bankruptcy to become a smaller, more economically nimble city.

Bankruptcy experts say the size and scope of this case – Detroit is saddled with $18bn in debt, a historic amount in a Chapter 9 bankruptcy – makes it unprecedented. Certain aspects of how the state-run emergency management team negotiated a plan that involves financial pledges from several charitable foundations is also unique. Also a factor is Detroit's systemic population drain – from 1.5 million in 1970 to about 700,000 today – which is forcing the city to confront what it will look like in the future and, if allowed to shed its debt and move forward, determine if that will become a reality.

"If Detroit is able to successfully restructure its debt and have a sustainable financial plan going forward that isn't mired in corruption, that will be a blueprint around the country," says John Pottow, a University of Michigan bankruptcy law professor in Ann Arbor. "There are lot of cities have financial problems that will be looking for different playbooks, so this case matters."
Starting Tuesday, the first day of what is scheduled to run at least five weeks, the city must prove to US bankruptcy judge Steven Rhodes that its financial recovery plan is feasible, was proposed in good faith with both pension groups and creditors, and does not unfairly discriminate against either.
Two creditor groups are fighting to stop Rhodes from granting Detroit solvency. They say the city is unfairly discriminating against them compared to the public pension groups, which they say are getting a better deal.

Financial Guaranty Insurance Co. and Syncora Guarantee Inc say that the city is legally bound to a $1.4bn debt deal established in 2005 by a previous administration. Both vetoed the city's plan this summer that would have offered them between zero and 10 cents on the dollar for the debt they hold. Detroit emergency manager Kevyn Orr has said that the 2005 deal, brokered by former mayor Kwame Kilpatrick, who is now in federal prison on a corruption conviction, is illegal.
FGIC attorney Edward Soto argued Tuesday that the city has not adequately proven that most of Detroit's 30,000 retirees and workers will suffer a hardship if the city's bankruptcy plan is approved.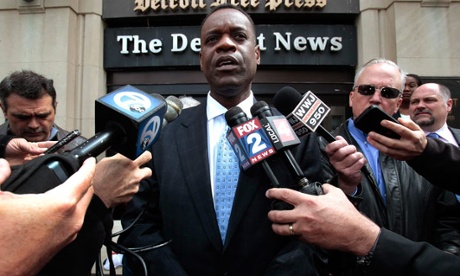 He wants Rhodes to force the city to release "relevant information and facts" related to secret mediation sessions between the city and both pension groups and unions that led to their support of the city's plan. Without that information, he says, the city "is talking out of both sides of its mouth".
Meanwhile, the city's legal team is portraying the creditors as a throwback to Detroit's past and not relevant to its future. "Syncora and FGIC want to penalize the city … this is not sword and shield," city attorney Greg Shumaker told Rhodes.
The so-called "Grand Bargain" forged earlier this summer, and approved by the city's two major pension groups, is proposed to generate $816m earmarked for pension benefits.
The plan proposes to spin the city's art collection at the Detroit Institute of Art (DIA) into an independent trust that would be required to keep the art in the city. This would happen by combining a $350m cash injection from the state of Michigan, and $366m currently pledged by 12 philanthropic foundations, plus $100m raised by the DIA itself.
About 82% of retired and active police and firefighters approved the plan, as did about 73% of general public workers. Police and firefighters will see few cuts to their pensions except for a partial reduction in their annual cost of living increase while general retirees will see their monthly pension benefits cut 4.5%, and an end to their cost of living increases. Emergency manager Kevyn Orr says that, had they not accepted the offer, their pension benefits likely could have been cut by at least 27%.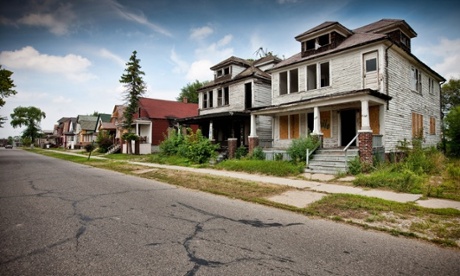 Rhodes will also decide during the trial the feasibility of Orr's plan to use $1.5bn transform Detroit into a city that is safer, smaller, and more economically efficient over 10 years. An expert the judge hired in July to analyze the plan says the numbers add up, but there are reservations.
About $483m of the $1.5bn is dependent on dubious income streams, such as higher property tax collections, steep parking ticket fees, and other revenue sources that may prove difficult for a city with rising unemployment and a declining tax base. Detroit's legacy of government inefficiency and public corruption also raises similar red flags.
Douglas Bernstein, a bankruptcy attorney in Bloomfield Hills, outside Detroit, says "one of the biggest challenges in the trial will be convincing the judge the plan is feasible because he has said the city does not have the ability of a do-over."
Rhodes has the power to give the city more time to amend the plan. He can also dismiss the case, which could create a "free-for-all", with creditors attacking the city, which would then be forced to hike taxes to generate revenue.
Orr's plan addresses a core problem in Detroit: systemic population drain. Over decades, the city's population has been cut in half, which is forcing the city to confront what it will look like in the future and, if allowed to shed its debt and move forward, determine if that will become a reality.
"It's by no means guaranteed that this plan will get confirmed," says Bernstein. "But this is the first time in several years you have some optimism. It's just not going to happen overnight."