Islamic State (Isis) has released a video appearing to show the British terrorist known as "Jihadi John" standing over the severed head of US aid worker Peter Kassig.
Kassig is the latest of five US and UK hostages to have been murdered in cold blood in Syria as part of a propaganda initiative by Isis.
The footage also showed what appeared to be the mass beheading of several captured Syrian soldiers.
The British prime minister, David Cameron, said: "These beheadings show once again what a depraved organisation this is," and described Kassig as a "selfless humanitarian worker".
The White House said the US intelligence community was working to determine the authenticity of the video. National Security Council spokeswoman Bernadette Meehan said that if the video was authentic, the White House would be "appalled by the brutal murder of an innocent American". She said the White House expressed its deepest condolences to Kassig's family and friends.
Kassig's parents released a statement asking for their son to be "remembered for his important work" and said they were waiting for the authenticity of the video to be confirmed.
At the end of the 15-minute, 53-second video released by al-Furqan media on Sunday morning, a man who looks and sounds like the British combatant the Mail on Sunday claims was injured in a recent US air strike stands over what appears to be Kassig's severed head.
The militant appears to be uninjured and is dressed in the same clothes as in previous videos – full black robe, leather knife belt and balaclava-style mask over his face showing only his eyes.
Speaking to the camera, he says: "This is Peter Edward Kassig, a US citizen of your country. Peter, who fought against the Muslims in Iraq whilst serving as a soldier in the American army, doesn't have much to say. His previous cellmates have already spoken on his behalf.
"But we say to you, Obama … you claim to have withdrawn from Iraq four years ago. We said to you then that you were liars, that you had not withdrawn. And that if you had withdrawn you would return even after some time – you would return."
He adds: "Your forces will return greater in number than they were before. We also remind you of the haunting words of our Sheikh Abu Musab al-Zarqawi told you. The spark has been lit here in Iraq and its heat will continue to intensify by Allah's permission until it burns the crusader army."
He said Isis would "bury" American soldiers under Syrian soil.
It was not immediately possible to confirm that the man pictured in the video was Kassig.
In one of the most gruesome and horrifying scenes to be officially published by Isis media outlets, the British terrorist is also seen leading Isis fighters in a mass beheading of men claimed to be combatants loyal to the Syrian president, Bashar al-Assad.
Dressed in desert camouflage, Isis soldiers are shown collecting hunting knives from a box and leading out their prisoners, whose hands are bound with plastic ties. All are dressed in black trousers and shirts.
While over a dozen Isis jihadis, who appear to be from a mix of heritages, stand over the unarmed prisoners, the man who appears to be the so-called "Jihadi John" makes an address to the US president, as in previous videos.
"To Obama, the dog of Rome, today we are slaughtering the soldiers of Bashar and tomorrow we'll be slaughtering your soldiers. With Allah's permission we will break this final and last crusade and the Islamic State will soon like your puppet David Cameron said begin to slaughter your people on your streets."
The men are then beheaded, the film-makers employing slow motion, multiple camera angles and sound effects to achieve maximum horror.
Entitled "Although the disbelievers like it", the film also gives a three-minute potted history of Islamic State since the invasion of Iraq by western allies in 2003 and celebrates recent pledges of allegiance from jihadi fighters from Libya, the Sinai, Algeria and Yemen, claiming that the era of division among jihadi fighters was over.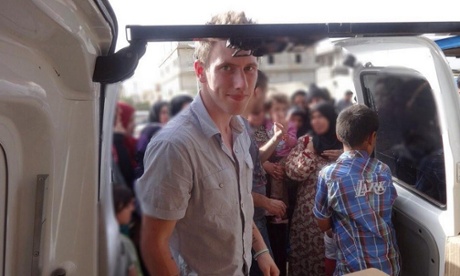 The British militant claims the beheadings were carried out in Dabiq, a town north of Aleppo and about 15 miles (25km) from the Turkish border, which many Isis fighters believe will be the scene of an apocalyptic showdown that will hasten the end of days.
Kassig's family said on Sunday: "The family respectfully asks that the news media avoid playing into the hostage-takers' hands and refrain from publishing or broadcasting photographs or video distributed by the hostage-takers. We prefer our son is written about and remembered for his important work and the love he shared with friends and family, not in the manner the hostage-takers would use to manipulate Americans and further their cause."
Kassig, a 26-year-old charity worker from Indiana, was taken hostage on 1 October 2013 while on his way to Deir Ezzour in eastern Syria as part of his humanitarian work.
He changed his name to Abdul-Rahman Kassig upon converting to Islam in captivity.
There was a media blackout around his kidnapping until he appeared in a video in October that showed the beheading of British aid worker Alan Henning. In that video, an Isis militant threatened to kill Kassig, which prompted his family to go public.
Kassig's family released a letter from him in October, which read in part: "Mentally I am pretty sure this is the hardest thing a man can go through, the stress and fear are incredible but I am coping as best I can. I am not alone."
Kassig enlisted in the US army in 2004, according to his military records obtained by the Associated Press, and became a ranger.
He was deployed to Iraq in 2007, according to an interview he gave to Time magazine. Kassig was honourably discharged from the army for medical reasons, his family said. He attended Butler University in Indianapolis between 2011 and 2013 to study political science and government, according to his LinkedIn profile.
Kassig went to Beirut, the capital of Lebanon, in spring 2012. "I was interested in what I could learn about the Syrian crisis first-hand and what I could do to help and raise awareness about the crisis amongst my peers back at home in the United States," he told Time. He had been taking an entry-level Arabic course there.
He described his travels throughout Lebanon, particularly his experiences volunteering "on a small scale" in a Palestinian refugee camp in southern Beirut, as well as in a hospital in Tripoli, Lebanon, "offering my services as a trauma medic to Syrian refugees who have been wounded in the fighting in Syria".
In 2012, he founded Special Emergency and Response and Assistance (Sera), a "medically oriented emergency relief organisation" serving the internally displaced and refugees. The organisation was focused on the civil war in Syria.
Sera, a small operation, focused on "non-material aid and assistance", which largely meant providing medical training, coordinating relief for "high-risk" medical cases and coordinating the delivery of medical supplies to children and civilians to field camps, refugee camps and hospitals in Lebanon and Syria.
Photographs on the organisation's website show Kassig providing training and medical treatment.
Kassig's family said he was undertaking a project for Sera when he was captured.
Cameron said: "Like others who have been murdered in cold blood by Isil, Abdul-Rahman Kassig was a selfless humanitarian worker who had gone to the region to help care for those fleeing the Syrian conflict. This underlines the deplorable depths to which these terrorists are prepared to go – savagely murdering a compassionate man. My heart goes out tonight to Abdul-Rahman's family."
Earlier, Cameron declined to comment on reports suggesting the British Jihadi believed to be responsible for executing hostages in Syria had been injured or even killed in allied air strikes.
"You should be in no doubt that I want Jihadi John to face justice for the appalling acts that have been carried out in Syria, but I wouldn't make any comment on individual issues and strikes," Cameron said.
"If people travel to Syria or Iraq in order to conduct terror operations against British people or British citizens, and people back in Britain, they are putting themselves in harm's way and they should not be in any doubt that."
The British Foreign Office said: "We are aware of reports and we cannot confirm these reports."
Additional reporting by Peter Walker, Raya Jalabi, Ian Cobain and Patrick Wintour