In November last year, anti-government protesters peacefully occupied Independence Square in central Kiev after president Viktor Yanukovych's government ditched a far-reaching accord with the European Union in favour of stronger ties with Russia. Police attacks on protesters, new anti-protest laws, and the abduction and beating of activists caused the demonstrations to intensify.

On 18 February, violence escalated with policemen being shot, and riot police moving in to clear the peaceful protest camp. According to the health ministr, 77 people were killed in 48 hours and nearly 600 wounded. Many people joined the protest to rid a president they believed wasn't serving them and merely his own, and Moscow's, interests.
Since then Yanukovych has been forced out and has fled the country, an interim government has been installed under acting president Oleksandr Turchynov, and Moscow has occupied the pro-Russian region of Crimea, something British foreign secretary William Hague described as the "biggest crisis in Europe in the 21st century".
We talk to three protesters, two of whom spoke to us about their peaceful protest in November, and asked them to describe what had changed for them over the last three months.
Anastasiia
When and why did you first take part in the Euromaidan protests?
I have been attending protests since day one: 21 November 2012. It started with a peaceful protest of a couple hundred people. I painted a poster - "Europe Starts With You" - and stood alone near the independence monument. Then young people started to come up and talk, and, with many of those I met on those November days, we are still meeting regularly at the protests.
The day the Ukrainian government decided to stop the agreement with the EU, I almost cried in disbelief. The government had finally shown its true face. We were so naive and optimistic that we actually believed they wouldn't. Then the situation suddenly changed. It was not about Europe anymore, but about stopping the violence against peaceful protesters, ensuring justice and demanding the resignation of the criminal government and its president.
Yesterday I took part in a mass demonstration in Kiev to support the unity of Ukraine, the people in Crimea, and to protest against Russian military intervention on the territory of sovereign Ukraine.
I joined the march of flags initiated by a Swedish expat here in Kiev. There were over 100 expats joining the march with flags of many European countries, but also Canada, US, Brazil, India and many other countries. We marched through the central streets, through Maidan, Grushevskogo and Instytutska Streets, where only 10 days ago Ukrainian protesters were being shot dead by snipers from riot police.
It's difficult to sit in Kiev and watch a part of your land being occupied by foreign soldiers who promise liberation but instead block all access and communication to the land, destroying the tourist season in Crimea, leaving hundreds of thousands of its inhabitants without means to survive this year! But this makes sense, since [Russian president Vladimir] Putin has invested billions into Sochi, that he can't allow having any other resort in the region profit from tourism.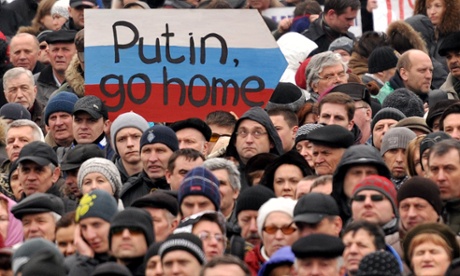 What's the atmosphere like in Independence Square, Kiev and the rest of the country?
If until recently the southeastern regions were not fully satisfied with the new government, they are now unified against the new aggressor, Russia. Mass protests against Russian occupation took place in many Ukrainian cities over the weekend.
Flowers, wreaths and candles fill Maidan [Independence Square] and the adjacent streets where the mass killing of protesters took place. And the death toll continues to rise as more Ukrainians die in hospitals of gun wounds. No one is ready to leave Independence Square yet, until the new government demonstrates achievements, until justice is served to ex-politicians and police, and until there is real peace in the country.
Maidan continues to function as it has for the last three months. Independence Square looks less like a war now that the volunteers have cleaned it up after the horrible fires. Trade Unions House, which used to be the headquarters of the resistance, has burned almost entirely - a reminder of what happened here 10 days ago.
What chance is there that the situation will escalate into war?
I am especially worried that the peaceful stand the Ukrainian army is taking now is going to lead to a confident and "peaceful" annexation of Crimea by Russia. While the situation is tense, but not yet violent in Crimea, the Russian parliament has passed all possible laws to facilitate such annexation, install a self-proclaimed new pro-Russian government in Crimea and commission a company to begin construction of a bridge in Kerch strait that separates the crimean peninsula from Russia.
My guess is that until there's a victim of the Russia occupation in Crimea the diplomats should talk. And I mean on all possible sides. I hope that Putin's advisers will listen to common sense and understand that no one will benefit form this war. Meanwhile, the Nato military bases on the eastern borders Europe should be reinforced and be ready to deploy international troops to Crimea if needed (god forbid).
What outcome are you most hoping for?
Just when you think it can't get any worse, Russia decides to go into war with you. This is surprising, but not unexpected. Ukrainians knew of Russia's increasing interests in Crimea before. But to hit now, when Ukraine hasn't even buried all its fallen victims of protests in Kiev, when the Ukrainian economy is on the brink of default, when Ukraine is at its weakest moment, is a disgraceful and low act that I would never expect from a Russian government that calls Ukrainians its "brothers".
I hope that diplomats manage to convince Putin that the move in Crimea is suicidal [and] Russia withdraws its troops, new legitimate parliamentary and presidential elections in all of Ukraine, including Crimea, take place and are closely monitored by international observers, and then Ukraine continues rebuilding its shattered economy and democracy in peace. We all pray for this.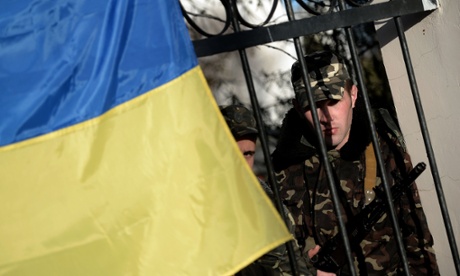 Anya
Are you still taking part in the demonstrations?
I am extremely embarrassed to admit it but I am a much more passive participant of the demonstrations now than I used to be - and much more passive than many people are. It feels enormously bad to do so little in this difficult situation. It was especially difficult when I was sitting at home, because my parents did not let me out, during those tragic events of 19-20 February. But I am proud to know quite a few people who were and are there all the time. They are the real heroes.
I try to attend Sunday's meetings and was there yesterday. And I participate in the events commemorating those who died. Now my friends and I fundraise for medical equipment. Many foreign friends have been asking how they can help, so I am spreading the news. It might sound strange and ridiculous, but I also try to fight the mentality of some people, even my parents, who seem to be enormously lost with their old and new principles.
Have you been surprised by the changing events?
We have all been stunned. Who would have imagined in such a peaceful country something like this happening with no reason? The world knows that, people know that, but still it is happening. After events during 19-20 February we thought that was the worst which could happen, but apparently now Ukraine is on the brink of the war.
Are you worried?
It is a very terrifying situation and many people are afraid. I am worried a lot. When something like this is happening you realise that safety and peace are above all other needs. Russia announced war on the Ukraine. There is partial mobilisation in the country. In the independent Ukraine there was never military action; in fact Ukraine is a peaceful country, which is also proved by the exceptionally peaceful demonstrations which lasted for the last three months. I am sure we will win; I am afraid of a possible high price this victory could cost us.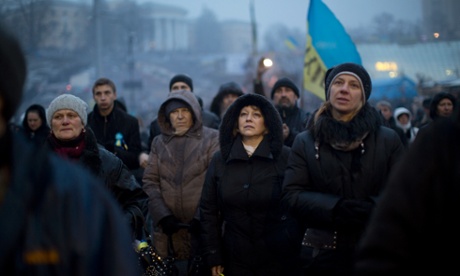 What's the atmosphere like in Independence Square, Kiev and the rest of the country?
This is a revolution of generations. My mum always supported Yanukovych. She voted for him in 2010 and defended his actions. Many of my friends face the same situation at home. My parents live in the city close to the Russian border. Her [my mother's] counter-argument was: "Better to have someone in charge whom we know, then those nationalists" and "I don't want the power being taken with violence."
The atmosphere changes every day, with the rapid development of the events. Yesterday, for example, the air was full of hope, in my opinion; however, still sorrow is in the air. Tonnes of flowers for Ukrainian heroes are being brought constantly. I've never seen so many flowers in my life and so many people keep on bringing them. And many, many people are listening to the politicians on the stage and praying for the best. I think that the atmosphere also changed drastically in regards of number of people following the situation. Basically now there many fewer indifferent people.
After she saw Yanukovych's actions, his house, the intervention in Russia, she started to filter the information and became much more careful and sceptical, though she still tends to trust propaganda. But I am working on it! I think the attitudes of many have been shaken. People are less apathetic now. People know that the future depends on every single citizen.
What do you think will happen next?
I am lost to be honest. My fear is that Russia will [ignore] any international pressure. Internally [in Ukraine], I think it is already happening [that we are seeing] exceptional unity of the people and this I am sure will continue having an effect on the situation. I do not think anybody ever expects how strong Ukrainians are. I am so proud to be Ukrainian; this strong-willed nation can't be defeated. I can just say that what I don't want to happen is war. I want that not only Russian troops leave the country, but also Russia not interfering and pressuring Ukraine's politics and choices, [and] democratic elections for the president and the parliament in May/June.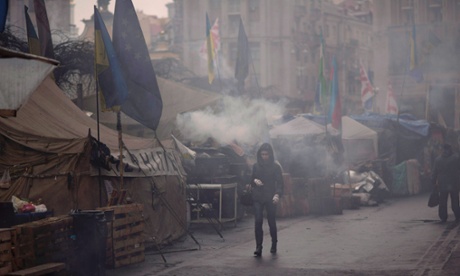 Alex

Will you continue to protest?
I am confident that I am doing as much as I can in today's war. And I am confident that another win for the Ukrainian people is on its way. I've taken part in the demonstrations for the entire three-month period, visiting each and every one of the most dangerous.
I'm still going to Maidan despite the fact that the protests are now in Crimea. People from Ukraine have visited Independence Square far more often than at any time before. It's a safe and peaceful place after immense bloodshed. Each corner of the square is covered with flowers and candles; it is a tribute to the "Heavenly Hundred" - those who gave their lives for Ukraine's freedom and independence.
Are people in Ukraine scared and do you feel a peaceful resolution will be found?

War is at the brink, and obviously there is no one who wants it to happen. At the moment people are doing everything possible to convince the radically oriented citizens of Ukraine to act thoughtfully and not to let violence exacerbate the situation.

I am still shocked that Russia is about to use force and provoke violence. Victory has been achieved, but a very high price has been paid. Expecting Russia to help Ukraine, I did not think it would be standing on the other side of a barricade.
I strongly believe that [the situation] may be resolved peacefully. Violence is a great force but it will not work at the international level.
What do you think will happen next?
I think the Ukrainian people will unite. There will be a strong unity of people in the north, south, east and west of Ukraine, including people who speak Ukrainian or Russian, of those who prefer peace to war. The international community will play a great, but not the leading, role, and together we will fight Putin's intervention. At some point the Russian government will think over what they have done and where this might lead to.