Unkempt, exhausted families arrive every few minutes at the Sacred Heart church hall in downtown McAllen, eight miles from the Mexico border in the Rio Grande Valley. If they embarked on their journeys from central America dreaming of green cards, or even US passports, for now they are clutching yellow A4-sized envelopes containing immigration notices and bus tickets.

Donated clothes, food, medicines and other essentials were piled high on tables in a room the size of a basketball court on Monday night as volunteers in brightly coloured smocks and t-shirts bustled, arranging goods and tending to the migrants. Hundreds of bottles of water were stacked in an alcove behind portraits of Jesus and the Virgin Mary.

Superficially, the scene resembles the urgent community efforts seen whenever people are displaced by a natural disaster. But the mood here is ambivalent; there is hope amid the distress, a sense of relief alongside uncertainty.

The church set up the facility to serve hundreds of young families mainly from Guatemala, Honduras and El Salvador who have crossed the border, been detained and processed by US authorities and released. Some of the women are pregnant. Often they are given bus tickets and told to join up with family members elsewhere in the country while they wait a couple of weeks for their appointment in immigration court.

Demand is so high that another centre has opened in nearby Brownsville. Along with the number of young families, a surge in unaccompanied minors has caused particular alarm and overwhelmed government holding facilities in the Valley, leading to reports of cramped and unsanitary conditions in places dubbed hieleras (freezers) because the air-conditioning is so fierce.

Three military bases, in Texas, Oklahoma and California, are being used to house the overflow of children, and border officials are struggling to meet their goal of keeping non-Mexican unaccompanied minors for no longer than 72 hours before they are released to the Office of Refugee Resettlement, which looks after them until they can be placed with a family member or sponsor in the US pending the resolution of their case. Mexican children are usually returned swiftly back across the border.

In a parallel problem to drug-running and human trafficking over the border and along the Interstate-10 corridor (which runs from California to Florida) Texas, and especially the Rio Grande Valley, has become a hotspot for illegal crossings by unaccompanied children. This has prompted what some locals called the worst immigration crisis in the area since central America was destabilised by civil wars in the 1970s and 1980s.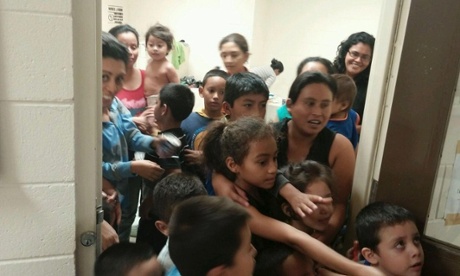 Official statistics comparing fiscal year 2013 with the first eight months of fiscal year 2014 show an increase in arrests along the southwest border from 24,493 to 47,017. In the Rio Grande sector, numbers rose from 12,484 to 33,470. Though the country is 1,500 miles away from the Valley and has a population of only eight million, the border patrol has recently encountered more such children from Honduras than from Mexico.

This sharp rise comes despite a dramatic decrease in what the patrol terms "nationwide illegal alien apprehensions" in recent years following the economic downturn and the Bush and Obama administrations' increased commitment of resources to border security: from about 1.1 million per year a decade ago to 421,000 in 2013.

The US government has engaged the Federal Emergency Management Agency (Fema) to coordinate the response and asked Congress to approve $1.4bn in urgent federal funds to look after and process these children. Joe Biden, the US vice-president, is expected to meet with Guatemalan, Honduran and Salvadoran leaders this week to discuss how to stem the flow.

'Texas can't afford to wait for Washington to act on this crisis'
As the migrants are released from custody and spread out across the US, a problem initially concentrated in the south-west is becoming a nationwide challenge for the already-stretched resources of community support groups and government agencies.
Brian Schaeffer, an immigration attorney in Houston, said that officials in the Houston asylum office, which serves ten states, are having to revise their procedures and reassign personnel to handle a sudden rise in the number of people at the border claiming asylum based on the "credible fear of persecution or torture" criteria.

As a result, he said, some clients already in the system are facing long delays to complete their applications. A US Citizenship and Immigration Services spokesman for Texas referred the Guardian to the Department of Homeland Security, which did not respond to a request for comment.

The White House has emphasised that many of the young people and families from Guatemala, Honduras and El Salvador are fleeing danger, as murder rates in those countries have spiked and children are targets for violent gangs.
Republicans in Washington have accused the Obama government of failing to secure the border and pursuing lax immigration policies that have encouraged migrants to enter illegally in the belief that at best they will be given leave to stay, and at worst they will be able to evade deportation and find work as undocumented immigrants.

On Wednesday, Texas governor Rick Perry announced an extra $1.3m a week for the Department of Public Safety to spend on emergency "surge operations" along the border. In announcing the funds, he blamed Washington: "Texas can't afford to wait for Washington to act on this crisis, and we will not sit idly by while the safety and security of our citizens are threatened," Perry said.
"It's not an issue of border security, it's an issue of crisis in the other countries. The politicians who are trying to make it about militarising the border are doing a disservice to actually addressing the issue. Immigration reform is not going to address the murder rate in Honduras," said John-Michael Torres, a spokesman for LUPE, a south Texas community activist group.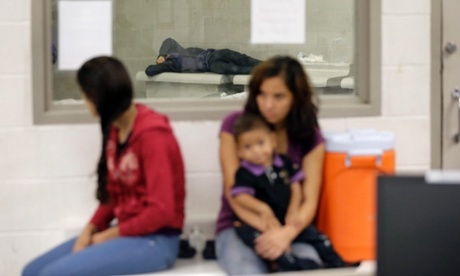 "We are looking at this as a humanitarian crisis, versus an issue of migration," said Tiffany Nelms, who works with unaccompanied children at the US Committee for Refugees and Immigrants, an advocacy and resettlement organisation based near Washington. "We have so many kids who've seen someone murdered. Kids as young as ten are being recruited into gangs. Parents stop children from going to school because gang recruiters are there."

'I couldn't take it any more, I needed to leave'
Other youngsters simply want to reconnect with their families after years apart. Nelms said that about 90% of the children are reunited with a relative, at least in the short-term until their case is determined. Without the right to court-appointed attorneys (recent pilot programmes aside), about half of all migrants represent themselves in immigration court. Many never turn up, fearing that appearing in front of a judge will lead to being re-detained and removed from the country.

Others rely on a patchwork of groups who provide advocacy and legal help, sometimes with federal aid. One lawyer in McAllen, who asked not to be named, said that he had once represented a young boy who fled to Texas from El Salvador. He had been shot at multiple times because his brother was a gang member. The boy was threatened with death if he did not join his brother's gang, threatened by a rival gang if he did, and beaten by police because of his sibling's involvement.

Ronald, 18, took the same route last October. Through a translator he said that he was receiving death threats and harassment at school and wanted to join his mother in Los Angeles. She had left for the US five years earlier to find work.

"I couldn't take it any more, I needed to leave," he said, adding that he was the only child in a group of four people led by a smuggler, and that the trip cost $5,000. After entering Guatemala he crossed into Mexico in a small boat then took a series of buses to reach the Texas border, paying off officials when they occasionally pulled over the buses.

In Reynosa, just south of McAllen, he and others were stashed in a house for 15 days. Finally, a 30-strong group were led to the Rio Grande and 15 people got into an inflatable raft made for six. They were confronted by US border officials in the middle of the river and turned back, trying again eight days later.

This time they made it over but were discovered by US authorities and detained. Ronald said he was well-treated but the holding facility was dirty. After a day-and-a-half he was passed on to a shelter for minors in McAllen, then flown to Los Angeles after 23 days to be reunited with his mother.

His older brother is still in El Salvador, he said, but his 13-year-old sister tried to enter the US on Tuesday and was being held by immigration officials. He said she had talked on the phone with their mother and was worried that the cold conditions were making her sick, since she has asthma.

"People are not coming over because of immigration law. It's because the economy is on the floor and the violence is out of control. Murder has become normal," Ronald said. He is learning English in an education programme but his legal status is still to be resolved. "I'm not sure what's going to happen," he said.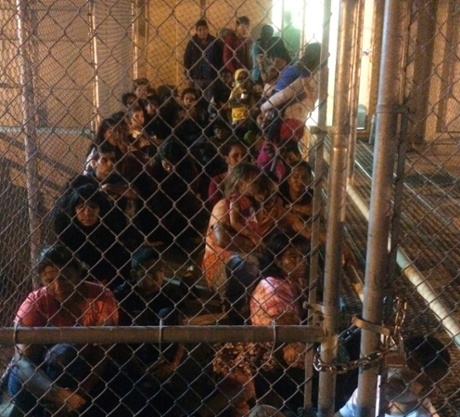 A 90-minute drive from Texas's favourite spring break vacation destination, the beaches of South Padre Island, McAllen is a city of extremes: gated middle-class streets and prosperous shopping malls serve wealthy Hispanics and "winter Texans" escaping cold weather elsewhere. Nearby, hundreds of thousands of people live in "colonias", communities with ramshackle housing and acute poverty.
One of the most common locations for unauthorised crossings is Anzalduas Park. Southwest of McAllen and partly facing Mexico to the north, it is tucked into a narrow bend of the Rio Grande river, which serves as the international boundary. It was empty on Tuesday afternoon save for a lone fisherman at a jetty that was ringed by parked law enforcement vehicles. There are picnic tables, a playground and signs warning park-goers to watch out for children – and snakes.

Border Patrol vans and SUVs are visible every half a mile or so in this area, keeping an eye on the river and the flat scrubland either side of a bridge that is one of the official gateways. Agents have told reporters that many migrants are making no attempt to evade capture.

"The impression I get is that they think they're going to become US citizens automatically. They're only entitled to a hearing," said André LeMay, a Franciscan Brother working in the church shelter on Monday. "There's a huge influx, which I believe is deceiving for these people."

A 27-year-old woman from Honduras sat at a table in the hall quietly eating dinner while her excited three-year-old daughter fidgeted on her chair. They had been detained crossing the border. "There is no work, we need money," the mother said through a translator. "It was a very tough trip, we came on the bus." They had spent two days in a holding facility: "We slept on the floor, it was crowded. There were toilets but no washing facilities." She planned to meet up with relatives in Virginia.

Out of a bag she produced an envelope with official documents explaining her arrest and the requirement that she appear at a court hearing in Virginia at the end of the month. Large numbers neatly written on the envelope in black marker pen indicated a departure time: 11.05pm, when they were scheduled to be on a Greyhound bus headed east for the next stage of their long journey.