The first Alice Eather knew of Paltar Petroleum's plans for her ancestral land was when she read a square-inch notice buried in the back pages of the NT News. The August 2012 announcement detailed an application by the resource giant for a license for exploratory oil and gas drilling. If successful, it planned to carry out hydraulic fracturing, or fracking, around the coastline of Maningrida in West Arnhem Land.
"It was the most horrible day of my life," says 24-year-old Eather. "No one was told a thing. There had been no consultation and the ad said we would be given two months to object."
Objections from the region's myriad Aboriginal clans and some 13 language groups have since been vocal and persistent. Almost two years on, leaders from the Protect Arnhem Land campaign say they will take their battle as far as the high court if necessary.
"I had never done any of this in my life," says Queensland-raised Eather, whose mother is from the Kunibidji people of Maningrida. "But our job is to protect country. If we don't do this, we are not doing our duty."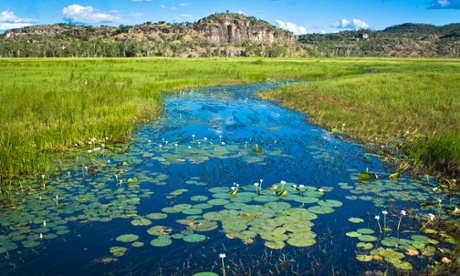 The 10-million hectares of Arnhem Land represent a fraction of the some 80% of the Northern Territory which is currently under application for unconventional oil and gas exploration. But the local campaign to halt fracking by Paltar highlights the complexity of trying to protect land in this resource-rich territory.
The town, whose name derives from the phrase "where the dreaming changed shape", sits on an estuary at the mouth of the Liverpool river and is home to around 2,600, many of whom live on its some 30 homeland centres or "outstations".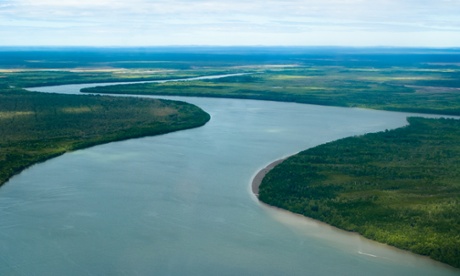 West Arnhem Land's geography is as diverse as its inhabitants. Dramatic escarpments overhang waterholes, abundant wetlands and endless expanses of red bush whose arid riverbeds metamorphose come rainy season. The air is still and thick with the residue of thousands of past generations – a presence reflected in some of the world's oldest rock paintings, dating as much as 28,000 years. Many of these ancient sites also extend offshore and, like coastal biodiversity, could be jeopardised by exploratory seabed drilling.
Most of Arnhem Land falls under the 1976 Aboriginal Land Rights Act that grants inalienable freehold title to traditional owners under federal law. This includes the right to veto applications for development or exploration. However the jurisdiction of the Act ends at the low-tide mark and therefore gives no clear rights over sea activity like the seismic and acoustic sampling proposed by Paltar in the shallows around Maningrida.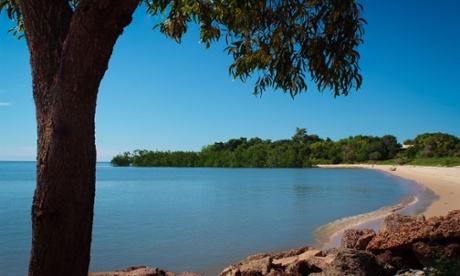 "One of challenges in the Northern Territory is that there is not much that gets in the way of mining," says Dominic Nicholls, acting ranger manager at the Djelk Indigenous Protected Area, which encompasses Maningrida. "It is often at the whim of the Department of the Environment and it might bring economy, but it also brings huge potential problems. The NT is the last of the wild frontiers and the legalities are untested.
"One of the big concerns around exploration licenses is sacred sites," says Nicholls.
This is one of Australia's pristine wildernesses and much of it remains undocumented, culturally and geographically. There is no real understanding of the heritage or biodiversity, but exploration licences give a carte blanche across vast areas."
It is often unclear which clan or traditional owner represents particular parts of the land, and with no official ecology or heritage surveys carried out, there are fears that investors may not be held accountable for any damage resulting from their activities. So too, if traditional owners license an application to explore under the Land Rights Act, they are subsequently unable to veto any production developments that might flow from exploration .

"The Land Rights Act does not give Aboriginal people a lot of chance to say no to production," says Stuart Blanch, an environmental lawyer and director of the Environment Centre NT who is advocating for the campaign. "Even if they refuse a license to explore, every five years the developer has a chance to come back and reapply. If they say yes to exploration, they can't have a change of heart."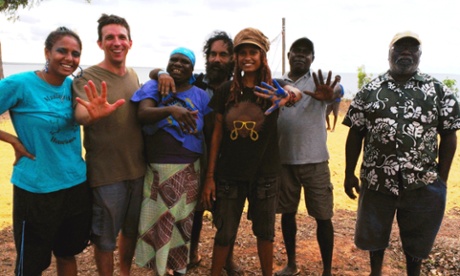 As Blanch notes, this has led investors to offer strong incentives for traditional owners to license their initial applications in the form of generous royalty payments. The Northern Land Council (NLC), the body responsible for mediating applications, has also been accused of keeping traditional owners offside in development negotiations. Where local clan members often have little access to the technicalities of proposals or related legislation in their own language, the remunerative rewards of $10,000-20,000 per owner for granting a license can be alluring.
"The NLC is a creation of the white man under federal law. It survives financially by facilitating developments on Aboriginal land that are recognised under the Act." he says. "The history is that traditional owners are under pressure to say yes to exploration."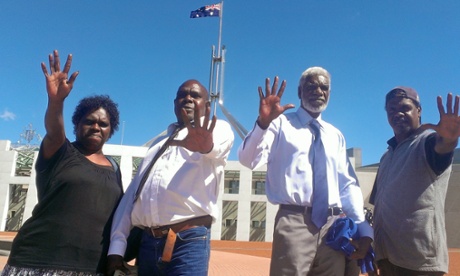 The leaders of Protect Arnhem Land therefore see consultation as central and have issued multiple invitations to Paltar to visit Arnhem Land and "sit down" to discuss their objections. The company has so far failed to do so, writing in response that drilling plans pose little threat to coastal ecology (traditional owners burned the letter in protest). In June 2013, campaign leaders personally delivered a message stick to the company's Sydney headquarters stating that drilling on their land was unwelcome, whatever the legal stipulations.
Owners have now met with environment minister Greg Hunt to lobby for an extension of the Land Rights Act to the sea, alongside a comprehensive heritage assessment of Maningrida's land and water. However, the potential legal and political ramifications of such a recognition are vast (the very term "sea rights" reportedly inspired fear in the minister, who was nonetheless supportive of a land-based assessment). Campaigners are now looking to the state-based Petroleum Act as a potential mechanism to protect local rights over novel forms of resource exploration.
"Fracking is so unconventional that when you look on the law side to the Land Rights Act and Petroleum Act, there is nothing there," says Eather, who won this year's Northern Territory Young Achiever award for her leadership in the campaign. (Ironically, the the $2,000 cash prize was awarded by the oil and gas company ConocoPhillips). "It is all really new, scary and intrusive."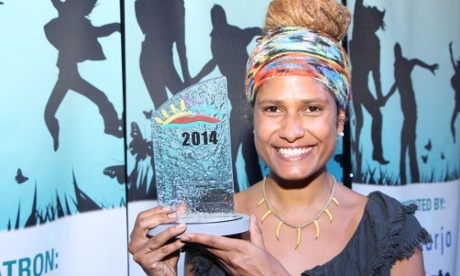 Paltar's application for now remains in limbo in the hands of the NT government who hold the power to approve an offshore exploration license. State bureaucrats have given reassurances that they will take account of traditional owners' claims, but Eather and others remain sceptical that Paltar will relinquish their plans. Nonetheless, she says the grassroots nature of the Protect Arnhem Land campaign has afforded local clans some agency in what is often an arcane and unnavigable legislative sphere.
"I don't think Paltar will budge. But the most vital thing is that [the campaign] is community-driven," she says.
Blackfellas have always felt like they are kept in the dark, that it is the ballandar [white people] who have all the law and all the knowledge. We can make a big change to that."
Paltar Petroleum was unavailable to comment on their negotiations with Arnhem Land traditional owners.