Pope Francis's avowed commitment to the poor and the homeless is being put to the test by a group of out-of-work, homeless people who have bedded down amid the gold leaf and opulent marble of one of Rome's most stunning and sacred churches.
A band of 110 squatters – including around 20 children – have been camped out for nine days at the fifth-century church of Santa Maria Maggiore – one of Rome's four papal basilicas.
If Francis was not aware of Rome's growing number of squatters – 5,800 crisis-struck families have illegally occupied buildings, according to activists – he will be soon: the pope often stops by the church to pray to the 1,000-year-old icon of the Madonna that is hung one niche down a side aisle from where the squatters have parked prams and suitcases.
"We are an alarm call, a heads-up that the housing system in Rome is collapsing," said Luca Bonucci, 38, a former security guard who lost his home when his employer failed to pay him for a year.
The group, which is made up of Italians, Romanians, Ukrainians and Africans, moved into the church when the unoccupied office they had squatted on the outskirts of Rome for two months was raided by police on 3 June.
That eviction was one of a series this year that have provoked violent clashes with police. In April riot police evicted 350 families occupying an abandoned office block.
Nine days after the group moved into the basilica, which is considered Vatican territory, church authorities appear unsure what to do with them. "They are tolerated," said one Vatican gendarme, who declined to be named.
On Thursday the church was packed with tourists oblivious to the squatters, gawking instead at the rich frescoes, marble columns and the crystal reliquary said to contain wood from Jesus's manger.
"We are up at five to make way for mass," said Maddalena Gavrilescu, 34, who moved from Romania four years ago, is studying for a degree in medicine, but has lost her job as a waitress.
"They have let us use the car park and the loo during the day, which means the kids have somewhere to play," she added.
To escape the stifling heat outside, some of the group slip back in to lounge on a discreet row of chairs in the side aisle next to the altar, listening to iPhones or reading the newspaper.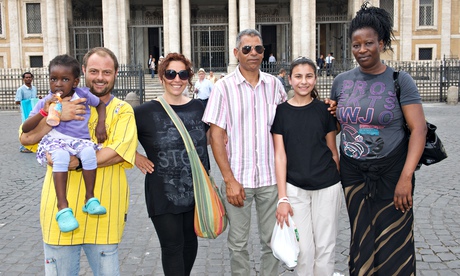 At 8pm, when the tourists are ushered out, the squatters have the run of the church under the watchful eye of the guards, spreading out their sleeping bags on the marble floor and nodding off beneath the 16th-century ceiling said to be gilded with Inca gold. "We are all walking around with bad backs because of the marble," said Anna Maria Rosati, 48, a former school cook from Rome whose house was repossessed when she was made redundant.
Pope Francis has made care for the poor a trademark of his papacy, inviting a group of homeless men to join him for his birthday and claiming in December: "I call on everyone: individuals, organs of society, authorities, to do everything possible to assure that every family has a place to live."
The group has turned down an offer from Rome council to move to a disused conference centre, claiming homeless people living there are suffering from TB.
But no solutions have been suggested by the Vatican. "The pope should have been here," said Fusi Khelifi, 18, an Algerian who moved to Italy four years ago.
"We do understand that if the pope gives us a house, every church in the world will be occupied," said Bonucci.
One tourist who noticed the squatters was Paul Roach, 67, from Canada. "My church back home feeds the poor, so I approve of these people being allowed to stay here," he said.
Playing with her two-year-old daughter next to the organ where she beds down every night, Pamela Brown from Nigeria said she had no idea what would happen next, but after losing her job and her flat, she said she was sure she deserved to stay on in the basilica. "A church should be a place to run to," she said. "I believe I am in my father's house."
• This article was amended on 13 June 2014 to use the Italian name of the basilica, Santa Maria Maggiore.