French troops have located the wreckage of the Air Algérie flight that disappeared on Thursday and there were no survivors, President François Hollande has announced.
A French military drone found the crashed plane in the Gossi area of Mali near the border with Burkina Faso, from where the flight had taken off en route for Algiers. About 100 French soldiers, based in Mali as part of Operation Serval to drive Islamic extremists from the African state, arrived at the site on Friday morning.
Hollande said they had found one of the plane's flight recorders, which had been sent for examination to the town of Gao, where French troops are garrisoned. French air accident experts were flying out to the scene, he added.
However, he confirmed that all 118 people on board – 112 passengers (including 54 French citizens) and six Spanish crew – had perished in the accident. Earlier reports had put the number of passengers and crew at 116. "Sadly, there are no survivors," Hollande told journalists after a crisis meeting of ministers at the Elysée on Friday morning. He said the foreign minister, Laurent Fabius, would meet the victims' families and they would be given "all the information they need". "My thoughts are with the victims and their families. We stand at their side," he said.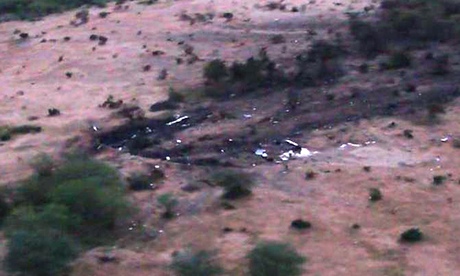 He added that atrocious weather conditions in the region were believed to have caused the accident and the wreckage was found in a concentrated area, but said: "No hypothesis has been ruled out … it is still too soon to draw any conclusions."
Gilbert Djendéré, a presidential spokesman in Burkina Faso, said a recovery team had located the wreckage on Thursday afternoon. "The plane completely disintegrated [on impact]" he said. A Burkina Faso minister who spoke on condition of anonymity said: "There are no phone lines in Gossi, which is why it was so difficult to confirm any information. It was nomads who saw the plane falling during the night, and they alerted the Burkinabe army.
"It's an unstable region, full of drugs traffickers and car hijackers," he said, adding that the Burkinabe soldiers had secured the site ahead of Malian troops expected to accompany the president there on Friday.
Gossi is 90 miles (140km) from the strategic garrison town Gao, which has been the scene of fierce fighting, Gossi. It is sparsely populated and inhabited mostly by nomadic Tuaregs. Mali's northern region was engulfed by fighting during the 2012 conflict. In May this year 50 Malian soldiers were killed during clashes between the army and Tuareg rebels.
Authorities said the plane broke on impact rather than in the sky, all but ruling out the remote possibility it was shot down.Flight AH5017 had taken off from Ougadougou, capital of Burkino Faso, in the early hours of Thursday. About 40 minutes later, shortly after the pilot asked to divert from his flight route to avoid heavy storms, the aircraft dropped off the radar. It was only after the plane failed to arrive as scheduled in Algiers that it was announced missing.
The French transport minister, Frédéric Cuvillier, said the accident was probably due to "extremely bad weather conditions".
"Was that the sole cause, or was there a technical problem, which compounded the situation? That we will have to find out," Cuvillier said.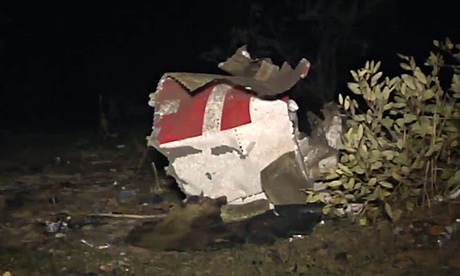 Relatives who have gathered in a crisis centre in Ouagadougou airport have been told there are no survivors. "We don't understand why there is no representative of Air Algeria," said one man who gave his name only as Tha. "We need to know what happened. Some people are wailing but we are mostly just shocked. I don't think it's really hit home yet."