The wreckage of Air Algérie flight AH5017 from Burkina Faso to Algeria, which disappeared from radar with 116 people on board, has been discovered in Tilemsi, Mali, it was claimed on Thursday. However, searches were later said to be continuing.
The French media is quoting Zoheir Houaoui of Air Algérie as saying the plane was carrying 50 French passengers, six Algerians, one Malian, one Belgian, two from Luxembourg, five Canadians, one from Cameroon, four Germans, one Nigerian, eight Lebanese, one Romanian, 24 from Burkino Faso and six so far unidentified passengers. The six crew members – two pilots and four stewards – were all Spanish.
The French president, François Hollande, has called an emergency meeting with the prime minister, Manuel Valls, foreign minister, Laurent Fabius, defence minister, Jean-Yves Le Drian, as well as the interior and the transport ministers, for 5pm French time.
Air traffic controllers lost contact with the Swiftair-owned MD-83 about 50 minutes after takeoff at 1.17am local time (0117 GMT), said an Algerian aviation official. The news was not made public until several hours after the flight's scheduled 5.10am arrival in Algiers, by which time officials from Algeria, Burkina Faso and France had issued conflicting details.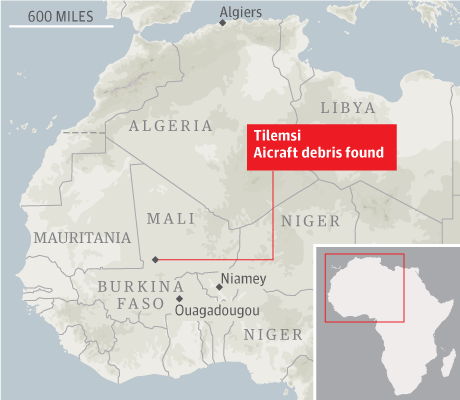 The flight path of the plane from Burkina Faso's capital, Ouagadougou, was not immediately clear. The city is in a nearly straight line south of Algiers, passing over Mali, where unrest continues. Rebels who have seized the northern fringe of Mali do not have weapons capable of bringing down a commercial jet at cruising altitude, a Malian official told the Guardian. "What they have is shoulder-fired weapons, and rocket-propelled grenades."
The flight had asked to change route at 1.38am because of a storm, Burkina Faso's transport authorities said. Powerful sandstorms are frequent throughout the Sahara's northern belt around this time of year. Aviation officials in Burkina said they had handed the flight to a control tower in Niger's capital, Niamey, at 1.38am, and that last contact was at about 4.30am. That contradicted an Algerian aviation official, who said the last contact was at 0155 GMT when the plane was flying over Gao, Mali.
Ibrahim Boubacar Keita, the president of Mali, said on Thursday night that the wreckage had been spotted between Aguelhoc and Kidal but did not give details. Two French Mirage-2000 planes were searching the largely inaccessible region of Gao in northern Mali.
Hollande said: "The search will go on for as long as necessary and everything will be done to find this aircraft."
According to the Spanish sports daily Marca, the SwiftAir aircraft was used as the official aircraft for Real Madrid FC between 2007 and 2009.
The French radio station Europe 1 suggested it had been told the number of French on board could be as high as 80. The French transport ministry would only confirm "a number" of French people were on the plane. Of the French passengers, 22 were due to transfer to flights to Paris or Marseilles after landing at Algiers.
French troops are in Mali as part of the ongoing Operation Serval, which started at the beginning of last year and is aimed at ousting Islamist militants in the north of the country.
Hollande was due to fly to the French Indian Ocean island of Réunion on Thursday afternoon, but delayed his flight to follow developments.
• This article was amended on 24 July 2014 to reflect the fact that the claim that the plane's wreckage had been discovered was later cast into doubt.