A Malaysia Airlines passenger jet carrying 295 people from Amsterdam to Kuala Lumpur has crashed in an area of eastern Ukraine where separatist rebels have been engaging Ukrainian military forces in recent weeks. Ukraine's president, Petro Poroshenko, said the jet may have been shot down.
"We do not exclude that the plane was shot down and confirm that the Ukraine armed forces did not fire at any targets in the sky," Poroshenko said in a statement.
The field next to the tiny rural hamlet where MH17 plunged to the ground was a scene of charred earth and twisted metal. Locals were distressed to find body parts scattered around the scene. The body of what appeared to be a young woman lay about 500 metres from the centre of the crash, while a dismembered foot could be seen on the one road leading through the village.
A strong smell of aviation fuel hung in the air as pro-Russian separatist fighters attempted to secure the area. Ten fire engines remained on the scene after rushing there to extinguish the many blazes caused by the crash.
One local resident, Alexander, said he was working in the field a few hundred metres from its final resting place when he looked up. He feared the aircraft was going to crash on him.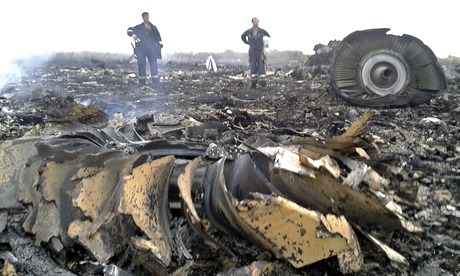 The house in which another local, also named Alexander, and his relative, Olga, live in was just metres from the crash site. They said they thought the village was being bombed after hearing two or three loud bangs before the force of the impact threw them to the ground.
In a statement, Malaysia Airlines said Ukraine's air traffic control lost contact with flight MH17 at 2.15pm GMT, approximately 30 miles from the Russia-Ukraine border.
"Flight MH17, operated on a Boeing 777, departed Amsterdam at 12.15pm [Amsterdam time] and was estimated to arrive at Kuala Lumpur international airport at 6.10am [Malaysia time] the next day. The flight was carrying 280 passengers and 15 crew." The flight also had a Dutch airline flight number from KLM, KL4103.
Anton Gerashchenko, an adviser to Ukraine's interior minister, wrote on his Facebook page that the plane had crashed in Ukrainian territory after being hit by a missile fired from a Buk launcher. Associated Press said one of its journalists had seen a similar launcher near the town of Snizhne earlier on Thursday.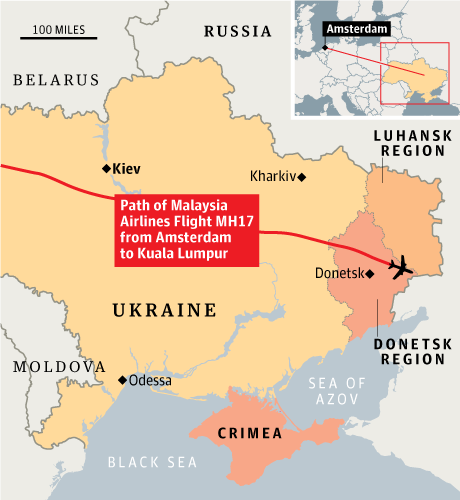 Leaders of the self-declared Donetsk people's republic denied any involvement, according to Interfax news agency. A member of the republic's security council said rebel weapons only had the capacity to shoot down a plane at 3,000 metres and blamed Ukrainian military forces for the attack.
Poroshenko called for a commission to be set up to investigate the crash. "This is the third tragic incident in recent days after Ukrainian military An-26 and Su-25 jets were shot down from Russian territory. We don't rule out that this plane was also shot down, and we stress that the Ukrainian military didn't take any actions to destroy targets in the air," he said.
Earlier on Thursday, Ukraine accused Russia of downing one of its fighter jets inside Ukrainian territory.
Dmitry Peskov, a spokesman for the Russian president, Vladimir Putin, called allegations that Russia had been involved in the downing of MH17 "stupidity". Peskov told the Guardian that the Kremlin would not make a further statement on the tragedy because "no one knows" who is responsible.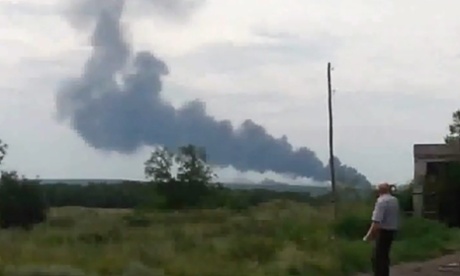 Asked about the possibility of further US sanctions in light of this bloody development in the conflict in eastern Ukraine, Peskov said he could not rule it out.
"The United States has recently been conducting a very non-constructive policy, and their actions are very unpredictable," he said.
Speaking in Delaware, Barack Obama said that the incident "looks like it may be a terrible tragedy", adding that his top priority was to find out whether American citizens were on board. "I've directed my national security team to stay in close contact with the Ukrainian government. The United States will offer any assistance we can to help determine what happened and why. As a country, our thoughts and prayers are with all the families of the passengers, wherever they call home."
Earlier, Obama and Putin spoke on the phone about new US sanctions imposed on Moscow over its alleged failure to halt the flow of weapons and fighters to separatist forces in eastern Ukraine.
Several airlines, including British Airways, Aeroflot, Turkish Airlines and Russia's Transaereo, announced that they would avoid Ukrainian airspace with immediate effect. Lufthansa said it would steer clear of airspace over eastern Ukraine.
At least 30 Dutch-speaking passengers were on the plane, according to two travel agencies which sold tickets for the flight. According to Dutch newspaper websites, several Dutch passports were found near the scene of the crash.
The Malaysian prime minister, Najib Razak, said via Twitter: "I am shocked by reports that an MH plane crashed. We are launching an immediate investigation."
The country's defence minister tweeted that he was "monitoring closely" claims that MH17 had crashed, saying: "No comfirmation [sic] it was shot down! Our military have been instructed 2 get on it!"
The crash comes four months after Malaysia Airlines flight MH370 vanished on a flight from Kuala Lumpur to Beijing with 239 people on board, two-thirds of them Chinese citizens. It has yet to be found despite a massive international search, which is ongoing, but Malaysia Airlines has said it believes everyone on board died when the plane crashed into the southern Indian Ocean.
That aircraft was a Boeing-777 – the same kind of plane as flight MH17. In 2001, Ukraine admitted that its military was probably responsible for shooting down a Russian airliner that crashed into the Black Sea, killing all 78 on board. A senior Ukrainian official said it had most likely been downed by an accidental hit from an S-200 rocket fired during exercises.
In 1983, a Soviet jet fighter shot down a South Korean airliner after it veered off course into Russian air space and failed to respond to attempts to make contact. All 269 passengers and crew were killed.
In 1988, the US warship Vincennes shot down an Iranian airliner over the Gulf, killing all 290 passengers and crew, in what the United States said was an accident after crew mistook the plane for a fighter. Tehran called it a deliberate attack.