For anyone interested in Angela Merkel's relationship with football, there is nothing more instructive than flicking through the archive of photographs showing Germany's chancellor and its national team throughout her nine years in power.
At the 2006 World Cup, when Merkel had only been in office for a year, the set-up was still fairly formal: stiffly lining up on the stairs at the team's hotel lobby, the players are wearing long-sleeve jumpers and tracksuit bottoms.
In 2010, after a qualifying match against Turkey, Merkel got bolder and allowed herself to be photographed in the team's changing room – reportedly to the irritation of the German FA – shaking the hand of bare-chested goalscorer Mesut Özil.
At this World Cup, the chancellor's visit to the post-match changing room has become a ritual. An extraordinary photo taken after Sunday's victory over Argentina has Merkel framed by a crowd of sweaty, cheering footballers.
Wolfgang Niersbach, the president of the German FA, said there had been "kisses on cheeks", striker Lukas Podolski called her a "Muttivation" for the players (a pun on her nickname Mutti, "Mummy"), and manager Oliver Bierhoff has described her as the squad's mascot.
Her favourite player, the joke goes in Germany, is Bastian Schweinsteiger, who watched a match sitting next to her after his suspension during Euro 2008. When asked in which position he would play Merkel, for a magazine interview this year, coach Joachim Löw immediately suggested the Bayern midfielder: "She'd feel especially well alongside him."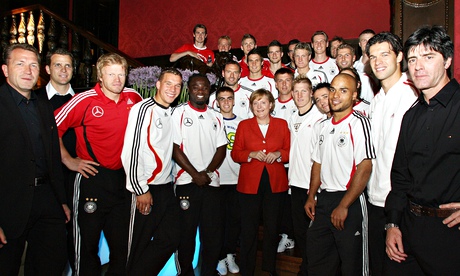 Die Zeit newspaper used to run a series of love letters between Angela and "Schweini", imagined by the playwright Moritz Rinke: "Some day, Basti, they'll compare us like they used to compare Willy Brandt and Günter Netzer," one of them said. "Merkel and Schweinsteiger!"
The message is clear: she has by now been fully absorbed into the team.
In Germany, this public symbiosis between sport and politics is entirely Merkel's invention. The first chancellor of the postwar era, Konrad Adenauer, did not bother to turn up to watch the Nationalmannschaft win its first trophy, in 1954 in Bern.
Helmut Schmidt watched the 1974 win inside the stadium, but from the safe distance of the VIP stands.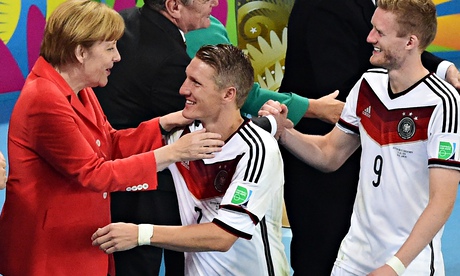 Helmut Kohl pioneered the post-match changing-room visit, but was only photographed in 1990 by accident. Asked what the amply proportioned chancellor's visit after the team's Euro 1996 win had been like, former midfielder Mehmet Scholl said : "Tight it was."
Merkel has taken the politicisation of football to a new level. A few days ahead of a formal celebration of her 60th birthday in Berlin on 17 July – and amid new rumours that she will step down before the end of her third term – the German team's World Cup victory has already celebrated the political values that the chancellor is keen to expound, such as pragmatism, ambition and humility.
As the newspaper Taz wrote recently: "The players of today are politically correct. It's hard to say what their politics may be – but that's another thing they have in common with Ms Merkel."
There is no doubt that her photogenic intervention on Sunday will work to her advantage domestically. When she visited the team following their opening win against Portugal last month, her party's popularity rose by 2% in the polls.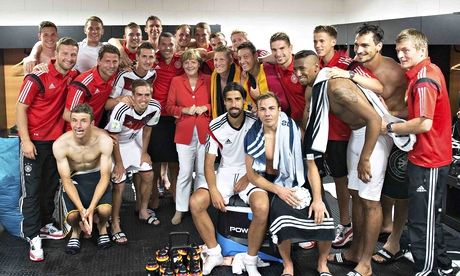 "The chancellor's visit to the German team during the World Cup shows that she takes people and their interests seriously", said pollster Manfred Güllner of the Forsa institute.
She may also hope that association with a team that is generally much liked outside Germany could boost her international profile. After all, Germany's football team has proved that it can be successful and dominant, yet liked abroad, something that has not always applied to the chancellor.
Of course, as the routine booing of the Brazilian president, Dilma Rousseff, at the World Cup has shown, pegging one's political career too closely to the fate of a football team can also backfire. On Sunday night, quite a few Germans on social media felt put off by Merkel's role in the celebrations. As one fan in a Berlin bar put it: "What has that woman done to deserve to be up there?"
This Victory stamp

Germany's Deutsche Post AG took a gamble on the outcome of the World Cup final which paid off.
Before the match began the former state monopoly had printed 5 million stamps commemorating Germany's fourth title, after 1954, 1974 and 1990. Had Germany lost to Argentina the stamps would have had to be pulped.
The 60 cent stamp was presented on Monday, hours after Mario Götze's goal in extra time sealed Germany's 1-0 victory.
Lutz Menze, a graphic designer, told the German national news agency DPA that the image shows footballers running but not their faces, to honour the whole team, not an individual.
The stamps go on sale on Thursday after copies have been given to the coach, players and staff.
They were ordered by the finance ministry, which holds 21% of Deutsche Post's shares through the state-owned KfW bank.
"This year I dared to hope very early on that our team would take the title," said finance minister Wolfgang Schäuble.
"It's wonderful that the team turned this dream into a reality. I hope that this stamp will remind many citizens of the immense joy the team has given us."