The gulf between the challenges facing America and the ability of a divided government to respond was laid bare by president Barack Obama on Tuesday in a cautious State of the Union address that sought predominantly political rather than policy solutions.

As expected, the president called for a "year of action" to tackle the alarming decline in social mobility in the US and rebuild a "stalled" dream of economic opportunity for all.
"The cold, hard fact is that even in the midst of recovery, too many Americans are working more than ever just to get by, let alone to get ahead..." Obama told a packed joint session of Congress.
"Too many young people entering the workforce today will see the American Dream as an empty promise – unless we also do more to make sure our economy honors the dignity of work, and hard work pays off for every single American. "
But despite a series of limited new policy measures, such as a higher minimum wage for people working on jobs for federal contractors and a new family retirement savings scheme, Obama's anticipated blizzard of executive orders is likely to prove less confrontational than many Republicans had predicted.
Instead, the president made one last attempt at persuasion: either for Congress to pass a series of stalled bills on immigration, minimum wage legislation and unemployment insurance, or for the American people to elect a Congress that will.
"After five years of grit and determined effort, the United States is better positioned for the 21st century than any other nation on Earth," said Obama. "The question for everyone in this chamber, running through every decision we make this year, is whether we are going to help or hinder this progress."
The GOP's opposition to healthcare reform, and its role in October's government shutdown, was another theme that brought loud cheers from Democrats in the audience.
But there were also attempts to enlist the support of emerging Republican leaders such as senator Marco Rubio, who was praised for his work on reform of tax credits, in a sign of where limited bipartisan agreement may be possible before the mid-term elections.
Despite a gloomy prognosis for domestic reform, Obama set out a more upbeat vision of American foreign policy, drawing wide applause for his efforts to end US involvement in Afghanistan. "Together with our allies, we will complete our mission there by the end of this year, and America's longest war will finally be over," he said.
He also called on Congress to "give diplomacy a chance" in his efforts to negotiate over nuclear weapons with Iran, and threatened to veto any bill containing new sanctions against Iran that would undermine those efforts. "If John F Kennedy and Ronald Reagan could negotiate with the Soviet Union, then surely a strong and confident America can negotiate with less powerful adversaries today," he said.
And he continued to try to put thorny issues like NSA surveillance, the detention facility at Guantánamo Bay and drone warfare behind him. Speaking of the NSA, Obama said: "Working with this Congress, I will reform our surveillance programs, because the vital work of our intelligence community depends on public confidence, here and abroad, that privacy of ordinary people is not being violated."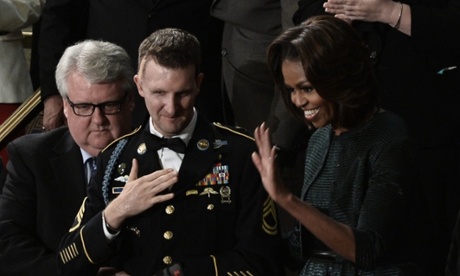 The longest ovation was reserved for Cory Remsburg, an army ranger severely injured by a roadside bomb on his 10th deployment in Afghanistan. Members of the US congress, usually divided along party lines in their response to the State of the Union address, rose to their feet for more than a minute to recognize Remsburg, a guest of the White House. Remsburg, a Purple Heart recipient and sole survivor of the 2010 attack, now spends six hours of his day in occupational, physical and speech therapy.
In the official Republican response to Obama's address, the party sought to strike a compassionate tone, with Representative Cathy McMorris Rodgers presenting a folksy picture of American conservatism. She emphasised family and children, and talked of her son born with Down's syndrome, in remarks delivered from a couch positioned strategically by a fireside.
She framed her criticisms of Obama in positive and forward-looking terms, in stark contrast to much of the toxic rhetoric that has been directed by leading conservatives against the president in recent months. Though she said "the president's health care law is not working", she tempered the attack with the proviso: "No, we shouldn't go back to the way things were".

The goal, she said, was an "America every bit as compassionate as it is successful, our plan is one that dreams big for everyone and turns back no-one".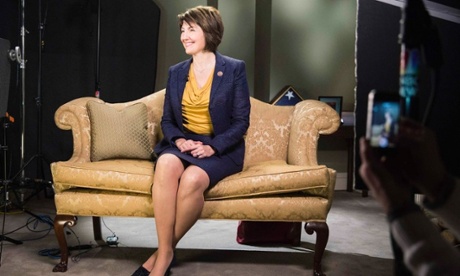 A sharper edged critique of Obama's fifth state of the union address was given in the by-now traditional Tea Party response, offered on this occasion by senator Mike Lee of Utah. In a speech sponsored by one of the largest groups, the Tea Party Express, he took the president's main theme of income inequality and threw it forcefully back in his face – blaming growing inequality on union bosses and red tape, same-sex marriage and abortion.
The worst culprit was the president's healthcare reforms, he said. "Obamacare, all by itself, is an inequality Godzilla that is depriving Americans of their jobs."
Initial reaction from politicians gathered in the Capitol's traditional Statuary Hall spin zone showed little promise of a sudden end to Washington's gridlock. Several Republicans expressed anger over much of the speech – not least Obama's promise to bypass Congress with even limited executive actions.
"You don't make laws, or pronounce laws, without going through the United States Congress," said Michelle Bachmann, the conservative congresswoman from Minnesota. "That's not our system of government and he needs to be held to account for that."
But union leaders reacted positively to Obama's ever-more accentuated dividing lines with Republicans over issues such as working conditions and pay. "[It was] a very good speech," said Damon Silvers, policy director of the AFL-CIO. "Flaws, failures of will and courage, and a few bits of wrongheadedness considered, still a very fine speech."
Ed Pilkington and Kate Rogerscontributed reporting from New York