The most dramatic news event from Latin America in 2014 emerged this month. The papally inspired thaw in US-Cuba relations brought economic optimism to many Cubans and a sense of betrayal among some of Raúl Castro's opponents. The long-term consequences of Barack Obama and Castro's agreement have yet to become clear. In the meantime, the stereotype of Latin America being a region of revolutionary passions endures. However, in 2014 voters, protesters and football supporters alike showed a contrary side: a resigned, pragmatic, almost conservative acceptance of the status quo.
Although there were demonstrations – most violently in Venezuela and heartrendingly in Mexico – public displays of discontent were less evident than during the previous year, and when it came to elections, the majority of voters opted for business as usual – even if they had to hold their noses to do so. The economy excited no one. Largely as a result of sluggish demand from China and a fall in commodity prices, Latin America's GDP is forecast to grow just 1.1% in 2014, the lowest rate for five years. But disappointing as this is for business, stability – with the exception of Argentina and Venezuela – is still welcome.
The year in the limelight for Brazil – the most populous and economically powerful nation in the region – passed with less turbulence than many had predicted. Although there were numerous protests during the World Cup, they were small and did not detract from a tournament that, by and large, was carried off with few glitches. The event is unlikely to be remembered fondly by home fans given their team's astonishing 7-1 semi-final meltdown against Germany, but even that thrashing was mostly met with resignation and black humour.
The presidency of Dilma Rousseff also survived a bruising year. Lewdly jeered by segments of the crowd during the opening and closing ceremonies of the tournament, the former Marxist guerrilla bounced back in the October election to win a second term. It was hardly a ringing endorsement. With 51.6% of the vote in the run-off against Aécio Neves, her margin of victory was the slimmest in more than 100 years. But the fourth-straight victory of the Workers' party showed that a substantial segment of Brazil's 200 million population feel they have benefited from job creation and wealth redistribution programmes such as bolsa família poverty relief payments.
The coming year may be more testing. A huge and growing scandal at the state-owned oil giant Petrobras has already sucked in key figures in the Workers' party. The newly elected congress is more rightwing, more fragmented and likely to be less cooperative. The economy has also not looked this grim for many years. It fell into technical recession in 2014, and the government recently cut its 2015 growth forecast to 0.8%.
The next 12 months are also likely to be rocky for Mexico, Venezuela and Argentina, albeit for different reasons. Mexico's GDP is on an upward trajectory, but terrifyingly high rates of drug-related crime, corruption and police violence have undermined public trust in the authorities. The end of the year has been marked by large and sometimes violent street protests sparked by the disappearance of 43 students, who have been missing since they were attacked by police in September.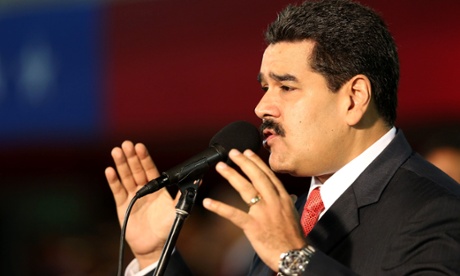 In Venezuela, President Nicolás Maduro has defied many of his critics by remaining in power for a second year since he succeeded Hugo Chávez, despite recession, high inflation and a shortage of many basic goods. His greatest challenge to date was a series of deadly protests and confrontations between pro- and anti-government mobs after the arrest of opposition leader Leopoldo López.
At least 391 people died and 2,200 were arrested in the clashes. Maduro blames agitators in Panama and Colombia and says the US is stirring up a "revolt of the rich" in order to gain control over the country's oil supplies - thought to be the greatest in the world. But he is also struggling with sky-high crime and corruption. Next year is unlikely to be any easier.Argentina is trying to weather a financial storm. The economy is in recession, inflation has soared into double digits and the government defaulted on its debt for the second time in 13 years. Authorities blame US "vulture funds" and courts for the disruption. Critics blame poor management.
Voters will get their chance to pass judgment in a presidential election in autumn 2015 that should mark at least a temporary end to the rule of the Kirchner family. Cristina Fernández de Kirchner, who took power after the death of her husband, is ineligible to stand again. She is grooming her son to continue the dynasty, but he is unlikely to be ready for the next poll. So for the first time in 12 years, the resident of La Casa Rosada may have a different surname, though he or she is still likely to be a Peronist.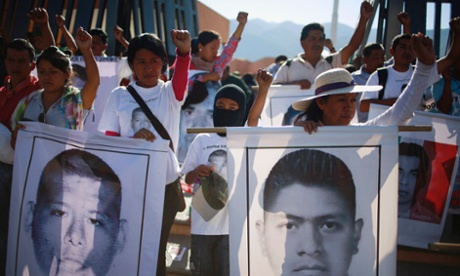 Populist, progressive governments remain in control of most of the nations in South America. Bolivia's Evo Morales won re-election by a comfortable margin, having surprised his critics with yet another year of stable government and strong economic growth. Uruguay said goodbye to its beloved curmudgeon of a president, José Mujica – who was not eligible to stand again – but his leftwing Broad Front coalition won the presidential election. The victor, Tabaré Vázquez, has promised to maintain the marijuana legalisation policies of his predecessor, despite delays in implementation and opposition.
Voters also chose to stick with the devil they know in Colombia, where Juan Manuel Santos was returned to office on a promise to continue peace talks with leftist guerrillas that aim to end more than 50 years of internal conflict. Negotiations in Havana with the Farc and other insurgents have, however, hit several snags, including the kidnapping – and later release – of a senior Colombian army general.
While most of the world's attention focused on headline news, arguably more important developments were taking place in social policy, infrastructure investment, indigenous disputes and environmental conflicts.
Panama celebrated the 100th anniversary of its canal with a major expansion project, and Nicaragua announced the start of preparatory work on an even bigger Chinese-backed interoceanic channel.
Next year, engineers will close the Xingu river in the Amazon for Brazil's biggest engineering project: the Belo Monte dam. The government will also start taking tenders for another giant hydroelectric plant on the Tapajós river that will flood indigenous territory. Elsewhere in Brazil, as well as in Peru, Ecuador, Chile, Bolivia ever more mines, roads, dams and farms are under construction, many of them in areas of extraordinary – but diminishing – biodiversity.
More than the World Cup or the flurry of elections, historians may look back on 2014 as part of an era of engineering gains and environmental loss in Latin America. In this regard at least, the status quo is being turned on its head – as may be the case in Havana too.