Hong Kong police have arrested legislators, student leaders, a pop singer and a media tycoon in a final push to remove the "umbrella movement" from the centre of the city after 10 weeks of pro-democracy protests.
The clearance of the main occupation zone in the Admiralty district closes a chapter for a movement that galvanised the region, drawing tens of thousands to the streets at its height. But even as police moved in on Thursday, the overall message was of peaceful defiance, with participants vowing "We will be back", and pledging to develop new tactics.
Despite warnings from the city's chief executive before the clearance operation that radicals could mount "furious resistance", about 100 protesters waited patiently to be detained on charges of unlawful assembly. As police moved in, some chanted: "We want real universal suffrage."
Groups of officers carried away several protesters by their arms and legs and there was applause for an older activist as he was pushed away in a wheelchair by police.
Others walked away under police escort. They included the veteran activist Martin Lee and pan-democrat lawmakers Emily Lau, Claudia Mo, Albert Ho, Alan Leung and Leung Kwok-hung, known as "Long Hair".
Officers also arrested the singer Denise Ho and media mogul Jimmy Lai, with one of his photographers shouting: "Boss, your staff are to your right!" as Lai passed. Eason Chung, of the Hong Kong Federation of Students, was also detained.
After violent skirmishes in the earlier clearance of a secondary protest site at Mong Kok, both authorities and protesters had been braced for conflict. Previous clashes left protesters battered and bloodied as officers wielded batons and sprayed them with a powerful pepper solution. Police have said they used the minimum force necessary and that officers were also injured.
Law Yuk-kai, the head of Hong Kong Human Rights Monitor, said on Thursday: "Besides some minor points, the police have finally done an all right job. The pressure from the media, from the international community and from the UN has been useful. The clearance today will not deepen the wound that now separates police from society, which will still take decades to heal."
Around 1,000 people had gathered at the site in the morning, but many left when officers announced that those remaining after 2pm would have their details taken before they could depart.
Several high-profile activists had been arrested earlier near their homes on charges of unlawful assembly and internet incitement, friends and local media reported. Wong Yeung-Tat, the leader of the Civic Passion group, reportedly faces more than 50 charges of unlawful assembly.
A final rally on Wednesday night brought thousands on to the streets to celebrate the "umbrella movement" which galvanised the city.
Student leaders and other participants have made it clear they plan to keep up the pressure for greater political rights through as-yet unspecified tactics.
"You are only clearing a camp … you can't clear the idea," read a message chalked in colourful letters across the eight-lane, east-west highway the protesters had occupied.
Speaking before his arrest, Lee said: "This is not the end. It is the continuation of the beginning. I am much more hopeful than ever before because now we have a new generation of pro-democracy protesters."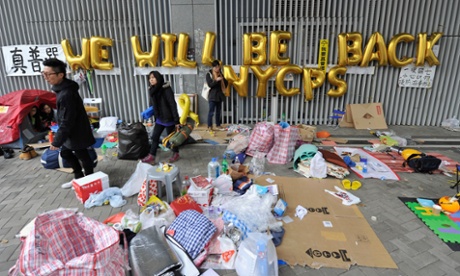 Carrie Lam, chief secretary of Hong Kong, said on Wednesday that the government was not naive enough to think the clearances would end the Occupy movement.
The campaigners have demanded open nominations when the next chief executive is elected in 2017, angered by plans for tight controls on the process. Beijing has said that introducing universal suffrage is in itself a step forward. Pan-democrat lawmakers have said they will veto the new election framework.
Underlying the immediate dispute are growing fears that China is eroding the region's freedoms and culture. Hong Kong has considerable autonomy under the "one country, two systems" formula introduced when the former British colony was handed back to China in 1997.
Lau Shi-him, an 18-year-old science student at Hong Kong University said: "I feel sad because we have not made progress in terms of civil nomination, but more important is the civic education of the general public that this movement has achieved. It has shown that Hong Kong people are creative and care about democracy."
Scholars in academic robes stood by as the clearance began, saying they were there to protect students, along with around 40 pastors in purple T-shirts reading "Protect our city".
One of the pastors, Young Man-chan, said: "We hope people can retreat in a peaceful way. The atmosphere has eased quite a bit. I believe the movement has done a lot for Hong Kong."