A three-year-old manatee has drowned after getting stuck in a service shaft in its pool just a month after joining a zoo in Paris.
Barry the manatee, who weighed 300kg (660lbs), died last Tuesday but the zoo at Vincennes only acknowledged the mammal's death on Monday and said an investigation was under way. Barry and his 600kg companion Tinus were a star attraction at the zoo, which had been closed for five years for a major renovation.
The 80-year-old zoo reopened in April under its new name, the Paris Zoological Park, having previously been known as the Vincennes zoo.
Barry was born in captivity at the Danish zoo at Odense and had been in Vincennes since 4 July.
A spokeswoman told the Guardian that the mammal "forced its way into the shaft where it got stuck".
Authorities are trying to find out exactly what happened and whether the manatees' enclosure needs to be modified. On the day of the accident, the tropical pool was closed to the public while the shaft was shut and keepers made sure that Tinus was not at risk. The pool was specially built to contain up to three manatees.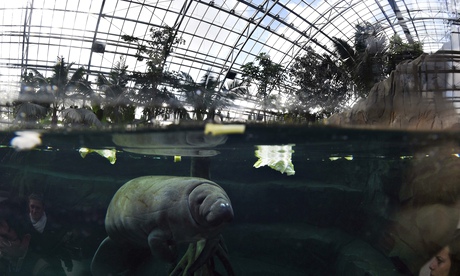 The gentle, lumbering manatees are an endangered species, with only a few thousand left in the world. The herbivorous mammals remain submerged in shallow water or just under the surface and need to come up every five minutes to breathe.
The zoo's scientific director, Alexis Lécu, said the manatee pool design had been approved by a body that supervises the breeding programmes and exchanges of European zoos, and had been inspected on site in February before the zoo reopened.
A healthy adult manatee, which can measure about three metres (10ft) and weigh up to 600kg, can live to the age of 60. They spend most of their time eating or sleeping. Young manatees, also known as sea cows, can fall victim to shark or crocodile attacks in the wild, but the greatest threat to them is collisions with motorboats.