There are many theories on how China could best tackle its air pollution problem: it could shutter its factories, upgrade its emissions standards or, according to one Dutch artist, it could simply suck up the haze using a giant electromagnetic vacuum cleaner.
At least, Daan Roosegaarde says, it doesn't hurt to dream. With Beijing in mind, Roosegaarde has designed a system called Smog that can pull pollutants from the sky. Copper coils buried underground attract airborne particles by generating an electrostatic field, "like a balloon that attracts your hair", he explains. The particles can then be collected and repurposed. An animated promotional video shows the smoggy sky above a park parting like the Red Sea, the blue sky visible through a perfectly round gap in the haze.
"We always had this notion of merging nature with technology," says Roosegaarde, who owns studios in the Netherlands and Shanghai. "It's hacking the landscape, in a poetic way."
Over the past week, a noxious cloud of smog has blanketed a broad swath of the the country's north-east. In the city of Harbin, levels of PM2.5 – particulate matter small enough to lodge itself deep within the lungs – soared to 1,000 micrograms per cubic metre, worse than Beijing's historic highs. Visibility dropped to 20 metres and authorities grounded flights and closed more than 2,000 schools.
Air pollution has been a huge source of public outrage since last winter when Beijing was hit by a week of smog so noxious that central government had no choice but to respond. Environmental authorities, once reticent to even discuss the issue for fear that it could stoke social unrest, have begun seeking a dash of inspiration to buoy their long-haul anti-pollution measures. They have lent support to a bevy of innovative small-scale ideas.
Roosegarde, already known for developing ambitious projects such as an internet-connected "smart highway" in the UK, conceived of the Smog system during a business trip to Beijing, as he watched the CCTV tower gradually disappear into a white-grey haze from his hotel window.
The artist recently forged an agreement with Beijing's mayor to test the project in one of the city's public parks, having already run successful trials in a 25sq metre room. He says the project should be ready for launch within nine months. "Right now it's just a question of getting funding for the pilot."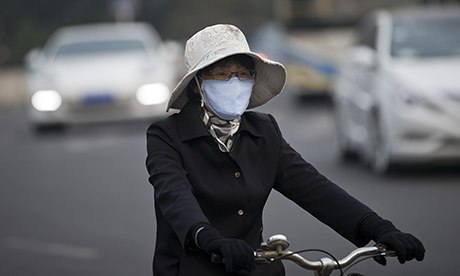 As part of a five-year plan released last month, Beijing will spend £102bn to significantly reduce air pollution levels by 2017. This week, the city announced it would enact a raft of emergency measures when pollution levels remain "serious" for three consecutive days – schools and factories would close and some private cars would be banned from entering the centre of the city.
The measures are a step forward but Song Ranping, a Beijing-based climate and energy expert at the World Resources Institute, says there is still a long way to go. "The system is so large, and there are so many conflicting interests between different parties," he says.
Polluting factories are simply moving to parts of the country that are not as economically developed, he says. "In Beijing, Shanghai and Guangzhou, the air quality should be getting better pretty soon, given all the things the government is doing. But for Harbin, I don't know – I don't have too much reason to be optimistic there."
Many of Beijing's air pollution-related design projects lend themselves more to inspiration than sustainable change. One Beijing-based artist, Matt Hope, has developed a prototype for an air-purifying bicycle out of a mesh rubbish bun, a fighter-pilot mask, a moped helmet and a pedal-powered wind generator.
Xiaowei Wang, a recent graduate of Harvard's Graduate School of Design, has developed a work of performance art using air quality-indicating LED lights affixed to kites.
"The goal was to raise awareness about air-quality issues in Beijing through the poetic, participatory act of kite flying," Wang says.
Her project, called Float, consists of two parts: workshops in which Beijing residents affix small air quality-reading modules to homemade kites, and night-time kite-flying sessions in a local park. LED lights on the modules flash different colours according to their readings, creating a "constellation" of pollution-indicating lights in the sky.
Wang organised the project in August 2012, before the Beijing smog crisis. State security agents initially approached her about the project, fearing that the data could harm the city's image, but eventually deemed her unthreatening enough to proceed.
Wang says she is amazed by how dramatically China's attitudes towards air quality has changed since that summer. "I feel like I'm getting an email once a month from someone heading to China to do an air-quality monitoring project," she says. "And this is all very official – it's just become not a problem, and that's been astonishing to me."