Nigerian guitarist Kunle Ayo jumped down from the stage and gyrated within touching distance of the audience, igniting a chain reaction of gushing smiles. An American spectator leapt to her feet and danced like a human rubber band, eliciting whoops and cheers. The tent was boisterous, joyful and effortlessly multiracial.
An hour later, a short walk away, thousands of people would gather on blankets and deck chairs for a night of Mozart, Verdi and Wagner under the starry African sky. An aftershow party in a pristine white marquee featured candelabra, chandeliers, "platinum club" badges and a stack of Ferrero Rocher chocolates.
These were two among scores of shows staged last week in the heart of Harare, the capital of Zimbabwe, a country that the world has more frequently come to associate with social and cultural collapse.
The annual Harare International Festival of the Arts (HIFA) was born in the comparative golden era of 1999 and weathered the nation's stormy decade of farm invasions, hyperinflation and political bloodshed to gain repute as "the Glastonbury of southern Africa". This year's version took place in a steadier climate but amid awareness that more potentially explosive elections are just around the corner.
"HIFA shows a Zimbabwe that works," said Petina Gappah, an author who could be heard reading from her work alongside Indonesian poets in a tent that doubled as poetry cafe and fashion catwalk. "In the Harare Gardens [the main venue], you see a Zimbabwe that's functional, except the toilets."
Every day queues could be seen at the box office where a white board listed sold-out shows ranging from Chinese acrobats to the stories of Charles Dickens. The generally scruffy Harare Gardens were spruced up with fairy lights, sponsors' logos, food stalls, an arts and crafts market, a children's zone and performance venues. The mood was buzzy, cosmopolitan and genuinely festive.
Wendy Prosser, 39, the woman who danced with such elasticity to Kunle Ayo, had travelled from the Seattle to be here for the eighth time. "HIFA is the coolest thing you will see in Africa," she insisted. "In 2008 the entire country was collapsing and HIFA was still going on. It is hands down the best thing ever."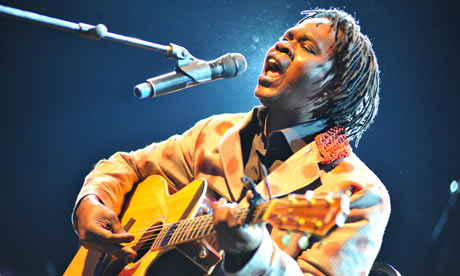 This year's festival was the biggest to date, featuring about 130 local and 70 international performances (the latter drawn from about 30 countries) at a dozen venues over six days. Headline acts included Senegal's Baaba Maal and Britain's Noisettes, whose singer Shingai Shoniwa, born in London to Zimbabwean parents, was given a mid-performance piggyback ride through an ecstatic crowd.
Last year 62,000 tickets were sold and a further 4,000 given away. HIFA employs about 1,500 people, a third of whom are jobless or homeless, and helps about 300 orphans or vulnerable children. With no government funding, it relies on corporate sponsors, donors, small companies and foreign embassies.
But five years ago it faced the charge of fiddling while Rome burned: Zimbabwe's hyperinflation reached an estimated 6.5 sextillion per cent, supermarket shelves were bare and cholera claimed thousands of lives. Manuel Bagorro, 48, the festival's founder, recalled: "People were starving a stone's throw from the gates of a glossy and sparkly festival.
"But the money we'd sourced was not going to be available for anything else. Either we do nothing or we do something we can, which is putting on a wonderful arts festival and developing a new audience. We felt we could provide something hopeful and aware of the context of the time. When somebody stands on a stage, it's a statement about human rights and the capacity of the arts to reach people in new ways."
ButHIFA rarely goes in for explicit political statements in a country where opposition members, activists, artists, journalists and idle gossipers are routinely arrested for insulting President Robert Mugabe. Bagorro, 48, explained: "It's about keeping a balance and not damaging the festival and throwing the baby out with the bath water in an attempt to be right on. I didn't want us to say: 'Look how brave we are.'"
HIFA sailed close to the wind with a 2011 opening show that featured the song Diamonds are Forever, Chinese aeroplanes and diamonds being stolen from children. Bagorro and colleagues were taken to Harare central police station for questioning that involved "a lot of shouting and accusations but also a realisation that there was nothing to be done". As it has been for centuries under repressive regimes, metaphor remains a potent weapon, but not always by design. "In plays now if an old man with glasses walks on stage everyone assumes it's the president," Bagorro added. "Someone reads political meanings into something that wasn't the intention."
Neither Mugabe nor the prime minister, Morgan Tsvangirai, has attended the festival, he added, but various ministers slip in without fanfare.
Years of strife in Zimbabwe and the attendant media coverage mean that HIFA is still a hard sell to the outside world. This year's artistic director, Gavin Peter, admitted: "It's almost impossible. Even in Johannesburg people don't believe it when I show them pictures. I do think it would blow people's minds. It blows our minds.
"Some artists are nervous. In a lot of places it's a red-listed country still, especially in an election year. The only way to combat it is a lot of positive communication. You can't guarantee that something won't happen but we will do our best to make sure it doesn't. A lot of people support it for that reason: positive reinforcement is nice."
Peter, 40, added: "Of course there's plenty of fear. It is a scary place, a foreign country in the middle of Africa. Perhaps that's the charm: you have to rough it a bit, but not too much."