The highest-profile trial of an official leaker in a generation got under way on Monday when the US government accused Bradley Manning of betraying his nation to satisfy a craving for notoriety, while the defence presented him as a young, naive humanist who just wanted to make the world a better place.
In two hours of intense opening statements, the courtroom in Fort Meade, Maryland, heard the outlines of a fundamental clash of interpretations about the US soldier's actions. The court was also told of new allegations about the links between Manning and Julian Assange, founder of WikiLeaks, the whistleblowing website to which Manning is accused of sending the information.
The statements framed a legal battle that has been slated to last as long as three months with almost 200 witnesses scheduled to give evidence. Outside the military base where Manning's court martial is taking place, a large crowd of protesters gathered for what they billed as a "show trial".
As proceedings began, three years after Manning was arrested in Iraq, the slightly built soldier sat calmly on the defence bench, wearing a dark green dress uniform. The judge, Colonel Denise Lind, opened the trial by asking Manning a number of procedural questions, including to confirm his decision not to have the case decided by a jury, and whether he was satisfied with his defence team. "Yes, your honour," Manning replied.
The prosecution's case opened with a statement by a government lawyer, Captain Joe Morrow. He began by quoting Manning in an extract from a web chat with Adrian Lamo, the former hacker who informed on the soldier to US authorities: "If you had unprecedented access to classified networks 14 hours a day, seven days a week, eight-plus months, what would you do?"
Manning's question was answered by the prosecution: within two weeks of beginning work as an intelligence analyst in Iraq, the army private had begun to "systematically and indiscriminately" harvest a massive trove of US state secrets, Morrow said.
The solider disregarded his extensive training in handling intelligence, and the judgement of his senior officials, in providing useful information "in the aid of our adversaries", Morrow told the court. During the raid that killed Osama bin Laden in 2011, Morrow said, information was recovered that showed the al-Qaida chief had personally requested material from WikiLeaks. According to digital evidence taken from the scene, Bin Laden was given a download of the entire Afghan war logs and many of the US embassy cables that were among the website's most dramatic disclosures, the prosecution alleged.
"This is not a case about a few documents … or about a government official who made a discrete leak," Morrow said. "It was about dumping hundreds of thousands of classified information into the lap of the enemy. PFC Manning violated the trust of his superiors to gain the notoriety he craved."
Manning faces 21 counts relating to the transmission to WikiLeaks of more than 250,000 US embassy cables, Afghan and Iraq war logs, detainee assessments from Guantánamo Bay and videos of US attacks in Iraq and Afghanistan. The most serious charge, "aiding the enemy", in violation of Article 104 of the Uniform Code of Military Justice, carries a life sentence with no chance of parole. Manning has pleaded guilty to lesser offences, but the prosecution rejected the pleas.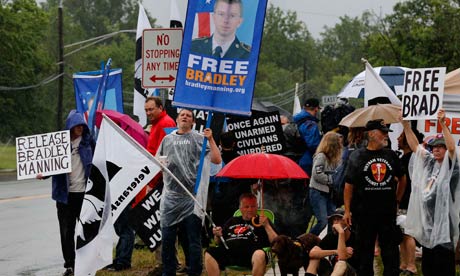 The depiction of Manning given by his defence lawyer, David Coombs, was sharply at odds with that of the prosecution. Coombs said that when Manning arrived in Iraq for his deployment at Forward Operating Base Hammer outside Baghdad in November 2009 he was motivated by his humanist belief in the importance of life. Coombs said he had been "young, naive, but good intentioned".
Coombs referred to a separate set of web chats that Manning had with a transgender woman called Lauren McNamara, who was at the time a man, before the soldier deployed. The chats showed that Manning felt "a huge amount of pressure to do everything he could to help his unit", Manning said. "He was reading more into politics and philosophy and he indicated he was doing that as he wanted to give the best possible information to his commander and possibly save lives," Coombs said.
But Manning's mindset changed dramatically on Christmas Eve, 2009. Manning was ordered to investigate a roadside bomb attack on a passing US military convoy near the base.
When the news came through that all US personnel were uninjured, Manning's colleagues all cheered and clapped. Manning did not cheer, because he was aware that five civilian Iraqis had also been caught up in the bombing, after they had pulled over their car to let the convoy pass. One of them, a woman, had died on the way to hospital.
"After the 24 December incident he started to struggle. He kept thinking about that family who had pulled over in their car to let the convoy go by," Coombs said, adding that Manning also had " a very internal private struggle with his gender".
The impact of those struggles instilled in Manning a need to "do something to make a difference in this world", Manning said. "From that moment forward he started selecting information that he believed the public should hear and see, information that would make the world a better place."
Coombs stressed that the data that Manning transmitted to WikiLeaks was specifically chosen not to harm the US or benefit any foreign entity. He was thinking about its impact on the American public, not its use by the enemy.
Of the US embassy cables, Coombs said Manning believed "these were some of the more important documents of our time showing, through the fog of war, the asymmetric nature of modern warfare".
In its statement, the prosecution alleged that the soldier was in direct and significant contact with Julian Assange over selection and delivery of the leaked material. The US government's depiction of Assange's role will be closely analysed by his supporters, as the Justice Department is known to have been investigating a possible criminal prosecution against him.
Morrow told the court that forensic examiners who studied the computers used by the soldier in Iraq had found that he had searched "WikiLeaks" more than 100 times during his deployment. The examiners also found a file which contained Assange's personal telephone number in Iceland where he was preparing the first WikiLeaks disclosures. "You can currently contact an investigation editor directly in Iceland," the note said.
The US government will allege in the course of the trial that Manning was guided directly by Assange as to what documents to download and leak. Morrow said that file names listed on WikiLeaks's "most wanted list" in 2009 were discovered on Manning's computers.
In his web chat with Assange, Morrow said, Manning had asked the WikiLeaks founder directly to assess the value of official assessments of Guantánamo detainees which he went on to leak. Assange had also advised the soldier on how to browse secure intelligence databases without revealing his identity.
But Coombs told the court that Assange was not significant as a figure behind the soldier's actions. "Mr Manning was not taking his direction from WikiLeaks," he said.