The trinket-sellers of St Peter's Square are big fans of Pope Francis – and not because of his theology. After two years in which business was killed off by a dysfunctional pontificate and an economic crisis, the man from Argentina has brought the crowds back again.
"Francesco has shown himself to be a very good person, who says things which not only are right but he says them in a language people understand," said Manuel, a stallholder who does a brisk trade in Francis fridge magnets. "When the pope comes out, the people stop, they listen to what he says, and then they want to buy something because they love him." Manuel, a Jew whose grandfather set up the stall after the second world war, likes to listen himself sometimes, in case he hears a snatch of the Old Testament. He likes Francis, he says, "because he has shown an openness to other faiths".
Ever since he first appeared on the Loggia of the Blessings balcony in mid-March, the former cardinal Jorge Bergoglio has introduced himself loud and clear to the world in a series of eye-catching moves that have made a break with the past and endeared him to many in the faithful and secular worlds alike. He has drastically downsized the papal living arrangements; ditched the finery in which his predecessors bedecked themselves; and sent Vatican officials into regular spins with impromptu jokes and ad-libbed speeches.
The Catholic world has revelled in the sight of a pope picking up his own luggage and touring in a 20-year-old Fiat Campagnola. Pilgrims cheer in delight when he ends his Sunday blessings with the prosaic exhortation: "Have a good lunch."
On Monday, the Catholic church's first non-European leader for 1,300 years will fly to his native Latin America for his inaugural papal trip overseas, and instead of touring Brazil's volatile second city in a standard bullet-proof "pope-mobile", he has chosen an open-top 4x4, which he can easily get out of to meet people. Hundreds of thousands of people are expected to take part in the World Youth Day festival in Rio de Janeiro.
Lest they feel left out, "penitent and contrite" Catholics who follow his tweets will be offered indulgences from afar, the Vatican announced this week.With all this focus on image, it might be tempting to dismiss much of the so-called "Francis effect" as all style and no substance.
Such is the wide-ranging impact of his image that, far from the Vatican, the fashion writer Suzy Menkes pondered in the International Herald Tribune this week whether his "humility and abstention" had influenced the newly ascetic "fashion message coming out of Italy". The idea earned the pope a reference in Vogue, complete with a photo in which his plain white cassock and iron cross stood out starkly beside a gaudy Swiss guard.
Medium is the message
Many observers say a new style is no bad thing. Moreover, with Francis, the medium is the message. "He is someone of gesture rather than eloquent speeches," said Tina Beattie, professor of Catholic studies at the University of Roehampton and a prominent liberal theologian. "The papacy is very much about style. It is the public face that the Catholic church presents to the world, and so I think a fundamental change in style means something very deep."
So far, the most arresting features of Francis's papacy – from the abandonment of Benedict XVI's ermine stoles and red shoes to his decision to live in a guesthouse rather than the apostolic palace – have seen him embodying a commitment to the poor.
As a man who has seen poverty up close since his childhood, the Argentinian, now 76, has very clearly placed those at the bottom of the social hierarchy at the top of his agenda. It was not by chance that he made his first trip outside Rome last week to Lampedusa, the Italian island where thousands of African migrants arrive after a perilous sea crossing each year. On another occasion, in one of his strongest speeches he railed against the "cult of money and the dictatorship of an economy which is faceless and lacking any truly humane goal".
The new pontiff's sense of solidarity with the poor, and powerful championing of ethical financial reform, have been enough to make many people who would not necessarily warm to an otherwise conservative pope warm to Francis. Where Benedict, a lofty intellectual, often alienated people, his successor – a shrewd communicator – seems to have charmed many people who had despaired at a church they see as hopelessly out of touch.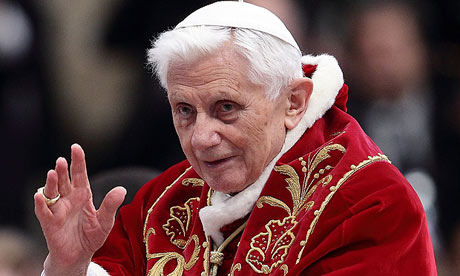 And yet, on doctrinal issues, the 265th successor to St Peter is no liberal. He is staunchly anti-abortion, anti-women's ordination, pro-priestly celibacy and anti-gay marriage. In April, he reaffirmed Vatican criticism of the largest organisation representing nuns in the United States, which it said had been harmed by a "radical" feminist approach and a soft line on issues such as birth control and homosexuality.
Despite this, however, what gives some liberals hope is that, in contrast to Benedict's unrelenting devotion to doctrinal purity, Francis has in the past shown himself to be open to dialogue; a conservative, but a pragmatic one. During the gay marriage showdown between church and state in his native country he shocked bishops in 2010 by suggesting they gave their support to civil unions as a means of trying to bargain with the government.
"I think there does seem to be hope that, whether or not he himself is conservative doctrinally, he's (a): not as interested in academic theology as pope Benedict was, and (b): he does seem willing to allow for greater dialogue in the church around some of the more difficult doctrinal issues," said Beattie.
"I'm hoping that he'll be more open to dialogue with women on issues of sexuality and maybe not think that he really does have all the answers, which sometimes it felt as if Benedict did … Because he is willing to really listen to what poverty means for people, I wouldn't be surprised if he's more willing to reflect on what the lack of contraception does for women."
All of this, of course, is the external part of Francis's job description. And, as tricky as it will no doubt be, it may have nothing on the internal element: reform of the Roman curia, the Vatican's disorganised and, lately, scandal-beset bureaucracy. In the aftermath of the deeply damaging "Vatileaks" affair, problems within the curia were a hot topic at the meetings before the conclave that elected Francis. Cardinals who had flown in from all corners of the world wanted to know how the scandal had happened.
A month after he became pope, Francis announced a revolution in church governance, appointing eight cardinals from across the world to an advisory panel on Vatican reform. It was a bold step, and one that made it clear – if anyone had been in any doubt – that change was afoot.
Francis had already made clear his intention to distance himself from the curia by refusing to move into the apostolic palace, said John Thavis, a long-time papal observer and author of The Vatican Diaries, a recent bestseller.
Strongest signal
"The day he announced he was staying in the Domus Sanctae Marthae … sent the strongest signal at a very early point that this was going to be a very different papacy. I'm sure the Roman curia officials immediately understood: 'This pope is going to be much less controlled by us.'" he said.
Can this pope possibly succeed where others have failed? The key will be to appoint the right people to help him "navigate the waters", Thavis said. Francis has yet to make the most important appointment – that of his secretary of state – but he is understood to be moving, gradually, forward. On Friday he announced the establishment of a commission of seven laypeople and one cleric to reform the Holy See's economic and administrative departments. The new body will look at ways of avoiding "the misuse of economic resources" and improve transparency, a statement said.
"We've seen a whole string of popes who have wanted to change things at the Vatican but either didn't have the patience or didn't have the energy," said Thavis. "Now here you have a pope who not only feels he has a mandate to change because that's what the cardinals wanted, but who seems to realise that he is, after all, pope and can make those changes."
Back on Via della Conciliazione, the broad avenue that leads from St Peter's Square to the banks of the Tiber, the stalls selling Francis rosaries, Francis badges and Francis postcards attract people keen for a keepsake.
Antonio Cardone, who has had his stall for 30 years and over three pontificates, admits that not all pilgrims buy, but doesn't seem unduly upset. "There's not much work but there's a lot of enthusiasm," he said. "Francis is of the people. He's likeable. I don't know why, but Benedict was not well-liked. With this one, it's different."
• This article was amended on 25 July 2013. The original stated that "the Catholic church's first non-European leader will fly to his native Latin America". To clarify: Pope Francis is the first non-European leader for 1,300 years.