Detroit, a city now as famous for its collapse as its car industry, appears to be days away from becoming the biggest municipal bankruptcy in history.
Kevyn Orr, the city's emergency manager, is struggling to broker a deal between the city's bondholders and its pension funds as he tried to restructure $20bn in long-term debt.
If no agreement can be reached, the city may file for a so-called 'chapter 9' bankruptcy that would dwarf the previous record filings by Jefferson County, Alabama, and Stockton, California.
This week, pension funds objecting to Orr's plan sued to stop him from making the historic move – and warned a decision could be "imminent".
Other major cities have teetered on the edge of bankruptcy, including New York in 1975, Cleveland in 1978 and Philadelphia in 1991. But all brokered deals rather than face the dire consequences of going bust. "Detroit has severe difficulties, but this would be an extraordinary event," said James Spiotto, a chapter 9 expert and head of the bankruptcy unit at Chicago's Chapman & Cutler.
Detroit would be even more stigmatized by a filing, and its cost of borrowing would soar. Meanwhile, officials would spend years battling in the court over who is owed what. "Chapter 9 is time-consuming, expensive and uncertain," Spiotto said.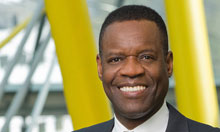 Orr, pictured, has said bankruptcy is not his preferred option. But as talks appear to founder, he may have no choice. His plan is to slash benefits to retirees, including pensions and healthcare, and cut already minimal services to the bone. Police and firefighters who retire before age 55, for example, would get no healthcare under one proposal.
Bondholders will receive cents for every dollar in debt they hold. Municipal bonds have traditionally been viewed as among the safest available investments. When Central Falls in Rhode Island went bust in 2011, the state passed a law giving bondholders priority over other creditors, including retirees. Detroit's investors must now be wondering whether bankruptcy would give them a better deal.
Neither side is happy with Orr's plan, but nor do they seem willing to negotiate a settlement.
This week the city's two pension boards – the General Retirement System and the Police and Fire Retirement System – sued Orr and Michigan governor Rick Snyder in an attempt to block a bankruptcy.
"It appears imminent the governor will grant the emergency manager the unconditional power to proceed under chapter 9, and the emergency manager will seek to have the city's pension debts impaired unless the retirement systems and their participants accept the emergency manager's unilateral imposition of significant impairments to their accrued financial benefits," the lawsuit says.
Orr was appointed in March after Snyder declared a "financial emergency" in Detroit. A lawyer and University of Michigan alumnus, Orr helped steer Chrysler out of bankruptcy, but this is a dilemma of an altogether greater magnitude.
Even after years of decline, Detroit remains the US's 18th most populous city. The city's finances may have hit an all-time low but its business is bouncing back. The car firms that made the city are back in rude health, and downtown Detroit is being revitalized by new businesses.
Some local business leaders believe that the city has already hit rock bottom, and that a stronger Detroit is already emerging. Dan Gilbert, founder of the Quicken Loans lender, has rebuilt downtown and encouraged new businesses and old to move into the city. In a recent interview with the Guardian he said he is "finally going to do what needed to be done if not in the last several years then in the past decades. It's essentially good news for the city because it means this period is coming to an end."
But for Detroit's poor, bankruptcy is likely to make life even harder in the short term. Some 60% of the city's children live in poverty. Orr had planned to bus creditors to some of the city's poorest areas so they could see what was at stake. Armed security would have gone along for the ride.
"If they can see what it's like for Detroiters, what they endure every day in this city, I think they'll begin to understand what's at stake," Orr told the Detroit Free Press. The tour was canceled as bankers became worried about the PR impact of captains of finance touring the city's poorest neighbourhoods.
A brief history of Motor City
Detroit was a city of 2 million people in 1950 and is now home to about 700,000. Its population fell more than 26% between 2000 and 2012.
One-third of its 140 square miles are vacant or derelict: there are empty and collapsing structures even in the heart of the city.
Between 2007 and 2011 the US census recorded that some 36% of Detroiters lived below the poverty level.
The city – home to Chrysler, General Motors and Ford (since 1903) – is synonymous with the US car industry and with the music business. It started in the 60s with Motown acts such as The Temptations, Marvin Gaye and The Supremes, featuring Diana Ross. More recent artists are Eminem and The White Stripes.
The city has 85,000 street lights, but half are usually out of service because thieves have stripped them for copper.
Despite these problems, parts of the city are bouncing back. Low rents, good universities and tax breaks are attracting business. Twitter and other tech firms are opening offices. A $140m light rail project is under way to provide better transport links. Downtown Detroit now has a housing shortage.