Mahipalpur is not a place you will find on many tourist guides to India. Once a village, now a cluster of cheap hotels, roadside restaurants and bus stops around a major road junction on the outskirts of Delhi, it is a place many pass by but few seek out.
The huge, new billion-dollar international airport terminal lies a mile or so away, across construction sites, wasteland and rubbish tips, obscured now by a thick winter fog, a mixture of smoke from wood fires and pollution. Concrete pillars of a recently constructed metro link, which worked for a few months but has been out of commission for many more, loom. Tens of thousands of people pass Mahipalpur every day. Few stop.
It was here, in the dirt beside a ramp leading to the flyover carrying an eight-lane highway, at 10.20pm on 16 December, that a bus briefly stopped and a semi-conscious woman and her male companion were dumped, naked and badly injured, on the ground. This being India, a crowd quickly gathered. Passing cars slowed. After 40 minutes, someone called the police, who fetched sheets from one of the nearby hotels to cover the couple and took them to hospital.
Arrive at almost any of the new airports being built across India outside its major cities, and head to the heritage sites or the better, long-established hotels, and you will pass through a Mahipalpur. These are the grey zones around India's rapidly expanding urban centres. Little happens here that makes it into the local newspapers, let alone the western press. Yet India's myriad Mahipalpurs may hold the key to the country's future.
In the three weeks since the gang rape and murder of the as-yet-unnamed 23-year-old woman by six men on a moving bus in south Delhi, there has been a great deal of comment in the western media about the nature of modern India. Many appear surprised to have suddenly discovered something that appears to contradict the "booming India" story. When Boris Johnson visited India last year, he described two sights on his journey into Delhi from the airport that, for him, encapsulated the country. One was a Jaguar car, symbol of India's economic success, overseas clout and potential as a market. The second was an elephant being washed by its mahout, representing traditional, exotic India, unchanged and, happily, unchangeable. This week it is difficult to imagine anyone being quite so blithely inattentive to the complex realities of this vast and varied nation.
One of the first stories I covered on my return to India three years ago was the violence between Maoist guerrillas, Communist party thugs and various other factions in the desperately poor district of West Midnapore, in the vast state of West Bengal. This appeared to be old India at its worst, a combination of grinding poverty and brutal killings. I interviewed a woman whose husband had just been executed by Maoist guerillas who accused him of being a spy for the police. Nearby, other villagers complained of militia, run by the local government, who burned homes down and raped, apparently at will.
Although the catalyst for the wave of violence in West Midnapore was imminent state elections, the killings had started years earlier, when a major steel project was announced in the area. Such a project would have created jobs, wealth – and much opportunity for whoever controlled the area to indulge in immensely profitable racketeering. It was rooted not in the lack of change – but in the coming of change.
A few months later, I reported a particularly egregious "honour killing", one of the hundreds, if not thousands, that take place each year in India. The male teenage relatives of a young woman had killed her and her supposed lover with an unlicensed "country" pistol before fleeing. They lived not in a remote village but in the north-west of Delhi. All of those involved in the murders lived nonetheless on frontiers: between Wazirpur, their working-class neighbourhood, and Ashok Vihar, the adjacent upmarket suburb; between the increasingly cosmopolitan Indian capital and its deeply conservative hinterland; between the crushing poverty of their parents' childhoods and the relative wealth of their own.
In 2011, an investigation into a hitman who bragged of killing a hundred or more people took me to a small village an hour from Delhi, to Ghaziabad, a rough and violent town that is now part of the Indian capital's urban sprawl, and to Gurgaon, another satellite city just a 10-minute drive from Mahipalpur. Jaggu Pehelwan had grown up in the village, was part of a gang based in Ghaziabad and found most of his targets and clients in Gurgaon, among businessman and criminals based among the call centres, multinational corporations, five-star hotels and luxury malls.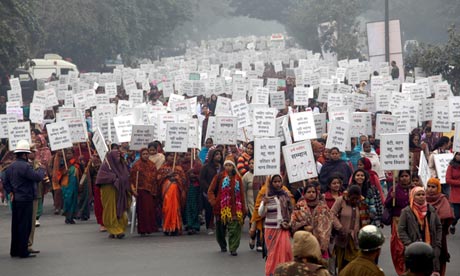 It was the opportunity, the wealth, the corruption and the chaos of new India that had made Pehlawan, who otherwise would have been a small-time thug in his village, what he was. Pehlewan existed in a world of Mahipalpurs – cheap hotels, cheap restaurants, parties fuelled by locally made foreign liquor and escorts. He had taken holidays to Goa and Kashmir, the two classic middle-class Indian destinations, and had bought a big four-wheel drive, a classic Indian middle-class acquisition that he drove, for fun, on the new expressways near his village homes. One of these leads to Noida and the new Formula One circuit, a $400m project. Beyond the half-built apartment blocks around the track are the villages of farmers who had once tilled the ground beneath the Tarmac. Many have received huge sums as compensation for their land. Others have not. This too has generated tension.
All these places – Ghaziabad, Gurgaon, Noida, even Mahipalpur – will grow in the coming years. This urban sprawl will not just be limited to Delhi and its environs, where around 17 million people already live. Most experts say that further urbanisation is necessary for India's economic growth to continue; the new middle classes will want apartments and parks and roads and schools. There is a huge youth bulge pushing through. Some 290 million people were living in cities in India in 2001, a figure that rose to 340 million in 2008 and is set to reach 590 million, around 40% of the population, by 2030. By that year, business consultant McKinsey and Co predicts, there will be 68 Indian cities of more than a million people, 13 with more than 4 million and six megacities with populations of 10 million or more. More than 30 million people will live in Mumbai and 26 million in Delhi. By then the dominant feature of modern India may well not be the rural village or the picturesque forts and saris of the tourist brochures but the nondescript, semi-finished, ragged-edged, semi-urban, semi-rural world that is simultaneously neither and both of them.
The six suspected rapists certainly inhabited this "inbetween" world. All grew up in poor, socially conservative rural communities in some of the most backward, violent parts of the country and frequently returned to their villages. Ram Singh, the 35-year-old bus driver who is alleged to be the ringleader, and his younger brother Mukesh, came from Karauli in Rajasthan. The district may be only a few hours drive from the Taj Mahal but honour killings, banditry and violence between castes, the tenacious millennia-old social hierarchy, are endemic there. Another of the suspects came from southern Bihar, as poor and lawless a spot as anywhere in India. A fourth was from Basti, a small town near the border with Nepal, a bad place in a state, Uttar Pradesh (UP), that has socio-economic indicators worse than many parts of sub-Saharan Africa. Bihar and UP, along with the more prosperous Haryana and Punjab, are states in which the killing of female foetuses and girls is common practice.
But all were living in Delhi, in an unregistered semi-legal squatters' "colony" or "camp" in the south of the city that itself is a halfway house between village and urban life. In Ravi Dass colony, named after a 15th-century saint, children return from classes in fashion design or medicine at local colleges to mothers cooking on open wood-fired clay stoves. It too is a zone of transition, barely policed, where, as they would do in a village, neighbours enforce order and the authorities are rarely seen. "We are good people," one inhabitant said this weekend. There was little "eve-teasing" – as sexual harrassment is often euphemistically called in India – because fathers would unite to ensure anyone troubling their daughters stopped. But beyond the colony, there were no such constraints. Out on the streets of Delhi, there were no neighbours, no angry fathers a few yards away, and, as with most Indian cities, only rare, inefficient and often corrupt police.
The victim too lived on the fringes of Delhi: in Dwarka, a sprawl of flats and construction sites developed in phases since the mid-1960s to the south-west of the city. It too is a place of constant change as it expands into the semi-rural hinterland. Her father, from a small provincial town, had got a job as a loader at Delhi airport. His daughter's recent qualification as a physiotherapist meant her family was thus well on the way to fulfilling its aspirations of respectability, relative economic comfort and broader opportunity for the next generation. On the evening of the assault, she and her friend were returning from a cinema in Saket, one of two multiplexes at a well-known and extremely popular modern shopping mall. The moment they climbed into the unlicensed private bus driven by their attackers the good and the bad elements of India's ongoing transformation collided.
In India this week the protests are now beginning to die away and the media coverage is diminishing. The charge sheet against the six accused – 1,000 pages long – will be entered formally in court tomorrow. Police have said they will seek a death sentence. Some legislation will be passed. There will be fast-track courts set up, harsher penalties for rape introduced and a few other measures. The issue will not be forgotten but the rapes that currently appear on the front of local newspapers will slide inexorably towards less-prominent pages.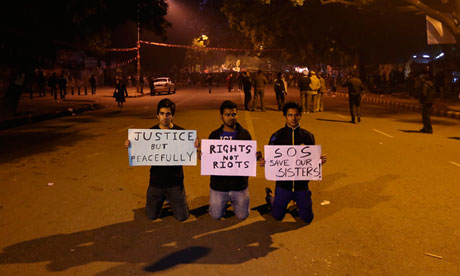 The deeper question is which part of India's transition wins in the long run; is Mahipalpur a zone of chaos and lawlessness where the badly injured are dumped, or something better?
If there is hope it is because, beyond the scale of violence to women in India and a myriad other social problems, something else has been revealed: a vast gulf between many in this huge country and the people who rule them, at least at a national level. And importantly, recent weeks have seen the mobilisation of a new political force.
For decades, politics in India has involved deference, hierarchy and handouts, or archaic ideologies unchanged since the cold war. It is likely that elderly men dependent on hundreds of thousands of carefully marshalled votes in conservative rural areas will hold on to power for some time to come. But the largely unplanned, spontaneous protests, and the media attention they have commanded, have demonstrated something new: the existence of large numbers of young, educated, urban potential voters who will no longer tolerate a largely unaccountable, unresponsive political elite and bureaucracy incapable of performing the most fundamental tasks. As the cities grow so, one can reasonably hope that such voices will grow more numerous. Brinda Karat, a Communist member of parliament, said last week that "a turning point had been reached" now that young women had "sensed and seen" the power that they could have when united. This may be premature but yesterday protesters at the dwindling demonstrations across Delhi were adamant that change would indeed come.
Ayesha Bhatt, a 22-year-old student who had travelled to Delhi from the city of Moradabad, five hours to the north, to light a candle at the site where the victims of the attack mounted the bus, said it was "impossible to imagine that the country will sit back and say chalta hai [all is going to be fine]."
"We are not a chalta hai generation," she said.
But down at Mahipalpur in the winter fog, snarling, honking traffic crawled past the roadside wasteland where the victim and her friend had been dumped. Commuters queued for crowded, unlicenced buses. A beggar tapped on the window of a stationary Mercedes. A plane roared overhead. Two women argued over a spilled basket of bruised and blackened bananas. A weak string of streetlights flickered into life, sent a brief wavering light into the gloom and then went out.