Some illustrious Frenchmen are commemorated in the street names of the Normandy port of Dieppe: Charles de Gaulle, the writer Alexandre Dumas, the composer Claude Debussy. And now their number has been joined by an eccentric Englishman, Peter Avis, francophile and former Observer journalist.
At a ceremony conducted by the mayor of Dieppe, Sébastien Jumel, attended by Avis's family and about 200 of his closest friends from both sides of the Channel, Place Peter Avis was inaugurated in honour of a man who operated as a kind of unofficial roving ambassador for the town.
Avis, who worked as a freelance contributor and subeditor for the Observer on and off over several decades from the 1970s, died last December, aged 83.
The little square that now bears his name sits in the shadow of the St Rémy church in the centre of town next to the Rue du 19 Août (August) 1942 that marks the disastrous Dieppe raid by allied troops during the second world war. It was chosen because Avis liked to sit there outside the Brazza bar after visiting the market. The council has also placed a bench in memory of him below the street sign.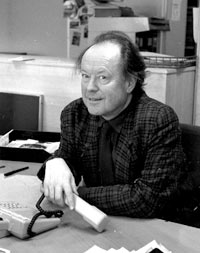 Avis, who was already an honorary citizen of Dieppe, had an association with the town stretching back 46 years when he was first captivated by the place en route to Paris. On that occasion he never made it to the French capital.
A bon vivant and raconteur and veteran leftwinger, he led many parties across the Channel from his home in Brighton, which is twinned with Dieppe. And the mayor of Brighton, Bill Randall, also paid tribute to Avis in the square yesterday in French.
Avis, who had kept a flat in Dieppe for 10 years, wrote an idiosyncratic official guide to the town for British visitors.
At the time of his death he was still working as the London correspondent of the French leftwing daily L'Humanité.