President Barack Obama's mid-year decision to wind down drone strikes has accounted for a lower number of deaths resulting from such actions in 2013, newly compiled data indicates.
Sifting through the estimates of three non-governmental organizations, the Council on Foreign Relations scholar Micah Zenko published on Tuesday a tally of drone strikes in Pakistan, Yemen and Somalia, the central theaters of deadly and formally undeclared counterterrorism operations run in official secrecy.
While specific figures are difficult to narrow down and even harder to verify, the number of strikes, almost exclusively by drones, declined in 2013, as did the casualties they caused. Between the three countries, there were around 55 strikes this year, a substantial drop from the roughly 92 in 2012. In 2013 the strikes killed up to 271 people, down from an estimate of between 505 and 532 in 2012. Approximately one in every nine to 10 deaths is a civilian. The data comes from estimates compiled by the New America Foundation, the Long War Journal and the Bureau of Investigative Journalism.
Yet attempts to correlate the decline in strikes to a decline in specific threats are blocked by secrecy, diplomatic contingency and political convenience, Zenko said.
With the drawdown of the US wars in Iraq and Afghanistan, Zenko said, "there has never been more available, both dedicated US and leased, satellite bandwidth; never been more strike drones available; and there's more people who can watch full-motion video [for targeting]. There has never been more assets available to kill people and strikes are going down. There's been a policy decision, and I think they've been correct to emphasize that."
A number of counterterrorism scholars consider 2013 to have been a good year for terrorist groups that claim to be motivated by Islam. Daveed Gartenstein-Ross of the conservative Foundation for the Defense of Democracies cited a "regeneration" for al-Qaida – although the regeneration Gartenstein-Ross cited occurred among "affiliate" groups of varying connection to the organization that attacked the US on 9/11, and in places mostly outside the reach of drones, such as Mali, Libya, Syria and Iraq.
The exception is Somalia, where al-Shabab, an Islamist militia that formally joined al-Qaida in 2012, launched a handful of terrorist attacks in the capital, Mogadishu, and a dramatic, deadly assault on Kenya's Westgate mall in September that killed 70 people. The US responded with what is believed to be the only missile strike of the year, apparently launched from a drone in October and leaving two dead.
'They have not opened a new front'
But despite the strength of groups believed to be aligned with al-Qaida, observers are yet to see an affiliated rise in either the groups' sophistication or ability and ambition to attack the US at home. US officials and sympathetic analysts in 2013 talked more of threats to "US interests" than threats to the American people.
The only domestic attack in 2013 that might be considered jihadism came at the Boston marathon in April, from two brothers with no known connection to any terrorist organization. The actual threat posed by jihadist terrorism in 2013 remains the subject of fierce and unresolved debate.
In May, Obama signaled a discomfort with the rise in drone strikes that have become synonymous with his stewardship of counterterrorism, during a speech at the National Defense University. While Obama did not pledge to end the strikes – and indeed sharply defended them – he placed new emphasis on avoiding them.
Zenko said the available data did not show "big changes pre-speech or post-speech", but did indicate that the strikes had, at least temporarily, stopped proliferating.
"To their credit, they have not opened a new front in Syria, Iraq or North Africa," Zenko said.
While the strikes did not end after the speech, there was an increase in raids, from Libya to Somalia, conducted by elite troops and the CIA and aiming to capture terrorist operatives rather than kill them. Administration officials have stopped short of declaring such raids a policy shift – either because no such shift occurred or because the veil of secrecy surrounding drone strikes prevents such a declaration.
The data also points to other patterns that cut against the Obama administration's typical contention that the strikes kill senior terrorist leaders, the standard the president set in the president's May speech. In tribal Pakistan, the initial front of US drone strikes, there was a steep rise in strikes in 2010 and a continued high rate in 2011, followed by a decline in 2012 and a steeper decline in 2013. The pattern fits the rise and fall of the US troop surge in neighboring Afghanistan, suggesting that the strikes in Pakistan had more to do with protecting nearby US troops than killing al-Qaida's top operatives.
Zenko gave Obama "a lot of credit" for acknowledging the so-called "force protection" component of the Pakistan strikes in his May speech – a detail that got little media attention.
"No longer was there just the nonsense of a significant, imminent threat to the homeland," Zenko said.
There is no comparable US troop presence in Yemen, but strikes in Yemen, a relative rarity before the 2010 rise of al-Qaida's local affiliate, swelled to more than 40 in 2012, before dropping off this year to around 26. The drop occurred despite a highly-publicized threat warning in the summer, attributed to the group, that prompted the closure of regional US diplomatic facilities and a temporary rise in strikes on Yemen.
When Zenko took a closer look at local announcements of Yemen strikes by the US-sponsored security departments, he said, he found them typically attributed to reports of threats to the Yemeni military or police; generic "threat warnings"; or to US diplomats. While government statements on counterterrorism provide no guarantee of truth, those in Yemen rarely had to do with attempts on the United States.
Counterterrorism run amok?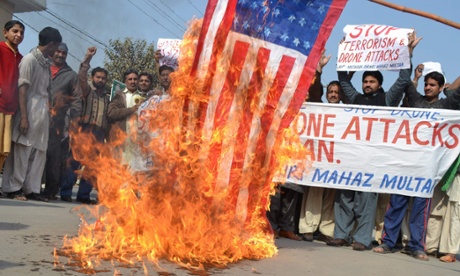 As with Guantánamo Bay and bulk surveillance by the National Security Agency, drone strikes have become an international symbol of US counterterrorism efforts run amok.
The new government of Pakistan has made the strikes a point of diplomatic contention with Washington, although the country's security services have facilitated them in the past. In Yemen, where the government is more openly aligned with the US on counterterrorism, anger about and fear of drones have become a cultural phenomenon, as a local activist testified to the Senate in the spring, citing parents who used threats of the drones to discipline misbehaving children.
In October, the United Nations special rapporteur investigating drone strikes, Ben Emmerson, cited 33 cases in which drone strikes, mostly by the US, killed civilians and potentially violated international law.
Emmerson called on the US government to lift the veil of secrecy surrounding the strikes, which are conducted by the CIA and the military's Joint Special Operations Command, an elite force that has even fewer requirements to brief legislators than does the CIA. Obama's speech in May did not yield greater transparency on what the administration has called "targeted killing".
That, Zenko said, obscured an analysis of the 2013 frequency of "signature strikes", the most notorious of US counterterrorism efforts: operations that kill not specific, known terrorists but individuals, often "military aged males", believed to fit a pattern of terrorist behavior.
"They can't say they're stopping signature strikes," Zenko said, "because it acknowledges they've done them."