On 1 March 2012 Vitalie Proca slipped out of his native Moldova. It was night. He crossed the border into Romania and went across the Prut river by coach. From there he travelled to Italy. Moldovan police believe Proca used a fake passport to reach his ultimate destination – an address in east London.
Proca's alleged mission was to kill a wealthy Russian businessman, 46-year-old German Gorbuntsov, who had fled to the UK in 2010 after falling out with powerful enemies in Moscow. For obvious reasons, he kept a low profile, living in a service flat in a quiet corner of Canary Wharf.
On 20 March, Gorbuntsov returned to his home in Byng Street around 7.30pm. The banker emerged from a black cab. According to UK and Moldovan investigators, Proca allegedly fired six bullets into him. The hitman fled, tossing his Makarov semi-automatic pistol into a bush. Gorbuntsov survived, just. Badly wounded, and eventually discharged from hospital, he now lives under 24-hour police protection.
Proca's alleged role emerged in February, when he was arrested as he flew into Moscow. Russian police, acting on an Interpol warrant, detained him at Domodedovo airport – a tall, unkempt figure wearing jeans, pointy black shoes and a flashy Adidas top. (He unzipped it to reveal a paunch. Previous CCTV footage from Canary Wharf tube station appears to showed a man in a trendy black leather jacket.)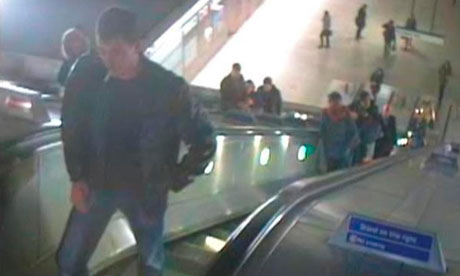 Moldovan police say Proca was a professional hitman, employed by eastern European gangs to eliminate rivals. The alleged killer was linked to a sprawling mafia network active in Romania and Moldova, police say, and responsible for contract killings, robberies, prostitution, drugs and cigarette smuggling.
Ion Gusan, aka "Nicu Patron", the alleged leader of a Moldovan gang, hired Proca to carry out the London hit, they add. But the Patron group were brokers. The order to shoot Gorbuntsov came from Moscow and from one of the world's most dangerous mafia groups, the Solntsevskaya gang, the Guardian and the Organised Crime and Corruption Reporting Project (OCCRP) has learned.
Citing wiretap evidence, Moldovan prosecutors say the gang discussed how Gorbuntsov had "cheated" them out of $500m (£330m). In February 2012 an order was given to "disappear" Gorbuntsov. Known as the Black Banker, he was under investigation in Moldova for alleged fraud and money-laundering. Soon after receiving the call, Proca, 33, left for London.
A country of 3 million people, the impoverished former Soviet republic of Moldova is a hub for transnational crime. Most of its residents speak Russian but many have Romanian passports, allowing them access to the EU and especially Italy, home to a large Moldovan diaspora. Flight records suggest that Proca returned to Moldova via northern Italy, flying three days after the London hit. Proca was born near Pitusca, a poor village of muddy vine plots and crumbling dachas, 28 miles north-west of Chisinau. At one corner of the village is a large, white-painted orthodox shrine, with Christ on the cross. The bumpy road to Pitusca winds through Moldova's wine-growing heartland, past a scenic landscape of uneven agricultural fields, walnut trees and a lake.
Proca's mother is a pharmacist; his father, now dead, was a labourer; his grandfather the leader of a Soviet work brigade. He has two sisters, one married to an Italian.
Speaking to the Guardian, his mother, Ana Proca, said she had striven to bring up all three of her children correctly. She discovered her son's arrest in Moscow from a news bulletin.
Of her son's alleged trip to London, she said: "I have no idea about any of this. I thought he was at home in Chisinau. I didn't even know he had a passport." Did he have any ties to the UK? She smiled wryly then replied: "He can't speak English. At school he studied French." She went on: "We've had very little contact since he left school at 17 and moved to Chisinau. Whenever I call their apartment, I get his wife."
Teachers at Pitusca's secondary school remember Proca as a good pupil – blond, handsome, relatively popular with the girls, and not disruptive. "He wasn't a bad guy," said school secretary Anna Petrea, who was in the year above him. Neighbours, however, suggested that the young Proca had delinquent tendencies – stealing cabbages and, on one occasion, a neighbour said, swiping the key from his mother's pharmacy and raiding her till.
By adulthood, Proca was a full-blown criminal. In 1997, aged 18, he carried out a sadistic Christmas Day robbery near the town of Criuleni. He and three masked accomplices broke into a home with three women inside. Proca beat two of them so brutally with a metal bar that they both died, court papers show. He tied up the other woman and tortured her with an iron; she survived only because she passed out and Proca assumed she was dead. Proca was caught and jailed for life.
He spent the next 12 years behind bars in the Moldovan city of Rezina. During a conjugal visit he fathered a child with his Armenian wife. He acquired prison tattoos: a Jesus on his shoulder; stars on his knees; symbols of a "vor v zakon", the Russian term for a "thief-in-law" or mafia initiate. He fought with other inmates.
Then in 2010 he was mysteriously paroled. The Moldovan authorities have launched an investigation into why a judge, Andrei Balan, let him out. Freed, Proca returned to Pitusca to fetch his school diploma – an "elegantly dressed, polite figure", according to the school's deputy director, Larisa Gusan. "I can't believe he did these things," she said. A former classmate, Ion Yordachi, said: "He came back to the village two years ago. We drank vodka." Yordachi added that as boys he and Proca had sometimes skipped school, playing cards instead. "Nobody was afraid of him," he insisted. And yet Proca was dangerous.
Nine months after the Gorbuntsov hit, he allegedly carried out an assignment in Romania's capital, Bucharest. Prosecutors say a Romanian mafia gang, the Mararu clan, hired him to wipe out a rival, Dumitru "Puiu" Mironescu. Proca got the wrong target – shooting a young man whose name, car, and registration were similar to Mironescu's. The man survived 10 Kalashnikov bullets.
The Proca case is embarrassing for Moldova, whose pro-European coalition government collapsed in March. The prime minister, Vlad Filat, rejects claims that the mafia has compromised his country's police and judicial structures. Filat told the Guardian: "One case like this [Proca] is already one too many. That's why we are in a complex reform process to our police and judicial sector."
Romania has requested Proca's extradition. The UK has yet to follow suit. In February detectives from Scotland Yard met their Romanian and Moldovan counterparts in Bucharest. Moldova's interior minister, Dorin Recean, who has discussed Proca with Moscow, told the Guardian his investigation would follow the evidence, wherever it led. But what if the trail went to well-connected figures? "I'm optimistic whoever is connected with these crimes will face prosecution. Maybe not tomorrow, but in the medium term," he said.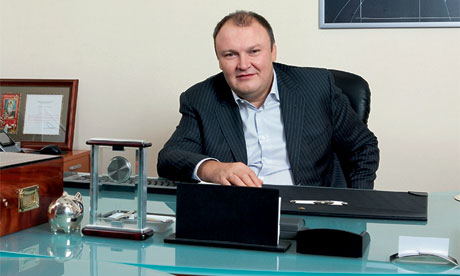 A Guardian-OCCRP investigation, meanwhile, has established that Proca was allegedly one of a gang of professional killers, responsible for six murders, two attempted assassinations and several other crimes. Moldovan border-crossing logs show that, after his release from jail, Proca travelled in an Audi owned by Clandak SLR, a company belonging to Robert Girleanu. Girleanu was arrested and charged in Romania with the murders in 2000 of three car thieves. They were killed, burned and buried in woods, their charred corpses only discovered 10 years later.
Romanian law enforcement officers link Galeanu to a Romanian mafia group, the Corduneni gang, whose members have been charged with organised crime and money-laundering. The logs also show links between Proca and another Romanian, Viktor Dragos Nita. Nita is accused of aiding the killers of Valer Damian, a controversial businessman from the Romanian town of Bacau, who was tortured and murdered in August 2011. They also reveal connections between Proca and his brother-in-law David Davitean, who has been charged in Moldova with racketeering.
And what of Gorbuntsov? He owned a controlling interest in a Moldovan bank, Universalbank, between 2008 and 2011. He claimed that in August 2011 he was the victim of a "raiding attack", with his bank seized from him using forged documentation. A few days later Renat Usatii, the new controlling shareholder, said that under Gorbuntsov the bank was laundering $5m (£3.2m) to $10m a day. Soon afterwards Universalbank went bankrupt and Moldova's central bank withdrew its licence. Both men deny any wrongdoing.
Gorbuntsov was also in dispute with two other former business partners. Before he was shot, he told Moscow investigators that his partners were behind a 2009 attempt to murder another Russian banker, Alexander Antonov, who allegedly owed the men $108m. He survived the attack. Antonov's son Vladimir lives in London, used to own Portsmouth football club and is fighting attempts by Lithuania to extradite him on charges of asset-stripping. He is under armed guard and denies any wrongdoing.
Proca's mother-in-law, Venerea Gasparean, insists that Proca is innocent. She told the Guardian: "Nobody has said the truth. Vitalie was never in London."