The men and women who helped hide Ratko Mladic through his many years as a fugitive saw him as a Serb hero. But just in case their loyalty should waver, they were presented with a gift: photographs of their children. The implication was clear: if we can shoot them with a camera, we can shoot them by other means as well.
The Bosnian Serb general, who is now on trial in The Hague charged with genocide and other crimes against humanity, eluded capture for 14 years, with the help of the Serbian military, then his wartime lieutenants, and then his family. But the common factor throughout was fear.
The stocky, ruddy-faced, ex-artillery officer made a career out of terror. He oversaw the three years of the Sarajevo siege and the daily attrition of its residents by shelling and sniping. He was also at the Muslim enclave in Srebrenica in July 1995, reassuring panicked women captives their loved ones would be safe, while his men were rounding up and slaughtering 8,000 men and boys. It was the worst atrocity Europe has witnessed since the Nazi era.
After the war, Mladic withdrew to Han Pijesak in eastern Bosnia, where the communists had built a reinforced bunker to resist invasion. But in 1997 when Nato troops finally began looking for war criminals, he slipped across the river Drina from the separatist Bosnian Serb republic to Serbia proper, where President Slobodan Milosevic, the mastermind behind the "ethnic cleansing" of non-Serbs, was ready to offer shelter. But Mladic's days as a wanted man had only just begun.
From interviews with relatives and court transcripts, as well as the accounts of Serbian and international investigators who ultimately tracked Mladic down in 2011, the Guardian has been able to piece together details of Mladic's years in hiding. While evading his pursuers for so long burnished his folk-hero image among nationalists as a Serbian Scarlet Pimpernel, the reality was more mundane and brutal. He stayed free by trusting fewer and fewer people, living in increasing isolation and squalor, ensuring silence with the threat of force.
In the years just after the war, when Mladic had the full weight of Milosevic's military establishment, his presence could still inspire dread among soldiers who were well aware they were witnesses to a dark national secret.
In July 1997, an army officer called Milan Gunj got an unusual phone call in Belgrade. It was a soldier from one of the military holiday homes Gunj managed telling him to get there quickly to meet some unexpected guests.
Gunj arrived at the officers' retreat at Rajac, about 62 miles from Belgrade, to find about a dozen men milling around the entrance. One of them was Mladic.
"I was somewhat surprised, scared and confused by this turn of events," Gunj later told The Hague tribunal. "First of all, because this happened in my compound, and I had no information that this would happen so it was a surprise event. And secondly, I know that Mr Ratko Mladic has been accused of certain acts by The Hague tribunal. And at that point in time I was in a state of panic. I was very afraid. I felt uneasy."
Just over a month later, the Mladic entourage went off, again in the middle of the night, to another, bigger military resort, at Stragari, near the city of Kragujevac, a bucolic hideaway with sports grounds, swimming pools, table tennis tables, even wooded grounds stocked with deer for hunting.
General Djordje Curcin, an old family friend, described a typical day with Mladic in his heyday as a fugitive.
"We talked, we walked through the woods, we played some chess. We also played cards, table tennis. We had lunch. And then we walked some more," Curcin said.
Such was the determination of the Serbian general staff to keep Mladic both comfortable and hidden that an army department, the 30th Personnel Centre, was given the job of looking after him. Alongside a permanent retinue of about 10 bodyguards, Mladic had a driver, a cook, even his own personal waiter, who would travel with him back to Rajac in late winter when Stragari was opened to civilian hunters and then, when the season was over, they would drive back. But he also spent time at his family home at Blagoja Parovica street in Belgrade and went out to restaurants and football matches in the Serbian capital. Video of these days, shows a relaxed Mladic playing ping-pong and enjoying family parties.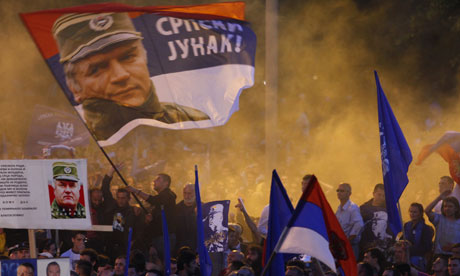 Outside this protected bubble, however, Serbia was changing rapidly. Milosevic fell from power on 5 October 2000 and was arrested the next year by a democratic government led by Zoran Djindjic, who sent the ex-dictator to The Hague war crimes tribunal. The arrest shook Mladic out of his complacency.
Curcin recalled: "On the night when Mr Milosevic was arrested, he was in his own home, in his own apartment, and that night he left. When I saw him later on and spoke with him, he was visibly concerned for his security and the security of the people close to him. And he was determined not to surrender alive."
Milosevic's friends in the army command moved him to yet another base, Krcmar near Valjevo, which had stronger fortifications and underground bunkers, but from then on they were in retreat as the Djindjic government asserted its authority over the security apparatus. Mladic was declared retired from the military in March 2002 and early in April a decree was issued legalising co-operation with The Hague tribunal. Reluctantly, the generals told Mladic he had to leave Krcmar but at first he refused, triggering an uneasy standoff during which the army buzzed the base with helicopters in mock raids to persuade him to go. On 1 June, Mladic finally took the hint and left in a convoy of army staff cars.
That marked the start of a far less comfortable phase for the fugitive general. His support network shrank from the Yugoslav military to a handful of old comrades from the Bosnian war. At its head was Jovo Djogo, a former Bosnian Serb colonel, who masterminded the renting of a series of flats in the warren of tower blocks in New Belgrade.
"After the army said they would no longer look after him, he went to Jovo Djogo and a small team of people who looked after him," Mladic's lawyer, Milos Saljic, said. "In New Belgrade, he stayed inside and was brought food and papers. His family couldn't come."
"The rented flats had a very precise specification," said a senior Serbian official involved in the Mladic hunt. "In large buildings, with nothing on the first floor, nothing on the top floor, nothing with security guards, or locked doors or security cameras."
It was an unsettled existence for the first few months until the network found a couple of houses where Mladic felt entirely comfortable, on a street named after the Soviet cosmonaut Yuri Gagarin. He was living just a few doors down from Radovan Karadzic, the former Bosnian Serb political leader also facing genocide charges, but it is quite possible the two did not cross paths.
They loathed each other and investigators say there was no overlap between their support networks. Karadzic hid in plain sight, under the assumed identity of a new-age healer, Dragan Dabic, complete with topknot and loose clothing, and hanging out a small cafe on Yuri Gagarin street, the Luda Kuca (Mad House). Mladic maintained military discipline, rarely venturing out of his flat except for an occasional evening walk along the Sava river with his son, Darko.
For the men and women tasked with looking after him, he was a demanding guest. He wanted warm milk and honey in the morning before his exercises. He required all his food to be fresh, bought the same day it was eaten. Fruit and vegetables had to be bought from a range of stalls on the baffling grounds that their purchase all from one place would somehow arouse suspicion.
He was careful about his appearance, shaving and grooming every day – he told his minders the way you looked at your death was the way you would look in the afterlife. He was fastidious about his teeth too, aware that a trip to a dentist could compromise his security.
Those were the parameters of Mladic's life until 12 March 2003, when Djindjic, the Serbian prime minister, was shot by a sniper as he entered a government building, in an assassination plot put together by an unholy alliance of paramilitaries and organised crime.
His pursuit of war crimes suspects, said Boris Tadic, Djindjic's deputy leader in the Democratic party, who went on to be president, "was one of the reasons Djindjic was assassinated".
Backlash
Arrests that followed the killing targeted the shadow security apparatus put in place by Milosevic and the backlash came sufficiently close to Mladic's network for him to tighten his rules still further. Before, his bodyguards stayed with him, sometimes sleeping on the floor. Afterwards, he moved flats but the team did not go with him. They were kept a phone call away, with only one minder knowing his address.
There is evidence too that to avoid the increasing heat after the Djindjic killing, Mladic and his team may have hidden for some time in a warren of underground bunkers in the Belgrade district of Topcider. Two guards were murdered there in 2004 and their deaths covered up as a murder-suicide by the military. Their parents say they were killed because they had seen Mladic or his security detail, and a second inquiry has since found they were shot by other weapons. A new investigation was ordered last month.
By 2005, Mladic was back on Yuri Gagarin street, in a different flat, but feeling increasingly jumpy. In September of that year, investigators say, a policeman making routine inquiries about an incident in the tower block knocked on his door, adding to his paranoia. In December he was moved out to a village called Ljuba near the town of Sremska Mitrovica, where one of his network of protectors had a country cottage. That was followed by a month in Sremska Mitrovica in January 2006 but it did not stop Mladic feeling the pressure. That month Djogo was arrested along with a former bodyguard.
According to separate sources, the fugitive abruptly dropped his network, presumably believing it was only a matter of time before one of them was picked up and gave him away, and in the dead of night, on 4 February 2006, he rang the intercom of his brother-in-law, Krsto Jegdic's flat, announcing himself only as "the guy from Bosnia".
Jegdic assumed it was a brother who lived in eastern Bosnia and buzzed him in, only to open the door to the sight of Mladic brandishing a gun. He sent Jegdic's son down to tell his driver he could leave and while the teenager was away made a comment that suggested the boy's life might be in the balance if he, Mladic, was given away. The behaviour was enough for Jegdic's wife to veto the fugitive general staying any longer. Jegdic offered to drive him to the station in the morning and then, on second thoughts, to the house of another brother, Miroslav, in the village of Mala Mostanica, about 19 miles south-west of Belgrade, along the river Sava.
It is a pretty settlement scattered across undulating woodland. Miroslav Jegdic's house is three unfinished storeys of red brick and concrete balconies without railings. There are cherry trees in the back and vines propped up on the west side. Miroslav has long gone back to his native Macedonia to escape the clamour of the Mladic case and it was his sister-in-law, Djuka, who emerged from a nearby house to quiz visitors, thinking they were estate agents. The family are trying to sell up and leave.
Mladic's lawyer, Saljic, had said that Djuka used to cook meals for Mladic and Miroslav and take them across, but she insists she only found out he was there when he was arrested. Her husband, another of the Jegdic clan, Vukasin, had told her Mladic was hiding in Miroslav's house, she concedes, but she did not believe him because his mind had become erratic in recent years.
"He started having hallucinations, and I thought it was just another hallucination. He would imagine he saw all sorts of people," Djuka Jegdic said. She blames the pressure of Mladic's presence and heavy-handed police tactics for his breakdown. "Once they came and took us both away and we couldn't warn our 15-year-old son, so he thought we'd disappeared," she complained, weeping bitterly at the memory.
Notorious
In a now notorious raid in April 2006 men in 4x4s swept up the narrow country lane. Mladic, looking down through the wooden-slatted shutters of his second-floor window, must have thought his time had finally come, but officers of Serbia's BIA intelligence agency went to the wrong brother, Vukasin.
"A couple of them walked around Miroslav's house," Djuka said. "But Miroslav was away in Belgrade and they didn't go to it. They just walked around and came back."
A western investigator who was involved in the hunt said: "The 2006 raid was either monumentally stupid, or deliberate – a way of warning Mladic to move out, while looking busy for the benefit of Carla del Ponte [then The Hague tribunal's chief prosecutor]."
Foul-up or conspiracy, the result was the same. Mladic was able to slip out the back door into the woods and return the next morning, but he left Mala Mostanica for good two days later.
There is a difference of opinion among investigators on where he went next. The official version says Mladic made his way straight to Lazarevo, a village in northern Serbia where some of his cousins lived, and where he was finally caught. There are suspicions, however, among Serbian and some western investigators, that he may have made a detour to the south-eastern Bosnian village of Gacko. There were a couple of credible sightings there, officials say, and some apparently conspiratorial activity by family members, avoiding phone contacts and speaking in what may have been code, but it was never confirmed.
What is certain is that Mladic life as a fugitive ended in Lazarevo, in the run-down farmhouse belonging to his cousin Branislav. Living in one room, his health deteriorated and Branislav found him on the floor one day after an apparent stroke, but Mladic refused to be taken to hospital. By now, his isolation was almost total. He allowed neither his wife, Bosiljka, nor his son, Darko, to visit, but in the end it may have been family sentiment that gave him away.
On 6 May 2008, Darko brought his two daughters to celebrate St George's Day in Lazarevo. The party was at another cousin's house but they made a detour to Branislav's house, walking into the central farmyard and then out again, baffling their police tail.
"He watched them through the window. He wasn't well. He couldn't let the girls see him but he had the desire to see his granddaughters," said Boris Tadic, who was then Serbian president and under intense pressure from the EU and The Hague tribunal to capture Mladic. "Then the Mladic family phoned Lazarevo twice in three days. Why two times? That is what eventually took us to that house."
It may have been that Darko or Bosiljka fretted more about the old man's health, having felt his presence in Lazarevo, and let their guard down. On 26 May 2011, a police patrol was sent to check on the village cousins. Tadic argues the routine and low-key nature of the patrol contradicts a widespread conspiracy theory that his government knew all along where Mladic was, and was simply waiting for the most advantageous moment to play him as a bargaining chip.
"The proof that we didn't know ahead is that just one officer actually entered the house where he was," said Tadic. "You have my word, we did not calculate this. This was our moral obligation."
The policeman opened the door and saw a bare room with a bed that looked like it had just been occupied. He glanced behind the door to another corner of the room where an old, ailing man was hunched up. Asked to identify himself, he said: "I'm Ratko Mladic", bringing to an end a 14-year pursuit.
Mladic had at one point told his old cousin, Branislav, to shoot him with one of the two pistols the fugitive kept with him rather than let him be arrested. But Branislav was out that day and anyway told Mladic's lawyer Saljic,he could never have brought himself to pull the trigger. Neither, as it turned out, could Mladic.
Tadic was doing his morning exercises when he got the call. He asked how long DNA testing would take but on discovering it could be several days, demanded photos be brought to him as soon as Mladic and his captors reached Belgrade. "When I saw the photos, I said: 'This is Ratko Mladic.'"
When Saljic arrived at the cell where Mladic was awaiting transfer to The Hague, he was shocked at his appearance. "He actually looked blue and his mouth and face were twisted. I wouldn't have recognised him on the street," the lawyer recalled. "It was emotional. He got up from his chair and hugged me and started to cry saying: 'I'll never be able to repay you for all you have done for my family.'"
Saljic's attempts to forestall Mladic's transfer failed, but the investigating judge did grant one of the prisoner's requests: to visit the grave of his daughter, Ana, who killed herself in 1994 with one of his pistols because, it is said, she could not live with what he had become. His minders withdrew as Mladic was given half an hour at the grave.
• This article was amended on 12 April 2013. The original said an entire army department, the 30th Personnel Centre, was established in Belgrade to keep Ratko Mladic comfortable and hidden. It was assigned the job of looking after Mladic, but was not established for that purpose.