Barcelona was a sea of red and yellow Catalan flags as more than 1.5 million people brought the city to a standstill on Tuesday at a mass rally called to demand independence for the Spanish region.
The planned route was already filled with demonstrators before the march began, in what marked a watershed for the hitherto marginal independence movement.
At least one train and more than 1,000 coaches had been chartered to bring supporters to the march.
Long-standing resentment about what Catalans see as their unfairly high contribution to central government has been inflamed by Spain's economic woes. Polls published on Tuesday show support for independence running at 46.4%, twice as high as in 2008, when the financial crisis began.
The upsurge in support for secession has caught Catalonia's nationalist CiU government on the hop. CiU, which has governed Catalonia for 25 of the 33 years since democracy was restored, has never aspired to independence, preferring to wring more autonomy out of minority governments in Madrid.
Artur Mas, the Catalan president, initially said he had no intention of joining the march but later said he would attend in a personal capacity. Carme Forcadell, a spokeswoman for the group behind the march, said: "Anyone who attends should understand that they will be considered pro-independence."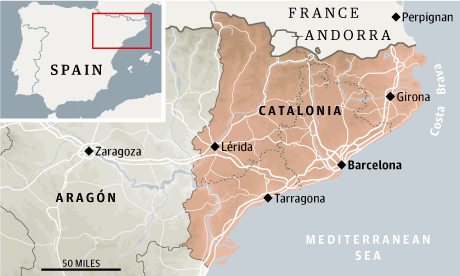 Speaking on television on the eve of the rally, Mariano Rajoy, the Spanish prime minister, dismissed the march, saying: "This isn't a moment for big gestures like this. What we need to do is create jobs."
Carles Brugueras, a documentary film-maker said he was not a nationalist but favoured independence from a strictly economic perspective. "For a long time, Catalonia has been generating a lot of resources for Spain but the fiscal balance has been very unfair," he said.
Laura Nuñez, a law student and also a new convert to independence, said she believed it would boost the Catalan economy. "We're economically the most powerful part of Spain, because of industry and tourism, and we contribute more than other Spanish regions," she said. "We shouldn't be subject to this internal discrimination."
The slogan for the march was "Catalonia: a new European state". But a European Union spokesman in Brussels pointed out that, were Catalonia to secede from Spain, it would have to leave the EU and could rejoin only if it met the economic criteria and if other member states voted unanimously in favour of its membership.
Whether Catalonia would be viable as an independent state is an open question. Much of Catalonia's wealth comes from tourism, but there are major industries in the region, as well as a significant multinational presence. Whether these firms would want to remain in a small state that was not part of Spain is unclear.
If the region continues to pursue independence, boycotts could follow, analysts warn. There was a damaging cava boycott in 2005, when Catalonia refused to back Madrid's bid for the 2012 Olympics.
The economist Xavier Cuadras warned: "A large-scale boycott could cause a 40% drop in exports of consumer goods to Spain, and a sustained boycott could cost Catalonia 4% of its GDP." Spain accounts for 54% of the region's exports.
In sport, Catalans make much of the fact that half the victorious Spanish football team are Catalans. But it is doubtful whether many of those players would play for a small country that was unlikely to win anything at an international level. The same goes for the mighty Barcelona football club: if Catalonia were independent, it would be reduced to playing in a semi-professional league.
And not all Catalans are pro-independence. Some 40% of Catalans are Spanish immigrants – or the children of those immigrants – who fled poverty in rural Spain after the civil war and retain strong family and emotional ties with Spain. Then there are a further 1 million people (14% of the population) who are from other EU states, Latin America, Morocco, Pakistan and China. Very few of these, were they given the chance to vote, would back independence.
There is considerable antipathy in Spain towards the Catalans, who are widely perceived as rich, spoilt, constantly complaining and forever playing the victim. Catalans are, understandably, hurt by this. "The rise in the pro-independence movement is directly related to the Spanish state's inability to include Catalonia," said Miquel Berga, professor of English literature at the Universitat Pompeu Fabra. "It seems to me that only a profound change in constitutional arrangements can address the prevailing sense of dissatisfaction."
Joan Fumaz, a chef, said: "If we were independent, we wouldn't have to go on justifying ourselves. I'm Catalan. It would be nice not to have to explain that to people all the time."