Hurricane Isaac howled through Louisiana and Mississippi on Wednesday, sending floodwaters surging over a rural levee and straining New Orleans' defences on the anniversary of Hurricane Katrina.
The category 1 hurricane unleashed sustained deluges and winds of 75mph as it moved slowly towards New Orleans, knocking out power to 500,000 people and stoking concern of flooding in the city overnight.
Families in Plaquemines parish, a low-lying district just south of New Orleans, were evacuated from rooftops and attics after water poured over an 8ft levee and smashed its way into homes. The Louisiana governor, Bobby Jindal, said the levee may have to be "intentionally breached" to drain the rising waters.
Rachel Rodi, an army corps spokeswoman, said the city's levees, fortified after the 2005 catastrophe, were withstanding Isaac's battering. "The system is performing as intended, as we expected. We don't see any issues with the hurricane system at this point."
However Isaac's crawl – it wobbled inland at 6mph – dumped torrent after torrent of rain onto the same areas, in some more than 20in. Tidal swells in some places rose by more than two feet. "We're down to a differential of 7ft between the levee and the tide," said Windell Curole, manager of the levees and flood gates in Lafourche, just south of New Orleans. "If the storm continues moving so slowly we could be down to a differential of two or three feet and that's way too close for comfort, that's when all sorts of bad things can happen."
The problem was not so much Isaac's ferocity – weaker than Katrina's – but its dawdling pace, said Curole. "Because it's stalled it's become more of a problem than we anticipated."
David Zelinsky, a meteorologist at the National Hurricane Center in Miami, cautioned that Isaac was not going away anytime soon. "We expect it generally to continue moving very slowly through Louisiana today, even into tomorrow," he told Reuters. "Beyond that, as it begins to weaken we expect it to move into northern Louisiana late Thursday into Friday and then north into Arkansas, Texas, Oklahoma – that region – after that."
The oil industry breathed a sigh of relief that only 12% of the Gulf coast's refining capacity went offline.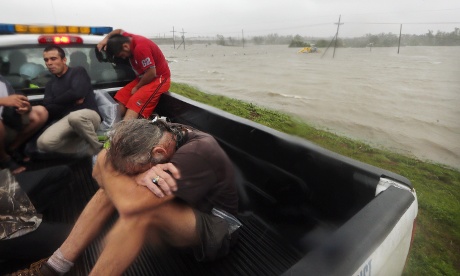 Isaac was crueller to the fishing community of Plaquemines, where the storm flooded an 18-mile stretch of one levee – not part of the New Orleans system – triggering the rescue of about two dozen people who had defied a mandatory evacuation order. The US national guard mobilised to rescue hundreds more as water levels rose.
"If that's a category 1 storm, I don't want to go through anything stronger," the parish president, Bill Nungesser, told a press conference. "We've had a breach, 12-14ft of water in homes and businesses over there and there's a lot of people that need to be rescued. There's over 25 people that have called into the fire department that are in their attic, on their roof, waiting to be rescued. No one thought this storm was going to do what it did to Plaquemines parish.
"I myself have more damage from this storm than Katrina. The water piled up on east ends … that we used to brag about because they never got water before. Areas that didn't flood for Katrina were flooded for this event."
Caitlin Campbell, a spokesperson for the parish, said there were no initial reports of deaths. "Rescue efforts are now in progress. Local residents are rescuing other residents at this time," she said. Two police officers trapped in a car were among those rescued.
When the Guardian visited Plaquemines on Tuesday it was clear many inhabitants were ignoring the evacuation order. Jindal said the authorities believed about 3,000 residents stayed behind. Highway 23, which winds its way south east along the banks of the Mississippi river, was closed by police at Port Sulphur, around 30 miles from the end of the road, but police were allowing residents to bypass the barrier and take their chances.
One, Joseph Buras, said a few hours before Isaac hit that he had decided to stay because he feared looters would ransack his home if it was unguarded. But he was critical of the calibre of the new flood defences. "I'm very unimpressed. The levees down there are not up to code. Just a few months back I was on a bicycle on top of the levee and half of it gave way. It's just mud."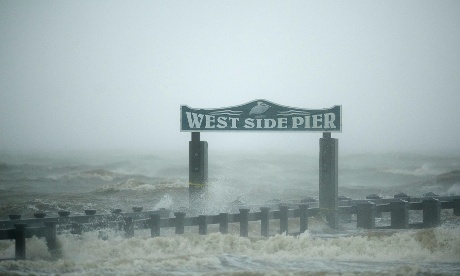 However, the levees in New Orleans, part of a $14.5bn flood defence system erected after Katrina, the worst engineering disaster in US history, were withstanding the onslaught which began after Isaac made landfall on Tuesday night near the mouth of the Mississippi. "Where we are, they are holding up," said Kevin McCaffrey, a documentary maker who lives just off the lakefront. "When you get up close to the water and see the swirl you get new respect for the storm. But we don't expect too much flooding." He echoed widespread praise for coordination – at local, state and federal level – in contrast to the chaos during and after Katrina. "The difference is night and day."
New Orleans remained deserted, save for police patrol cars and national guard Humvees which splashed through streets responding to emergency calls. Trees cracked, billboards toppled and heavy bins skidded down alleys.
With everyone hunkered inside it was left to church bells, including those from St Louis cathedral overlooking Jackson Square, to toll in honour of the estimated 1,800 who died during Katrina.
A homeless population which usually sleeps in doorways and under highway overpasses was brought to shelters by police and National Guard patrols. The St Jude community centre on the edge of the French Quarter was full to its 50-bed capacity when Isaac arrived. "We're just waiting till Mother Nature goes," said Tyrone Drayton, a worker at the shelter.
"Before the storm kicked off everything was nice and pleasant. Later on, the rain started coming down, about 9.30. And all of a sudden, whoosh. And the doors were shaking like they were about to go off their hinges. I was trying to sleep and it wasn't doing no good. Then part of the city started losing lights. We lost power in the morning for fifteen minutes."
Drayton said that the timing brought back terrible memories of Katrina. "Sometimes it brings a little tear out – friends I lost, family members. It brings a little sadness but in life you've just got to keep on going," he said.
The emergency prompted a rare non-partisan note amid election campaigning. "When disaster strikes, we're not Democrats or Republicans first, we are Americans first," President Barack Obama said at a campaign rally at Iowa State University. "We're one family. We help our neighbors in need."
His Republican challenger, Mitt Romney, whose formal nomination this week has been overshadowed by Isaac, urged supporters to help the response effort with donations to the Red Cross.