The Air France plane that disappeared between Brazil and France with 228 people on board today has almost certainly crashed, airline and government officials said.
If no survivors are found it will be the worst loss of life involving an Air France plane in the firm's 75-year history.
The officials believe the Airbus A330-200 aircraft crashed after running into lightning and thunderstorms over the Atlantic Ocean.
Gordon Brown said he feared Britons were among the passengers. "I do fear there may be some British citizens on board," the prime minister told Sky News. "We are doing all the checking that is necessary."
The Air France chief executive, Pierre-Henri Gourgeon, told a news conference: "We are probably facing an air catastrophe."
He said the aircraft went through a thunderstorm with strong turbulence at about 3am BST.
An automated message was received at 3.14am indicating a failure of the electrical system, Air France said in a statement.
"The whole company shares the anxiety of the families," Gourgeon said. "We are doing everything possible to get information through, little by little, as it comes through."
François Brousse, an Air France spokesman, said several of the plane's mechanisms had malfunctioned, preventing it from making contact with air traffic controllers.
"It is probably a combination of circumstances that could have led to the crash," he said.
Brazilian air force planes are searching the Atlantic for flight AF447, which left Rio de Janeiro at 7pm local time (11pm BST) yesterday. It had been expected in Paris at 11.15am .
Brazilian air force officials told the Associated Press a search was under way near the island of Fernando de Noronha, about 1,500 miles north-east of Rio, but an Air France source was quoted as saying that there was "no hope" for those on board.
Jean-Louis Borloo, the second most senior figure in the French cabinet, said: "By now it would be beyond its kerosene [aviation fuel] reserves … unfortunately we must now envisage the most tragic scenario."
Borloo told the France Info radio station the plane had disappeared from both military and civilian radar screens.
The French president, Nicolas Sarkozy, expressed "extreme worry" and sent the junior minister for transport, Dominique Bussereau, and Borloo to Charles de Gaulle airport to monitor the situation.
The Air France flight was full – today is a French bank holiday and Brazil is an increasingly popular tourist destination among the French.
At midday, the flight was still up on the arrivals board with the word "delayed" beside it, even after official statements said that it had probably been lost. By 1pm, it had been removed from the board.
Relatives and friends of passengers who had arrived at Charles de Gaulle's terminal two to meet the plane were ushered into a closed area away from journalists, where they were being counselled by airport staff.
A former pilot told France Info he believed the plane was the first passenger-carrying Airbus A330 to crash. The model is known as having a good safety record.
The plane was carrying 216 passengers and 12 crew. Of the passengers, 126 were men and 82 were women. Seven children and a baby were on board.
According to the French media, Paris airport authorities were told by their Brazilian counterparts that the aircraft had vanished from radar screens.
Douglas Ferreira Machado told Brazil's Globo TV that he believed the plane must have left Brazilian waters and could have been near the coast of Africa by the time contact was lost, based on the speed it was travelling.
"It's going to take a long time to carry out this search," he said. "It could be a long, sad story. The black box will be at the bottom of the sea."
French military aircraft took off from Senegal in western Africa to take part in the search.
France Info quoted an airport authority source as saying it was possible, but extremely unlikely, that the radar drop-out had been caused by a transmitter failure.
Chris Yates, an aviation expert, told the BBC: "There is not radar coverage across the Atlantic, because it is too far from radar stations.
"But the fact [the plane] has not appeared on radar when it neared land gives me cause for concern."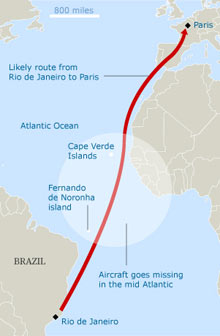 He said that "if we are talking about an aircraft coming down over the ocean … then survivability is quite limited".
Air France said the pilot had flown 11,000 hours, 1,700 of them on an Airbus 330, making him a highly experienced pilot. Of the two co-pilots, one had 3,000 hours of flight time and the other 6,600 hours. Flight AF447, which had flown 18,870 hours, entered service in April 2005. Its last engineering overhaul was in April.
The A330-200 model has not had any fatal accidents involving passengers. In June 1994, an A330 owned by Airbus on a test flight simulating an engine failure on take-off crashed shortly after leaving Toulouse, killing all seven people on board.
In October last year, a Qantas A330 flying from Singapore to Perth reportedly experienced a sudden change in altitude.
The crew issued a mayday call before diverting the aircraft. About 36 passengers and crew members were injured, more than a dozen seriously.
The last major incident involving an Air France plane was in July 2000 when one of its Concordes crashed just after taking off from Charles de Gaulle Airport, bound for New York.
All 109 people on board were killed, along with at least four on the ground.