Australia offers assistance to tsunami-hit Tonga after undersea volcano eruption
Minister for the Pacific says a surveillance aircraft would help gather information about the extent of the damage
Australian Associated Press
16, Jan, 2022 @7:29 AM
New Year's Eve weather: much of Australia set for wet and dreary end to 2020
Showers are forecast for Sydney, Melbourne, Brisbane, Darwin and Hobart, but Perth and Adelaide will be sunny
Naaman Zhou
29, Dec, 2020 @2:12 AM
'It is such a fleeting thing': Hobart residents flock to witness the Disappearing Tarn
The azure pool only appears after heavy rains, but cold, wet weather hasn't deterred locals from taking a dip
Stephanie Eslake
25, Jun, 2020 @5:30 PM
New South Wales state of emergency declared as 17 missing in Victoria – as it happened
At least nine people have died since Christmas Day, with more dangerous conditions predicted for the weekend. This blog is now closed.
Helen Davidson (now) and Luke Henriques-Gomes and Amy Remeikis (earlier)
02, Jan, 2020 @9:17 AM
Three dead and one missing as cold and windy weather hits Australia's south
Falling tree kills man and boy in Sherbrooke, while authorities find body believed to be missing student Poshik Sharma
Calla Wahlquist
15, Jul, 2019 @3:47 AM
Victoria fires rage on but temperature drop brings some relief
Temperatures drop overnight but warnings remain in place for several parts of the state as well as in Tasmania
Lisa Martin and wires
05, Jan, 2019 @12:02 AM
Dark Mofo swells with Siren Song: a logistical triumph, and a beautiful work of art
Twice a day, 450 speakers around Hobart are broadcasting a soundscape that is eerie, dark and beautiful. Would Melbourne or Sydney get away with that?

Brigid Delaney
16, Jun, 2017 @2:25 AM
Adelaide swelters through its hottest Christmas Day since 1945
South Australian capital reaches 40.6C while showers dampen celebrations in Queensland
Australian Associated Press
25, Dec, 2016 @7:15 AM
Australia braces for extreme weather as summer gets off to sweltering start
More cyclones and severe fire danger expected over summer as above-average temperatures forecast across eastern and northern Australia
Elle Hunt
01, Dec, 2016 @1:36 AM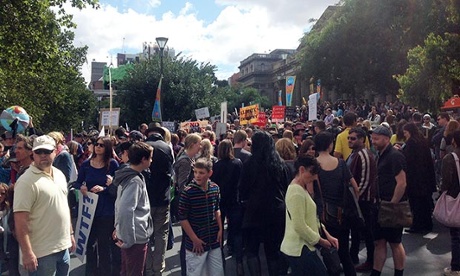 March in March: families, anarchists and all in between gather for protest
Tens of thousands around Australia join to protest against Abbott government's policies
Oliver Laughland
16, Mar, 2014 @7:26 AM