Head of Miami police shoots himself on busy highway after domestic dispute
Alfredo 'Freddy' Ramirez in critical but stable condition after shooting following earlier altercation attended by Tampa officers
Richard Luscombe in Miami
24, Jul, 2023 @7:26 PM
Hurricane Ian upgraded to category 4 storm as it bears down on Florida
Electricity grid collapses in Cuba after hurricane passes through, as 2.5 million people in Florida ordered to evacuate
Lauren Aratani and agencies
28, Sep, 2022 @12:17 PM
How a century-old bakery is weathering inflation in the US's worst-hit city
As costs rose nationwide, La Segunda in Tampa, Florida, had to figure out how to keep 140 employees across three bakeries afloat
Michael Adno in Tampa with photographs by Zack Wittman
28, Aug, 2022 @8:00 AM
Vincent Jackson: former NFL star wide-receiver found dead at age of 38
Vincent Jackson, who at his peak was one of the best wide receivers in the NFL, has been found dead at the age of 38
Tom Lutz
15, Feb, 2021 @10:25 PM
Tom Brady completes pass with Lombardi Trophy before being helped off boat
Even on the water, it seems the connection between seven-time Super Bowl champion quarterback Tom Brady and his receivers cannot be denied
Staff and agencies
11, Feb, 2021 @12:55 PM
'Masks from sun up to sun down': How to host a Super Bowl during a pandemic
There will be fewer fans that usual in Tampa for the big game this weekend. But Covid-19 brings far more challenges than in normal years
Shaker Samman
02, Feb, 2021 @10:00 AM
My family and I survived Hurricane Irma. The fear was real – but we were lucky
In Lealman, Florida, where Jessica Glenza grew up, Sunday was filled with foreboding – and the sense of scare didn't let up until the rain did
Jessica Glenza in St Petersburg, Florida
11, Sep, 2017 @8:11 PM
Florida governor says 'pray for us' as Hurricane Irma begins its assault
Irma's northern eyewall reaches lower Florida Keys, lashing area with near 130mph winds after devastating Caribbean
Oliver Holmes and agencies
10, Sep, 2017 @1:54 PM
The US cities at risk of flooding; and how they're dealing with the threat
Rising sea levels pose a serious threat to cites like Boston, New York and Miami Beach. So what are they doing to protect themselves?
Oliver Milman
31, Aug, 2017 @5:36 PM
Tampa and Miami jockey for position as Florida's gateway to post-detente Cuba
Miami seems a natural site for a consulate after the restoration of ties with the Caribbean country but exiles' hostility to Castro could benefit its smaller rival
Richard Luscombe in Miami
15, Feb, 2016 @12:00 PM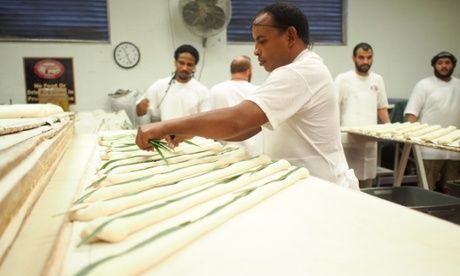 Business still booms at Cuban bread's birthplace: 100-year-old Florida bakery
La Segunda Central Bakery founder Juan Moré brought the recipe from Spain to Tampa a century ago, and now it's found in restaurants across the US
Helen Anne Travis in Tampa, Florida
02, Nov, 2015 @3:37 PM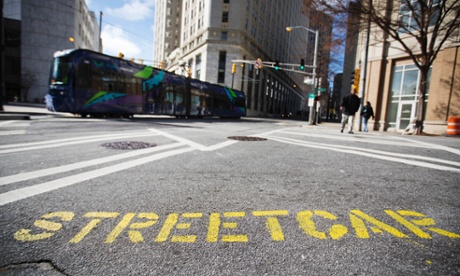 Streetcars of desire: why are American cities obsessed with building trams?
In the arms race of urban transit, streetcars are back in favour. Sean Marshall does a grand tour of Detroit, Cincinnati, Atlanta and Tampa to find out why
Sean Marshall
20, Feb, 2015 @8:00 AM