Kimberlé Crenshaw: the woman who revolutionised feminism – and landed at the heart of the culture wars
From police brutality to sexual harassment, the lawyer fights to ensure black women's experiences are not ignored. So why are her ideas being denounced?

Aamna Mohdin
12, Nov, 2020 @6:00 AM
Anita Hill: I still hold Biden accountable but would consider voting for him
Though Hill was not satisfied with Biden's apology over Clarence Thomas testimony, she could see herself voting for him in 2020
Miranda Bryant in New York
14, Jun, 2019 @5:31 PM
Biden condemns 'white man's culture' as he laments role in Anita Hill hearings
Potential 2020 contender regrets not giving Hill 'the hearing she deserved' during Clarence Thomas confirmation process
Guardian staff and agencies
27, Mar, 2019 @2:23 AM
Anita Hill: Kavanaugh confirmation hearing 'disservice to the American public'
Professor said Senate committee response to Christine Blasey Ford mirrored her experience testifying against Clarence Thomas
Amanda Holpuch in Philadelphia
11, Oct, 2018 @1:27 AM
How American women's growing power finally turned #metoo into a cultural moment
Women are speaking about sexual assault in unparalleled numbers, and while anger at men's behavior has erupted before, this may be the dawn of a new era
Lucy Rock
04, Dec, 2017 @10:04 AM
'Never be the most feminist person you know' – Laura Bates meets Cynthia Enloe
The 79-year-old professor and activist has tackled marital rape and changed the language of feminism. She remains a force to be reckoned with in the fight to make sure all women's voices are equal and heard
Laura Bates
06, Nov, 2017 @6:15 PM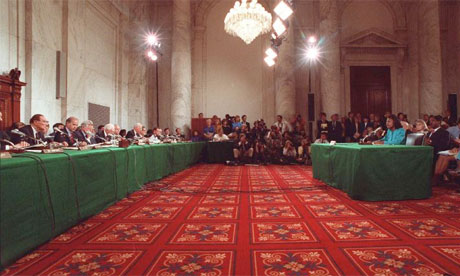 Clarence Thomas's conservatism: the first 20 years | Jason Farago
Jason Farago: The enigmatic judge keeps a low profile; yet, time is very much on the side of the supreme court's most reactionary justice
Jason Farago
13, Oct, 2011 @9:16 PM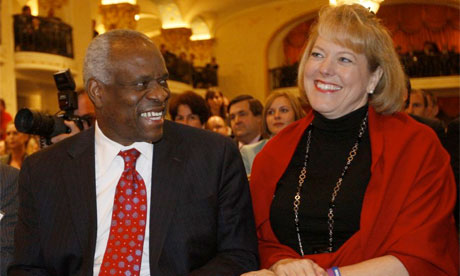 Anita Hill's message for Virginia Thomas | Michael Tomasky
Michael Tomasky: Ginni's bizarre voicemail call for an apology only highlights the credibility of Hill's testimony against Clarence Thomas
Michael Tomasky
21, Oct, 2010 @2:57 PM
Clarence Thomas's wife asks Anita Hill for an apology over voicemail | Richard Adams
Richard Adams: Ginni Thomas, wife of Supreme Court justice Clarence Thomas, wants an apology from Anita Hill for her 1991 accusations
Richard Adams
20, Oct, 2010 @3:58 AM
Alive and kicking
When Anita Hill accused a senior judge of sexual harassment, she was branded a liar - and lost her anonymity for ever. Ten years on, Polly Ghazi tracks her down.
Polly Ghazi
07, Aug, 2001 @1:43 AM
'I lied for rightwing supreme court judge'
A rightwing author who made his name undermining the reputation of a woman who accused a supreme court judge of sexual harassment says now that he was lying all along.
Michael Ellison in New York
28, Jun, 2001 @8:57 AM